Friday night's game against the Blue Jays (DET 8, TOR 6) started out very well for the Tigers, but it ended poorly despite the win. Detroit took a big lead in the early innings and Anibal Sanchez took a no-hitter in the eighth. Great start!
Things went south quickly though. After Sanchez lost the no-hitter, the perpetually shaky Detroit bullpen made things interesting, allowing six runs in the eighth and bringing the tying run to the plate in the ninth. That was after the Tigers were up 8-0. Alex Wilson, Bruce Rondon and Joakim Soria were the culprits.
The bullpen high-wire act was not the worst part, however. Slugger Miguel Cabrera was forced to leave the game in the fourth inning with what the Tigers are calling a left calf strain. He'll undergo an MRI. Cabrera suffered the injury running to second when he took off on a 3-2 pitch with two outs. See the injury here.
In addition to his historically great production, Cabrera is also known for his durability and toughness. He's never once been on the DL in his career and he played in 1,732 of 1,782 possible games from 2004-14. That's 97 percent and an average of over 157 games per season. This is a guy who played through a torn groin during the 2013 postseason.
And that's why seeing him hobble off the field Friday must have been so disconcerting for the Tigers. In fact, after the game manager Brad Ausmus told the Associated Press he is "not optimistic at all ... When Miggy says he can't play, it is serious, because Miggy plays through everything.''
The Tigers are 40-39 and six games back of the Royals in the AL Central (1 1/2 back of a wild-card spot) following Friday's win. The season is basically halfway over and they're one game over .500 with Cabrera. Needless to say, things would be very bad if they lose Miggy for any length of time. Even the minimum 15-day DL stint would be a big blow because he remains an MVP caliber performer.
Victor Martinez, Yoenis Cespedes and J.D. Martinez would form a potent middle of the order without Cabrera, but he is in no way replaceable. Cabrera is the heart and soul of the team, he really does drive their offense, and now they're potentially looking at trying to stay in the race without him. It was hard enough to do that with him.
Friday started out very well for the Tigers. They scored a bunch of runs early and Sanchez flirted with a no-hitter. It was a bad day for Detroit though, and not only because the bullpen almost blew a big lead. Cabrera suffered what appears to be a significant injury, and losing him could very well derail the club's chances of contention. For now, all the Tigers can do is hope the MRI shows something minor.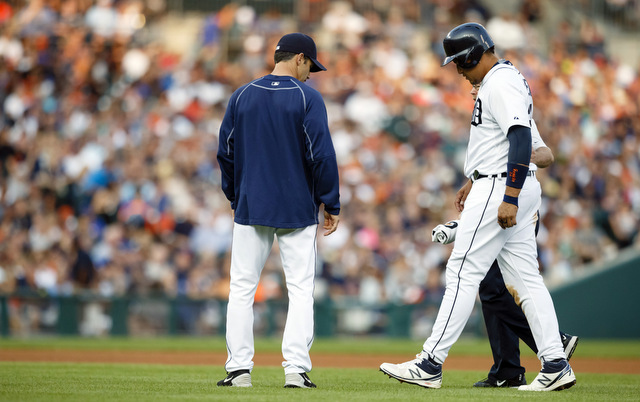 Hamilton vs. Angels: Also on Friday, Rangers outfielder Josh Hamilton faced the Angels for the first time since the late April trade that sent him back to Texas. Already, there's a low-grade controversy brewing. Back with the Rangers, Hamilton went into Friday's game batting .300/.382/.567 (160 OPS+), albeit across a miniscule sample of 34 plate appearances.
So how did the first leg of the revenge tour go for Hamilton? Good and bad. He went 1 for 3 with a double against his former team, but the Halos pounded the Rangers and won the game (LAA 8, TEX 2). I have zero doubt Hamilton would trade his double for a win. Luckily for Hamilton, he'll have plenty of chances to stick it to the team that didn't want him, both this weekend and the rest of the season. They are intra-division rivals, after all.
Welcome to the Eye. It is here that we'll be building out a monster of a daily roundup throughout the day and night. We'll have recaps, injury news, rumors, fun stuff and a look ahead to Saturday. Park it here or just come back in the morning to catch up on everything, your call. Now let's dig in ... 
Today's MLB action (Full scoreboard)
Marlins 2, Cubs 1: Box score | Recap
Tigers 8, Blue Jays 6: Box score | Recap
Nationals 2, Giants 1: Box score | Recap 
Padres 2, Cardinals 1: Box score | Recap
Braves 2, Phillies 1: Box score | Recap
White Sox 1, Orioles 0: Box score | Recap
Brewers 12, Reds 1: Box score | Recap
Angels 8, Rangers 2: Box score | Recap
Mariners 9, Athletics 5: Box score | Recap
Royals 3, Twins 2 in 10 innings: Box score | Recap
Indians 5, Pirates 2: Box score | Recap
Yankees 7, Rays 5 in 12 innings: Box score | Recap
Mets 2, Dodgers 1: Box score | Recap
Diamondbacks 4, Rockies 3 in 10 innings: Box score | Recap
Milestone Watch
Longest current hit streak: Rockies shortstop Troy Tulowitzki enters Saturday having hit safely in 15 straight games. He singled in the sixth inning to extend his streak to 16 games.
Pujols watch: When he drives in his next run, Albert Pujols will break a tie with Tony Perez and move into sole possession 28th place all-time on the all-time RBI list. He and Perez both currently have 1,652 RBI. Pujols went 1 for 4 on Friday and did not drive in a run.
1.000 for Headley: Yankees third baseman Chase Headley went 2 for 6 on Friday and now has exactly 1,000 career hits.
K-Rod watch: Regarding Francisco Rodriguez ... 
Francisco Rodriguez is one save away from tying Jeff Reardon for 8th place on the all-time saves list. pic.twitter.com/qPJzA1qzF8

— MLB Milestones (@MLBMilestones) July 3, 2015
K-Rod did not pitch on Friday because the Brewers beat the Reds in blowout fashion.
Daily Awards
Almost no-hitter of the day: Tigers pitcher Anibal Sanchez took a no-hitter into the eighth inning against the Blue Jays before giving up a one-out single to Ezequiel Carrera. It would have been the second no-hitter of Sanchez's career, the first coming 14 starts into his career on Sept. 6, 2006. Read more about modern Sanchez in our No-Hitter Watch.
Birthday of the day: Have a good one, gents ... 
(Image: MLBPA Instagram)
Clockwise from top left: Brandon Maurer, Zach Putnam, Tommy Hunter, Edinson Volquez.
Hot dogs of the day: Chicago mourned when civic institution Hot Doug's closed down not so long ago. But good news arrived on Saturday, as the expert purveyor of encased meats announced plans to resume his hot dog-making duties at Wrigley Field ... 
Good news Chicago friends...guess who's back and at #WrigleyField this season... pic.twitter.com/5TYHzaUQ3G

— Matt Dicker (@MattDicker) July 3, 2015
From the team's press release:
Doug Sohn, founder of Hot Doug's, developed the initial menu offerings based on some of the most popular sausages served at his former Chicago restaurant. The names pay tribute to some of his favorite Cubs players from his youth:

The "Carmen Fanzone" is a spicy Vienna Polish sausage served with spicy brown mustard and caramelized onions.
The "Dave Kingman" is a bacon cheeseburger sausage with cola BBQ sauce and sharp cheddar cheese.
The "Rick Reuschel" is an atomic pork sausage with chipotle mustard and pepper jack cheese.

 "The outpouring of love and support from Chicago for Hot Doug's was incredible, and it became clear our fans were still craving the sausages that made our restaurant famous," said Sohn. "The opportunity to partner with the Cubs and serve our product at historic Wrigley Field was too tempting to pass up, and we're thrilled that Chicagoans now have a chance to enjoy Hot Doug's once again." 
Nom, nom, nom!
Optimal baseball atmospheric conditions of the day: Will stick at Wrigley for this one ... 
Looking good, Wrigley. Looking REAL good. pic.twitter.com/oHKLexTrkQ

— MLB (@MLB) July 3, 2015
Blazer of the day: Solid look right here. Go forth and purchase, loyal Minnesotans ... 
Important to rock the right look. The Puckett Powder Blue Blazer perfect for all events. @SuiseyFanwear @Twins pic.twitter.com/Qs53n4f6u5

— Dustin Morse (@Twins_morsecode) July 3, 2015
Non-update of the day: Joe Girardi shall now pre-empt any and all paranoia ... 
Girardi won't give a timetable on Ellsbury bc he keeps getting it wrong and he says that's how conspiracy theories begin. <shrug>

— Laura Albanese (@AlbaneseLaura) July 3, 2015
Update of the day: Colby Rasmus, going where Joe Girardi fears to tread ... 
Rasmus grew up in woods and said he's been bitten by all kinds of critters. He thinks it was a spider that bit him.

— Brian McTaggart  (@brianmctaggart) July 3, 2015
Stat of the day: Left-hander Clayton Richard will make some history when he starts for the Cubs on Saturday:
And, if my math is correct, LHP Clayton Richard will be the 2,000th #Cubs player when he makes his debut Saturday. Who guessed that?

— Carrie Muskat (@CarrieMuskat) July 3, 2015
Hug of the day: Dan Uggla is at it again:
The #HugglaEffect pic.twitter.com/iPefu6i5Kg

— Jayson Werth's Beard (@JWerthsBeard) July 3, 2015
New stadium feature of the day: The Reds got themselves a brand new video board at the Great American Ball Park, it seems. Just in time for the All-Star Game too.
Thanks to the amazing folks at @Daktronics, fans tonight were introduced to our brand new RF video board! pic.twitter.com/xuLQnrQ5SO

— #VoteReds (@Reds) July 3, 2015
Oops of the day: The bowels of these gigantic ballparks can be a nightmare to navigate. You never know what's around the corner or how to get to certain places if you've never been there before. For example:
Looking for a restroom in Dodger Stadium and accidentally wandered into the visitors bullpen. Thats a 1st.

— Kristie Ackert (@Ackert_NYDN) July 3, 2015
Curveball of the day: Hmmm, yes. Now this is the good stuff:
Here's your every-fifth-day @ClaytonKersh22 filth. https://t.co/uG7FzVf5FA

— MLB (@MLB) July 4, 2015
Injuries, News & Rumors
Mariners SP Hisashi Iwakuma to return from DL, start on Monday
Twins RP Alex Meyer optioned to Triple-A on Friday
Rangers RP Neftali Feliz designated for assignment on Friday
Phillies' Cliff Lee to test arm injury in July
Mets eyeing Athletics 2B/OF Ben Zobrist, who might be off table
Giants send Tim Hudson to 15-day DL due to shoulder injury
A's OF Josh Reddick voices frustration about sitting vs. lefties
Mets aren't looking to promote Michael Conforto amid offensive slump
Progress of sidelined Athletics SP Jarrod Parker pleases doctor
Athletics SP Sonny Gray likely no-go Sunday as well
Reds prospect Robert Stephenson to make Triple-A debut Friday
Gibbons: P Felix Doubront coming up, could fill spot in rotation
Tigers option Bryan Holaday to Triple-A as Alex Avila comes off DL
Tigers RP Joba Chamberlain designated for assignment
Yankees place Carlos Beltran on DL due to oblique strain
Cubs conduct prospect-swap with Angels
Rays 1B James Loney back in lineup after six-week absence
Baseball execs see Rockies hanging on to SS Troy Tulowitzki
Giants remove Travis Ishikawa from 40-man roster
Click here for more MLB player news.
Looking Ahead to Saturday's MLB action (all times ET)
Happy Independence Day! To accompany your flags, grilled meats, cold beer, and fireworks, we have a full MLB slate -- including eight day games ...