Eye on MLB, June 28: Steven Matz impressive in debut for Mets
Welcome to the Eye for Sunday, where we'll be updating news, injuries, rumors and key highlights from all things MLB. The big story? Hot pitching prospect Steven Matz had a great debut.
by

Eye on Baseball staff

• 6 min read
Another day in Major League Baseball, another top pitching prospect makes his major league debut for the New York Mets. This one's different, and not just because his name is almost "Mets," but Steven Matz makes for a left-handed complement to Noah Syndergaard and the other high falutin' prospects they have brought forth the past few years. Like Matt Harvey, Jacob deGrom, Zack Wheeler and Thor, he has a chance to be top-of-the-rotation good.
Matz throws about 95 mph with a curve that has emerged as his best breaking pitch. Overall, he has posted a 2.29 ERA with 380 strikeouts in 365 2/3 innings three-plus minor league seasons since having Tommy John elbow ligament replacement surgery. His numbers at Triple-A Las Vegas this are most encouraging:  A 2.19 ERA with 94 strikeouts in 90 1/3 innings is rarefied air, as CBS's own Chris Towers reported.
As for Matz against major-leaguers, he definitely looked the part on the hill (we'll get to his bat in a second). He'd last 7 2/3 innings -- which was huge for the Mets, considering they were just coming off a 13-inning affair earlier in the day -- giving up just two runs on five hits with three walks and six strikeouts. Credit Matz for quickly bouncing back, too, as the first batter he ever faced in the majors was Brandon Phillips, who hit a home run.
"I just thought, you know what, I just got my first batter out of the way and now it's time to go to work," Matz said after the game.
And that's exactly what he did.
Matz settled in and went to work. He was easily the best all-around player in the game. He was the winning pitcher as the Mets took the game, 7-2, and swept the series against the Reds. After a seven-game losing streak, the Mets have won four in a row.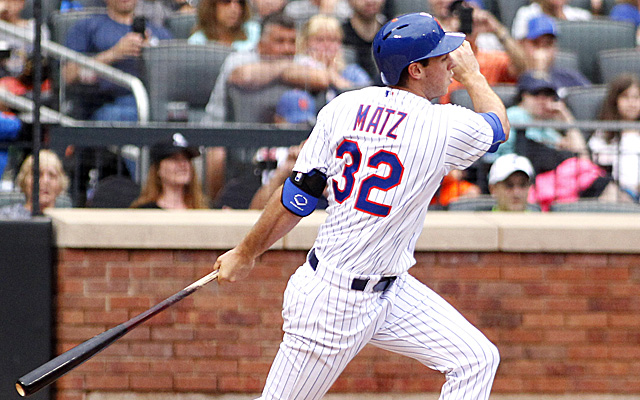 For as good as he was on the mound, Matz was actually better with the stick. His first career at-bat was a two-RBI double. Next time up, he singled. In the bottom of the sixth, Matz stepped in with the bases loaded and a 3-2 lead. He'd single home two.
When the dust settled, Matz was 3-for-3 with a double and four RBI. He was hitting .304 (7-for-23) in Triple-A, so he can handle a bat pretty well.
This was the first time in recorded history (which goes back to 1914) that a pitcher had at least three hits and three RBI in his MLB debut. In fact, including all players, this just the 11th time that a player debuted with at least three hits and four RBI. Until this season, it hadn't happened since 1999, but Matz joins Mark Canha and Joey Gallo to make it three in 2015 who pulled it off (baseball-reference.com's play index has the full list).
There are no Mets on that list, by the way, so the only player in history to debut with the Mets with at least three hits and four RBI is Steven Matz.
That's one heck of a double-threat debut and it's certainly an act that will be tough to follow.
Final scores
Astros 3, Yankees 1: Recap | Box score
Braves 2, Pirates 1: Recap | Box score
Orioles 4, Indians 0: Recap | Box score
Dodgers 2, Brewers 0: Recap | Box score
Red Sox 5, Rays 3: Recap | Box score
Tigers 5, White Sox 4: Recap | Box score
Blue Jays 3, Rangers 2: Recap | Box score
Mets 2, Reds 1 -- in 13 innings (not the Matz game): Recap | Box score
Nationals 3, Phillies 2: Recap | Box score
Brewers 5, Twins 3: Recap | Box score
Giants 6, Rockies 3: Recap | Box score
Diamondbacks 6, Padres 4: Recap | Box score
Angels 3, Mariners 2: Recap | Box score
Royals 5, Athletics 3: Recap | Box score
Mets 7, Reds 2: Recap | Box score
Phillies 8, Nationals 5: Recap | Box score
Orioles 8, Indians 0: Recap | Box score
Cardinals 4, Cubs 1: Recap | Box score
A reminder about the Cardinals, who have lost one home game this month:
.@Cardinals become 1st team since 2005 @WhiteSox to reach 50 wins in 74 games. pic.twitter.com/Aek4nqqD7F

— MLB Stat of the Day (@MLBStatoftheDay) June 28, 2015
Milestone Watch
Longest active hit streak: It's still Jason Kipnis of the Indians. He came into Saturday riding a 20-game hit streak but the team's game was rained out. Kipnis will try to get hits in both ends of Sunday's doubleheader to extend his hitting streak. He's only 36 games short of tying Joe DiMaggio! UPDATE: Kipnis failed to record a hit in game one of the doubleheader Sunday, so it's over.
Pujols watch: Angels first baseman Albert Pujols is sitting on 1,650 RBI for his career. He's two shy of tying Tony Perez for 28th place all-time. He'll stay right there through Sunday, as he failed to collect an RBI.
Big Papi for extra bases
That's 1,055 career XBHs for Ortiz. Matches Chipper Jones for 25th place all-time.

— Pete Abraham (@PeteAbe) June 28, 2015
King Felix fun
This is the 110th time Felix Hernandez has fanned 8 or more in a game. Passes Hall of Famer Bob Feller for 20th most in history

— Gary Hill (@GaryHillJr) June 28, 2015
Daily Awards
Happy Josh Beckett Day
Hey, he did help them win a World Series in 2003 (he was the MVP of the series!)
Beckett to Pudge, 2003 Magic. #BeckettDay pic.twitter.com/rHfgrTrJY1

— #VoteMarlins (@Marlins) June 28, 2015
Ostrich ride of the day
Go Orbit!
Giddyup. http://t.co/19yDVJJk7M pic.twitter.com/jyNG9uDhHN

— MLB GIFS (@MLBGIFs) June 28, 2015
Thief of the day
Juan Lagares keeps picking it in center
You're gonna have to hit it a liiiiiittle bit deeper with @juanlagares2 out there: http://t.co/TCRqcf891Z pic.twitter.com/mK6RZ6pBNr

— MLB (@MLB) June 28, 2015
Bus of the day
This is pretty stout.
#StrasburgExpress pic.twitter.com/CFM3GPTETO

— Upside Down FP (@FakeFP) June 28, 2015
Transaction of the day
"Hey buddy, how much for that home run ball?" pic.twitter.com/ib8AAsmFeV

— MASN Nationals (@masnNationals) June 28, 2015
Pitcher home run of the day
Madison Bumgarner wasn't about to let Steven Matz have all the fun when it came to pitchers hitting well.
Injuries, News & Rumors
Royals Hosmer, Escobar leave Sunday's game with injuries
Padres 3B Will Middlebrooks leaves game against Diamondbacks
Cardinals SP Jaime Garcia (groin) may be bumped to Thursday
Cubs send Tsuyoshi Wada to DL; activate Neil Ramirez
Indians release Scott Atchison; promote Toru Murata
Marlins' Giancarlo Staton undergoes surgery on wrist Sunday
Hanley Ramirez heads back to Boston for MRI
Rays promote Grady Sizemore from minors; option Matt Andriese to Triple-A
Cubs slugger Kris Bryant not blaming fatigue for slump
Report: P Michael Feliz has left Double-A club to join Astros
Marlins' Jose Fernandez strikes out eight in likely final rehab start
Rangers' Josh Hamilton goes 1 for 4 in rehab game Saturday
Report: Mariners 2B Robinson Cano avoids concussion
Check out more player news here
Looking ahead to the final Monday in June:
CBS Sports HQ Daily Newsletter
Get the best highlights and stories - yeah, just the good stuff handpicked by our team to start your day.
Please check the opt-in box to acknowledge that you would like to subscribe.
Thanks for signing up!
Keep an eye on your inbox for the latest sports news.
Sorry!
There was an error processing your subscription.
The World Series starts Oct. 23

Keep checking back for the latest rumors, firings and hires around the MLB managerial caro...
SportsLine's Mike McClure, a DFS pro with nearly $2M in winnings, gives optimal lineup adv...

The Mariners were eliminated from postseason contention over the weekend

The AL postseason field is basically set. Things are still a little wide open in the NL