Eye on Photos: Minnesota's beautiful Target Field
Never been to Target Field? Here are some pictures from in and around the stadium.
MINNEAPOLIS - With the 2014 All-Star Game taking place in Minnesota's beautiful Target Field, I figured it was fitting to give it the Eye on Photos treatment. So I walked around the stadium -- inside and out -- and took some pictures. For those who have never been here, it's a decent tour to see what it's like.
First, though, this deserves its own space. I walked up to approximately where I believe Giancarlo Stanton's 510-foot moonshot during the Home Run Derby landed. Here's the view: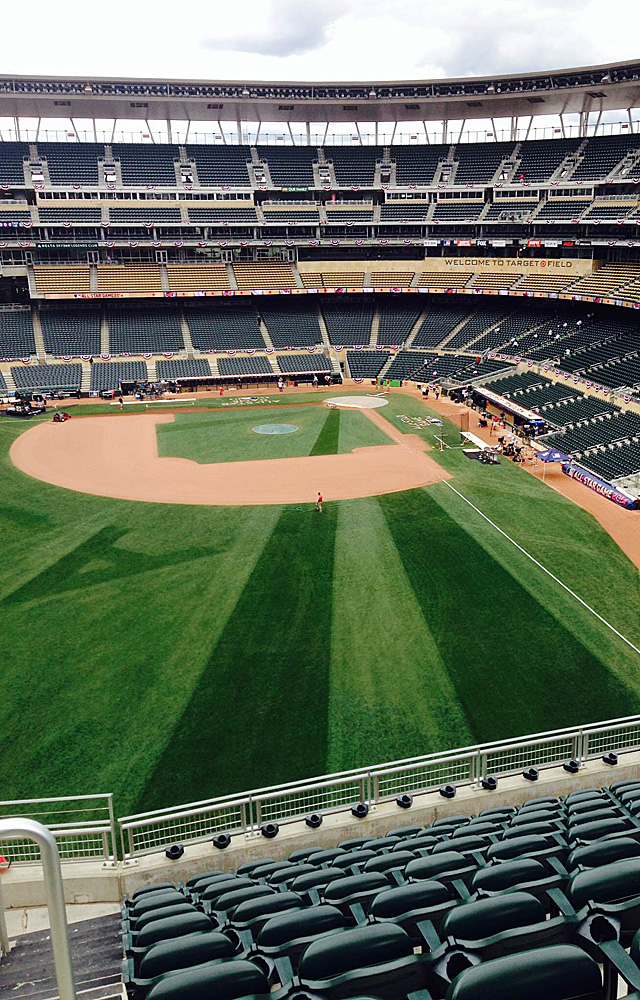 That was almost to the top of the stadium. Unreal power.
Anyway, the rest are below -- click on each individual picture to view a full-size version. These were all taken by myself on Tuesday, July 15.


| | |
| --- | --- |
| | |
| The famous (notorious) self-serve beer machine. I can attest it was quite popular Monday evening. | The back of the scoreboard, from the street.  |
| | |
| --- | --- |
| | |
| Divisional championship banners line the outside. | Twins baseball, including greats like Harmon Killebrew and Tony Oliva.  |
| | |
| --- | --- |
| | |
| The Kent Hrbek World Series championship statue.  | Great touch here with the list of hometown Twins. |
| | |
| For those unaware, the Target Center (home to the NBA's Timberwolves) is right next door.  | Nice view from the center-field camera well. |
| | |
| --- | --- |
| | |
| Your instructions on the self-serve beer vendor.  | The "Great Clips" section in right field has some excellent views.  |
| | |
| --- | --- |
| | |
| One thing I really love is the old-school logo in center, to the right of the scoreboard.  | The view from behind home plate, five hours until gametime.  |
Dioner Navarro still hopes to return someday

Christian Yelich's agent says his client's relationship with Marlins is 'irretrievably bro...

The free-agent market has been slow and one player is bracing for an even longer wait
The Mets didn't want to trade a young outfielder for an older one

Josh Harrison doesn't sound pleased Gerrit Cole and Andrew McCutchen have been traded away

The team's media contracts expire following the 2019 season