Eye on Photos: Red Sox top Tigers in ALCS, head to World Series
The Boston Red Sox topped the Detroit Tigers Saturday in Game 6 of the ALCS to advance to the World Series. Here's a visual look back at the ALCS.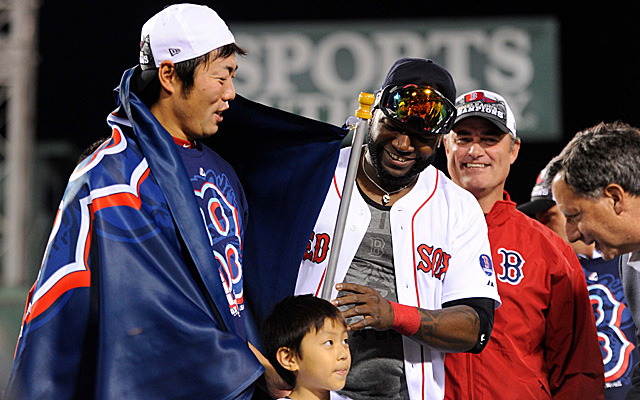 Red Sox advance to World Series: Quick hits | RIP Tigers | Grades | STL-BOS, who has edge?
The Boston Red Sox advanced to the World Series with a 5-2 victory Saturday night in Fenway Park, thanks in large part to Shane Victorino's grand slam. They'll now head to the World Series to square off against the Cardinals in a battle pitting the two teams with the best regular-season records.
Let us look back on this excellent ALCS in photos.
NOTE: Click on any individual photo for a full-size version.
| | |
| --- | --- |
| | |
| Anibal Sanchez's six no-hit innings were the story in Game 1. (Getty Images) | Miguel Cabrera's Game 2 homer sparked a four-run rally in the sixth ... (USATSI) |
Big Papi's game-tying grand slam in Game 2 turned the entire series around. (

USATSI

)
Jarrod Saltalamacchia's walking base hit is what ended things in Game 2. (

USATSI

)
John Lackey essentially outpitched the great Justin Verlander in Game 3. (Getty Images)
A light outage during a day game caused a delay in Game 3. (

USATSI

)
Prince Fielder's power was absent throughout the postseason. (

USATSI

)
The neighborhood here was pretty large. (

USATSI

)
Jake Peavy's Game 4 start wasn't confidence-inspiring. (

USATSI

)
Mike Napoli's power stroke was awakened in Detroit, where he clubbed two huge homers. (

USATSI

)
David Ross bowled over fellow catcher Alex Avila, raising talk about whether or not this play should be outlawed. (

USATSI

)
Jose Iglesias flashed some defensive wizardry in Game 5. (

USATSI

)
The Tigers may have had a huge sixth inning in Game 6, but Prince Fielder decided to do a belly flop while in a rundown. (

USATSI

)
Shane Victorino reacts to his series-winning -- eventually, as it was only the seventh inning -- grand slam in Game 6. (

USATSI

)
Here are the bullet-points of what went down Tuesday regarding MLB and the Braves' punishm...

The owners need to ratify on the new system in place, but the takeaway here is Ohtani is coming...

A preliminary report National Transportation Safety Board has shined some light on details...
John Coppolella was placed on the permanently ineligible list by MLB on Tuesday

Among other sanctions, Atlanta lost the player who was deemed the No. 1 international signing...

Among other penalties, No. 1 international prospect Kevin Maitan is now a free agent