Eye On Playoff Race: Three division titles up for grabs on Sunday
Sunday figures to be a busy day in baseball as three division title could be clinched.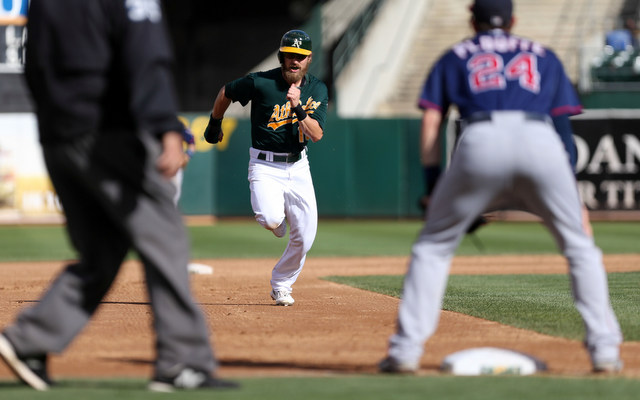 More MLB: Scoreboard | Standings | Probable Pitchers | Sortable Stats | Odds
As many as three division titles and five postseason berths can be clinch on Sunday. This could be a pretty fun day. Here's where the playoff races stand with exactly one week to go in the regular season.
If the playoffs started today...
AL wild-card: Indians at Rays
ALDS1: AL wild-card winner at Red Sox
ALDS2: Tigers at Athletics
NL wild-card: Reds at Pirates
NLDS1: NL wild-card winner at Braves
NLDS2: Dodgers at Cardinals
Current playoff odds, via FanGraphs
AL
Red Sox - IN
Athletics - 100%
Tigers - 100%
Rays - 77.3%
Indians - 66.7%
Rangers - 51.1%
Yankees - 3.0%
Orioles - 1.0%
Royals - 0.9%
NL
Dodgers - IN
Braves - 100%
Cardinals - 100%
Pirates - 99.8%
Reds - 98.7%
Nationals - 1.5%
Sunday's big matchups
Reds at Pirates, 1:35pm ET (Preview)
Jeff Locke (3.27) vs. Bronson Arroyo (3.56). Although these two teams are pretty much locked into postseason berths, they both still have a (small) chance of winning the NL Central. More likely, they're battling for homefield advantage in the NL wild-card game. They split the first two games of this three-game series and play three more games next week. Gonna be a great finish.
Orioles at Rays, 1:40pm ET (Preview)
Enny Romero (N/A) vs. Scott Feldman (3.51). The Orioles have lost three straight and are fading out of the playoff picture. A win on Sunday is damn near imperative if they want to stay in the race a little longer. The Rays are trying to fend off the Rangers and Indians for a wild-card spot and could end the day percentage points behind postseason spot with a loss and wins by Texas and Cleveland. Oh, and by the way, Romero is making his MLB debut. Congrats, kid.
Rangers at Royals, 2:10pm ET (Preview)
James Shields (3.33) vs. Alexi Ogando (3.15). The Royals are in the same boat as the Orioles, so another loss and they're pretty much done. The Rangers are a half-game back of the Indians and a full game back of the Rays, so they need to reverse their brutal September (5-14!) to get back into a postseason spot. After blowing the AL West last year, you can bet they want to avoid blowing a playoff spot this year.
Astros at Indians, 1:05pm ET (Preview)
Corey Kluber (3.62) vs. Erik Bedard (4.60). No team has a softer remaining schedule than the Indians, who wrap up with two games against the White Sox and four against the Twins following today's series finale against the Astros. It's an eviable position and one that gives them a clear advantage over the Rays, Rangers and every other AL wild-card contender. They have to capitalize though, these wins aren't guaranteed.
Marlins at Nationals, 1:35pm ET and 7:05pm ET (Preview)
Dan Haren (4.88) vs. Tom Koehler (4.51), then Stephen Strasburg (2.96) vs. Brian Flynn (9.64). Anything less than a sweep of the doubleheader will effectively knock the Nationals out of the playoff race. They've made a spirited late-season run rather than fade away and that's admirable, but the odds are really stacked against them. If nothing else, they're making the Pirates and Reds sweat a little.
Giants at Yankees, 1:05pm ET (Preview)
Andy Pettitte (3.93) vs. Yusmeiro Petit (3.08). This is going to be great for two reasons. One: Pettitte vs. Petit! That's awesome. Two: It's Mariano Rivera day at Yankee Stadium. The team is holding a big pre-game ceremony to honor their future Hall of Fame closer as he prepares to enter retirement. The Yankees are a fringe wild-card contender at best, but a win today to finish off the sweep of the Giants would make next week's three-game series against the Rays mighty interesting.
Brewers, 8:00pm ET (Preview)
Wily Peralta (4.34) vs. Joe Kelly (2.74). Simply put: A win and they're in. The Cardinals control their own destiny and can clinch at least a wild-card spot if they finish off the three-game sweep of the lowly Brewers. Couldn't ask to be in a better position.
Sunday's possible clinchers
- Athletics clinch AL West with a win OR a Rangers loss
- Tigers clinch AL Central with a win AND an Indians loss
- Tigers clinch share of AL Central with a win OR an Indians loss
- Braves clinch NL East with a win OR at least one Nationals loss
- Cardinals clinch playoff berth with a win OR at least one Nationals loss
- Pirates clinch playoff berth with a win AND two Nationals losses
- Pirates clinch share NL wild-card with a win AND one Nationals loss, or a loss AND two Nationals losses
2013 postseason schedule
NL Wild Card Game: Oct. 1
AL Wild Card Game: Oct. 2
NL Division Series begin: Oct. 3
AL Division Series begin: Oct. 4
NL Championship Series begins: Oct. 11
AL Championship Series begins: Oct. 12
World Series begins: Oct. 23
Boston wants to add two big bats to their lineup, not just one

Even more relievers signed on the final day of the Winter Meetings

Keep tabs on the top 50 free agents right here
The league is not happy Ohtani's medical information leaked

Kansas City and Baltimore were quite busy at the Rule 5 Draft

Piscotty's mother was diagnosed with ALS earlier this year