Eye on Playoff Races: Cardinals on verge of NL Central crown
Both the NL Central and one of the two AL wild-card spots can be claimed on Friday night.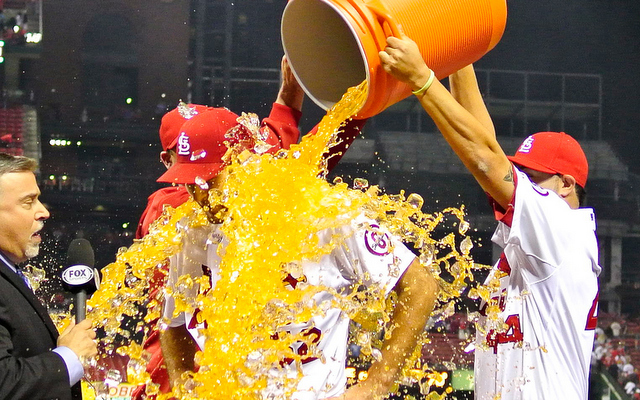 More MLB: Scoreboard | Standings | Probable Pitchers | Sortable Stats | Odds
Ready for the final weekend of the regular season? Both AL wild-card spots and the NL Central are still up for grabs, ditto homefield advantage in both leagues. Here's where things stand as of Friday morning.
If the playoffs started today...
AL wild-card: Cleveland Indians at Tampa Bay Rays
ALDS1: Wild-card winner at Boston Red Sox
ALDS2: Detroit Tigers at Oakland Athletics
NL wild-card: Cincinnati Reds at Pittsburgh Pirates
NLDS1: Wild-card winner at Atlanta Braves
NLDS2: Los Angeles Dodgers at St. Louis Cardinals
Current playoff odds, via FanGraphs
AL
Red Sox - IN
A's - IN
Tigers - IN
Rays - 97.2%
Indians - 81.5%
Texas Rangers - 21.3%
NL
Dodgers - IN
Braves - IN
Cardinals - IN
Pirates - IN
Reds - IN
Friday's big games
Pirates at Reds, 7:10pm ET (Preview)
Homer Bailey (3.40) vs. A.J. Burnett (3.39). This is very simple: whoever wins this three-game series gets homefield advantage in the NL wild-card game. The Pirates are one game up in the standings and the season series is tied. If they win at least two of three, they get homefield advantage. If the Reds win two of three, they will have the same record as Pittsburgh but own the tiebreaker by virtue of head-to-head record. That equals homefield advantage. Very simple.
Rangers at Los Angeles Angels , 8:05pm ET (Preview)
Alexi Ogando (2.93) vs. C.J. Wilson (3.36). The Rangers are one game back of the Indians for the second wild-card spot with only three games to play. They're running out of time and need every win possible this weekend. Losing two of the next three -- they took the series opener on a Jurickson Profar walk-off homer on Thursday -- would effectively end their season.
Indians at Minnesota Twins , 8:10pm ET (Preview)
Pedro Hernandez (6.05) vs. Corey Kluber (3.61). Cleveland is in a great spot. They're a game up on the Rangers for the second wild-card spot and have three games against the lowly Twins this weekend. Wins against bad teams aren't guaranteed -- Chris Perez almost blew a four-run lead on Thursday, for example -- but it's better than having to beat a good team to get into the postseason.
Rays at Toronto Blue Jays , 7:07pm ET (Preview)
R.A. Dickey (4.27) vs. Jeremy Hellickson (5.16). With a one-game lead over the Indians and two-game lead over the Rangers, all it takes is one win for the Rays to clinch at least a tiebreaker game for the second wild-card spot. Win one game and they've got a share, win two and they're in. That's it.
Chicago Cubs at Cardinals, 8:15pm ET (Preview)
Lance Lynn (4.09) vs. Travis Wood (2.98). This one is easy too: one more win and the Cardinals are NL Central champs. They're tied with the Braves for the best record in the league but Atlanta holds the tiebreaker, so it will take a bit more work for St. Louis to clinch homefield advantage.
Friday's possible clinchers
- Cardinals clinch NL Central with a win OR a Pirates loss.
- Rays clinch wild-card spot with a win AND a Rangers loss.
- Rays clinch share of wild-card spot with a win OR a Rangers loss.
- Indians clinch share of wild-card spot with a win AND a Rangers loss.
- Red Sox clinch best record in AL (and homefield advantage) with a win AND an Athletics loss.
2013 postseason schedule
NL Wild Card Game: Oct. 1
AL Wild Card Game: Oct. 2
NL Division Series begin: Oct. 3
AL Division Series begin: Oct. 4
NL Championship Series begins: Oct. 11
AL Championship Series begins: Oct. 12
World Series begins: Oct. 23