Eye On Playoff Races: Dodgers on verge of clinching NL West title
No team has clinched a playoff spot yet this season, but the Dodgers can become the first win with a win on Tuesday.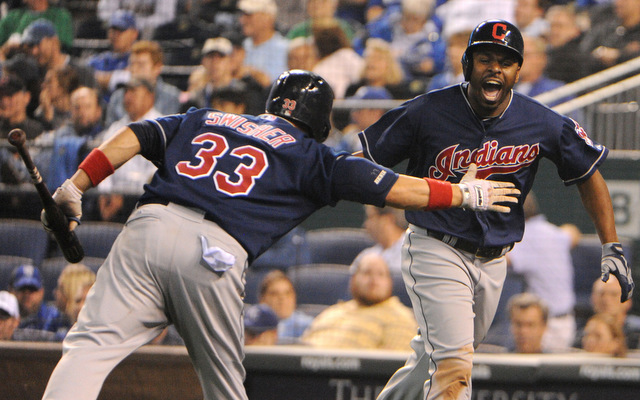 More MLB: Scoreboard | Standings | Probable Pitchers | Sortable Stats | Odds
The regular season ends in 12 days and not a single team has clinched a playoff berth. That could change tonight. Here is today's look at the various playoff races after Tuesday's action changed things rather dramatically.
If the playoffs started today...
AL wild-card: Rays at Rangers
ALDS1: AL wild-card winner at Red Sox
ALDS2: Tigers at Athletics
NL wild-card: Reds at Pirates
NLDS1: NL wild-card winner at Braves
NLDS2: Dodgers at Cardinals
Current playoff odds, via FanGraphs
AL
Red Sox - 100%
Athletics - 100%
Tigers - 100%
Rays - 66.8%
Indians - 65.9%
Rangers - 53.9%
Orioles - 6.4%
Yankees - 4.5%
Royals - 2.4%
NL
Braves - 100%
Dodgers - 100%
Cardinals - 99.7%
Pirates - 99.6%
Reds - 98.1%
Nationals - 2.7%
Wednesday's big matchups
Rangers at Rays, 7:00pm ET (Preview)
Derek Holland (3.49) vs. Chris Archer (3.03). These two teams have the same exact record (82-68) and sit in the two AL wild-card spots. The Rangers snapped their seven-game losing streak with a blowout win over the Rays on Tuesday but that doesn't mean they're out of the woods yet, not with a slim half-game lead on a postseason spot. Same goes for Tampa, obviously. The loser of Wednesday's game -- the third in this four-game series -- could wake up on Thursday on the outside of the playoff picture for the first time in months.
Indians at Royals, 8:10pm ET (Preview)
Danny Salazar (2.66) vs. Bruce Chen (3.11). The Tribe scored five unanswered runs in the late innings on Tuesday and dealt a devastating blow to Kansas City's playoff chances with the come-from-behind win. Another win in this game will move the Indians into the second wild-card spot no matter who wins the Rays-Rangers game. The Royals are on their last legs and although another loss tonight would not officially eliminate them from postseason contention, it would make a late-season charge damn near impossible.
Orioles at Red Sox, 7:10pm ET (Preview)
Wei-Yin Chen (3.99) vs. Jake Peavy (4.03). Baltimore ended Koji Uehara's consecutive batters retired streak at 37 -- four short of Bobby Jenks' record -- in Tuesday's win and they now sit just two games out of a playoff spot. Their schedule is the toughest of any remaining AL wild-card contender, so that come-from-behind win was huge. Boston has the best record in the league and comfortable division lead, so an AL East title is a foregone conclusion at this point. They can clinch as soon as tonight, but that would require some help from the Royals.
Braves at Nationals, 7:05 pm ET (Preview)
Alex Wood (3.45) vs. Ross Ohlendorf (3.15). The Nationals swept Tuesday's doubleheader thanks in part to a rare Andrelton Simmons error, but they still have a very long way to go to get back into the wild-card race. Ohlendorf has pitched well lately and the Braves have not seen him at all this year. Atlanta's magic number to clinch the NL East title is just four -- meaning they could have clinched yesterday had they swept the doubleheader -- and their goal these days is lining up the playoff rotation and getting people healthy/rest. It would behoove them to actually clinch first.
Padres at Pirates, 7:05pm ET (Preview)
Tyson Ross (3.29) vs. Charlie Morton (3.54). The Pirates have lost the first two games of this four-game set and have fallen to a game out of first place in the NL Central. Considering that six of their final 11 games are against the Reds -- Cincinnati trails Pittsburgh by just 1.5 games in the standings -- these games against a Padres team that will finish comfortably below .500 for the third straight year are damn near must-wins. The schedule doesn't get easier; the Pirates have to take advantage against the bad teams and they've yet to do that against San Diego.
Rockies, 8:40pm ET (Preview)
Adam Wainwright (2.96) vs. Tyler Chatwood (3.20). The Cardinals pummeled the Rockies last night and took sole possession of first place in the NL Central. The rest of their schedule is pretty weak, but they no doubt want to put things to bed early and keep the Pirates from staying in the division race. St. Louis has the right guy on the mound tonight.
Blue Jays, 7:07pm ET (Preview)
Phil Hughes (5.07) vs. J.A. Happ (5.15). This is pretty much it for the Yankees. They were shut out by R.A. Dickey & Co. on Tuesday and another loss on Wednesday would leave them 3.5 games out of a wild-card spot with 10 games to play. The Rays got demolished on the West Coast, the Rangers just lost seven straight, the Blue Jays shut Edwin Encarnacion down for the season ... what more does New York need? The rest of the AL is doing all they can to keep them in the wild-card race and the Yankees aren't taking advantage.
Wednesday's possible clinchers
The Dodgers can clinch the NL West title with a win over the Diamondbacks. The Red Sox can clinch a playoff berth with a win and an Indians loss.
2013 postseason schedule
NL Wild Card Game: Oct. 1
AL Wild Card Game: Oct. 2
NL Division Series begin: Oct. 3
AL Division Series begin: Oct. 4
NL Championship Series begins: Oct. 11
AL Championship Series begins: Oct. 12
World Series begins: Oct. 23
The former Braves star served as a race official for the Daytona 500

He'd be a good fit in the Bronx, but can they make it work and still stay under the luxury...

The slugger had shoulder surgery in November
Tebow reported to spring training with Mets position players on Sunday

Santa Clara senior Jake Brodt did the honors Saturday

Eric Hosmer's eight-year contract with San Diego has wide-ranging ramifications