Eye On Playoff Races: Indians look to capitalize on Rangers' slide
The Indians have a chance to jump over the Rangers and into playoff position with a win on Tuesday.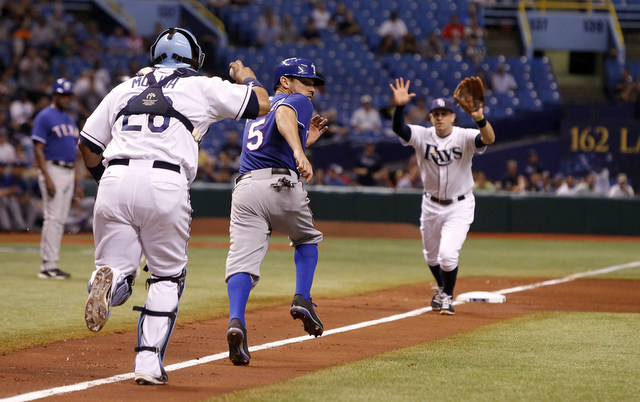 More MLB: Scoreboard | Standings | Probable Pitchers | Sortable Stats | Odds
There are less than two weeks remaining in the regular season and not a single playoff spot has been clinched. The races -- particularly the AL wild-card race -- change by the day, so we're going to provide daily updates and look forward to the day's big games the rest of the way. Here's the current postseason picture:
If the playoffs started today ...
AL wild-card: Rangers at Rays
ALDS1: AL wild-card winner at Red Sox
ALDS2: Tigers at Athletics
NL Central one-game tiebreaker: Cardinals at Pirates
NL wild-card: Reds at loser of Cardinals/Pirates
NLDS1: NL wild-card winner at Braves
NLDS2: Dodgers at winner of Cardinals/Pirates
Current playoff odds, via FanGraphs
AL
Red Sox - 100%
Athletics - 100%
Tigers - 100%
Rays - 76.6%
Indians - 54.7%
Rangers - 47.3%
Yankees - 10.0%
Royals - 7.1%
Orioles - 4.3%
NL
Braves - 100%
Pirates - 100%
Cardinals - 100%
Dodgers - 100%
Reds - 98.5%
Nationals - 1.6%
Tuesday's big matchups
Braves at Nationals, 1:05pm ET and 7:05 pm ET
Mike Minor (3.15) vs. Dan Haren (5.02), then Freddy Garcia (4.86) vs. Tanner Roark (1.30). Monday's series opener was postponed due to the tragedy at the Naval Yard in Washington. The Braves have the NL East title in the bag and are more concerned with resting their regulars and lining up their playoff rotation than actually winning games at this point. I suppose the best record in the league and homefield advantage is still something worth shooting for. The Nationals, meanwhile, have a very small chance -- but a chance nonetheless -- of beating out the Reds for the second wild-card spot. These two games today are huge for them. A sweep gives them some more life while getting swept would effectively end their postseason drive.
Rangers at Rays, 7:10 pm ET (Preview)
Alexi Ogando (3.23) vs. Jeremy Hellickson (5.04). Yesterday's series-opening win moved the Rays ahead of the Rangers in the wild-card standings. Texas has lost seven straight games -- they haven't even held a lead in any of the seven games -- and 11 of their last 13 games overall, so they are reeling in a real bad way. Another loss today could move them out of playoff position for the first time in months. Tampa Bay has little chance of winning the AL East at this point and just wants to continue creating separation between them and the army of wild-card hopefuls.
Indians at Royals, 8:10 pm ET (Preview)
Corey Kluber (3.55) vs. Yordano Ventura (N/A). Congrats on your major league debut Yordano, now go out and beat a direct wild-card competitor with less than two weeks remaining in the season. The Royals are turning to the rookie right-hander because Danny Duffy's forearm is barking, and all he has to do is win the team's most important game of the season. Most important until tomorrow's game, anyway. The Indians could jump over the Rangers and claim a wild-card spot with a win and a Texas loss, and it's worth noting that after this series, they close out the season with four games against the Astros, two against the White Sox, and four against the Twins. It doesn't get much easier than that. Kansas City has to make sure Cleveland stays close in the standings.
Blue Jays, 7:07pm ET (Preview)
Andy Pettitte (4.04) vs. R.A. Dickey (4.36). Back in March, this series looked like it would be meaningful for an entirely different reason. The Blue Jays were the trendy pick in the AL East and the Yankees always seem to contend, so a head-to-head matchup in September could have determined the division crown. Instead, Toronto is in last place and New York is fighting for its postseason life. The Yankees have not won a single game since Thursday but have somehow gained a half-game in the wild-card race -- they can thank the Rangers for that -- so they're being given every opportunity to stay in the race. At some point they'll actually have to hold up their end of the bargain and take advantage though. They've gotten enough favors already.
Orioles at Red Sox, 7:10pm ET (Preview)
Scott Feldman (3.54) vs. Ryan Dempster (4.70). The Orioles have the toughest remaining schedule of the wild-card contenders, as 10 of their final 13 games will be played against the Red Sox and Rays. This series in Boston isn't their last gasp but it is close. Anything short of winning two out of three will leave them in a big hole with a lot of teams ahead of them. It's a crucial series for Baltimore. As for the Red Sox ... they've got the AL East crown all but locked up and are simply running out the clock on the regular season. They also have the best record in the league by 3.5 games, so even homefield advantage is a safe bet at this point. Talk about being in an envious position.
Tuesday's possible clinchers
The Braves would clinch the NL East title with a sweep of their doubleheader over the Nationals. The Red Sox would clinch at least a wild-card spot with a win and an Indians loss.
2013 postseason schedule
NL Wild Card Game: Oct. 1
AL Wild Card Game: Oct. 2
NL Division Series begin: Oct. 3
AL Division Series begin: Oct. 4
NL Championship Series begins: Oct. 11
AL Championship Series begins: Oct. 12
World Series begins: Oct. 23
The lefty starter is coming off a terrible season

After acquiring Ian Kinsler and Zack Cozart in recent days, the Angels are trending upward

Cozart's coming off a big season as the Reds' shortstop
The veteran slugger spent the last eight seasons with Cleveland

The Padres may be poised for an active winter

Yes, Bryce Harper is going to make a lot of money next winter