Eye on Playoff Races: Rays and Indians closing in on wild-card spots
Three teams remain in the mix for the two AL wild-card spots heading into the final weekend of the 2013 season.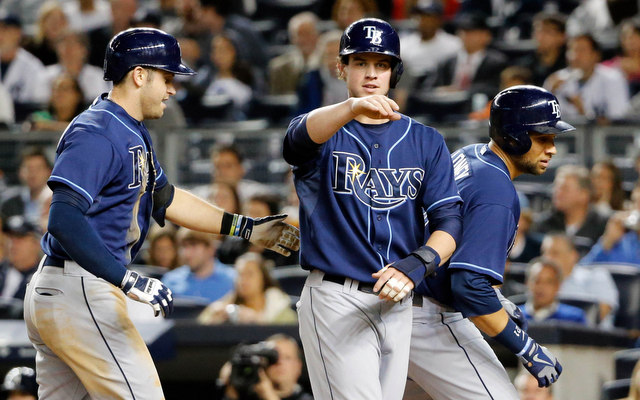 More MLB: Scoreboard | Standings | Probable Pitchers | Sortable Stats | Odds
Eight of 10 playoff spots are accounted for heading into the final weekend of the regular season. All six divisions have been decided, so the only races left are for seeding and the AL wild-card spots. Three teams remain in that mix. Here's where the playoff situations sit coming into Thursday:
If the playoffs started today...
AL wild-card: Indians at Rays
ALDS1: Wild-card winner at Red Sox
ALDS2: Tigers at Athletics
NL wild-card: Reds at Pirates
NLDS1: Wild-card winner at Cardinals
NLDS2: Dodgers at Braves
Current playoff odds, via FanGraphs
AL
Red Sox - IN
A's - IN
Tigers - IN
Rays - 96.0%
Indians - 80.2%
Rangers - 23.8%
NL
Dodgers - IN
Braves - IN
Cardinals - IN
Pirates - IN
Reds - IN
Thursday's big games
Twins, 8:10pm ET (Preview)
Andrew Albers (3.98) vs. Zach McAllister (3.88). Cleveland closes out the season with four games against the awful Twins, but they still need to actually turn that easy schedule into some wins before officially clinching a playoff berth. Their magic number right now is four, so there's still some work left to be done despite their comfortable situation.
Angels at Rangers, 8:05pm ET (Preview)
Matt Garza (3.90) vs. Jerome Williams (4.55). The Rangers went from having a 3.5-game lead in the AL West to being a game out of a wild-card spot in the span of 34 days, so their season comes down to this four-game series against the Halos. Texas just beat up on the Astros and is the only team in baseball currently outside the playoff picture with a chance to get in.
Yankees, 7:05pm ET (Preview)
Ivan Nova (3.13) vs. Alex Cobb (2.90). The Rays have a one-game lead on the Indians and a two-game lead on the Rangers for the top wild-card spot, and thus homefield advantage in the wild-card game. Tampa has a 51-30 (.630) record at Tropicana Field this season compared to 38-39 (.494) on the road, so landing that top wild-card spot is kind of a big deal.
Phillies at Braves, 7:10pm ET (Preview)
David Hale (0.00) vs. Tyler Cloyd (5.40). Thanks to their huge lead in the NL East, no one has really noticed the Braves have lost 12 of their last 20 games. They fell a half-game behind the Cardinals for the best record in the league on Wednesday night and need to string a few wins together this weekend if they want to have homefield advantage through the NL portion of the postseason. They're another team that fares much better at home (53-24, .688) than on the road (40-41, .494).
Thursday's possible clinchers
The Rays will clinch at least a share of a wild-card spot with a win AND a Rangers loss
2013 postseason schedule
NL Wild Card Game: Oct. 1
AL Wild Card Game: Oct. 2
NL Division Series begin: Oct. 3
AL Division Series begin: Oct. 4
NL Championship Series begins: Oct. 11
AL Championship Series begins: Oct. 12
World Series begins: Oct. 23
Then again, three trades in four days might be behind Jerry Dipoto's usual pace

Ohtani is arguably the best hitter and pitcher in Japan

The O's need rotation help, and Cobb is available for hire
The Red Sox and Cardinals are expected to make trade offers next

The free agent first baseman may be a fit in St. Louis

The front office changes in Atlanta continue