Eye on Rivalries: Dodgers and Padres meet for first time since brawl
The Dodgers and Padres highlight the early-week schedule following last week's benches-clearing brawl.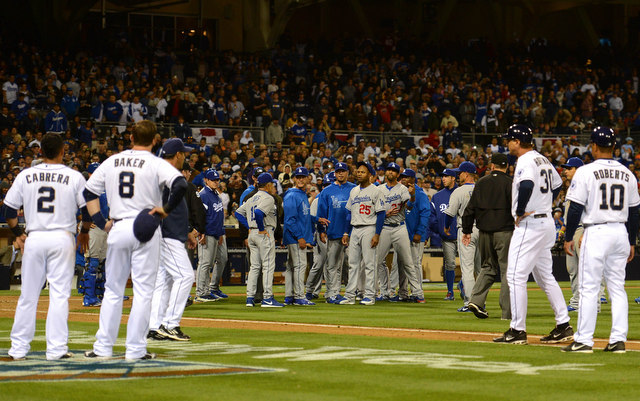 More MLB: Scoreboard | Standings | Probable Pitchers | Sortable Stats | Odds
Although this week starts with Jackie Robinson Day, nearly half the league (12 teams, to be exact) will not play on Monday. Seems like MLB should make sure every team plays on this day going forward, no? That's something that should happen. Anyway, here's a look at the notable series coming early this week:
Brawlin' In SoCal
It has been four days since Zack Greinke's collarbone was broken during a benches-clearing brawl between his Dodgers and the division-rival Padres. The two teams meet again for three games this week, with the series shifting to Dodger Stadium and both Greinke (injury) and Carlos Quentin (suspension) not slated to participate. Southpaw Chris Capuano will fill Greinke's rotation spot for the time being. Are we in for another brawl? Players on both sides have said all the right things the last few days -- what's done is done, etc. -- but there is bound to be some lingering bad blood.
Mr. Buehrle vs. His Former Team
Mark Buehrle has spent parts of 14 seasons in the big leagues, and by now he has defeated all but two of the 30 teams: the Mets and the White Sox. He is 0-3 in four career starts against the Mets, but on Monday he will make his first career start against the ChiSox, the team with which he spent the first 12 years of his career. The game will be played in Toronto, however, so Buehrle will have to wait a little while longer for his first career start as a visiting player at U.S. Cellular Field. The Blue Jays will visit Chicago's south side June 10-12.
Mr. Francona vs. His Former Team
I'm cheating a little here, because this series doesn't begin until Tuesday. Like I said, nearly half the league is off on Monday.
Indians manager Terry Francona spent 13 years as a big-league manager, most notably guiding the Red Sox to a pair of World Series championships during his eight years in Boston. He and the team had a falling out following the club's 2011 collapse and, after a year in the broadcast booth, Francona returned to the dugout this year with the Indians. Similar to Buehrle, Francona will have to wait a bit longer to return to Fenway Park as a visiting manager. The Indians don't visit Boston until May 23-26.
2001 World Series Rematch
I'm cheating again here (this series doesn't start until Tuesday, either), but interleague play brings us a World Series rematch early this week. The Diamondbacks will be in New York for a three-game set against the Yankees, 12 years after walking off against the Bombers in Game 7 of the 2001 World Series. I'm not sure if there has been a more dramatic and entertaining Fall Classic in my lifetime.
Believe it or not, only five players from that World Series remain active in the big leagues today: Derek Jeter (injured at the moment), Andy Pettitte, Alfonso Soriano, Randy Choate and, fittingly on Jackie Robinson Day, No. 42 Mariano Rivera.
The Orioles, Blue Jays and Rays have star players they should use toward rebuilding for the...

The Yankees may not be done collecting stars

The team could instead use a closer by committee approach
Both Seung-Hwan Oh and Trevor Rosenthal are free agents

The Yankees may plug their third base hole with a familiar face

Darvish's poor World Series hasn't scared the Dodgers away