Fans have message for Hamilton's homecoming: Baseball town
The football fans of Texas came out and booed Josh Hamilton in full force. So did the baseball fans. And, I assume, the basketball, bull-riding and beef brisket fans, too.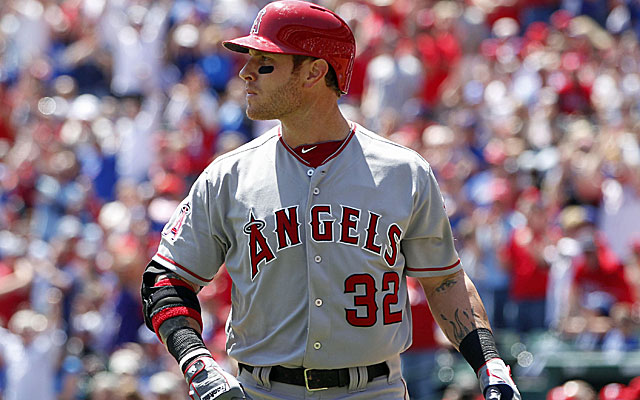 ARLINGTON, Texas -- The football fans of Texas came out and booed Josh Hamilton in full force. So did the baseball fans. And, I assume, the basketball, bull-riding and beef brisket fans, too.
More on Angels-Rangers
Related links
Fans of every color, stripe, generation and denomination trekked to the Ballpark in Arlington on Friday afternoon. They brought long memories and leather lungs. They came, they saw and, whew, did they ever boo.
"I'd be lying if I said it didn't bother me a little," Hamilton said.
When their Rangers finished sticking it to the Angels 3-2, they sent Hamilton to the showers with chants of "Base-ball Town! Base-ball Town!"
"What are you going to do?" he asked. "Get me to come out of the lineup? Get me to say I can't play because I can't stand it?"
Before the game, Hamilton said that his infamous "football town" comment has been an "absolute nightmare."
After the game, it was clear that no matter when the Cowboys start, Hamilton is not about to back down.
"I will never take back what I said until [the fans] show up here every night for 30 years," he said defiantly.
And then: "Honestly, man, that was louder than any playoff game I've ever been to."
One of Hamilton's greatest charms is that he wears both his honesty and emotions on his sleeve, just like the flag of Texas on the Rangers' uniform.
But those same traits at times also will conspire to reveal that he's not always an Angel, either.
You knew people here would go ballistic before Hamilton's football town quotes had even been uplinked from the Angels' spring camp in Arizona to the Dallas CBS television affiliate that obtained them in mid-February.
"There are true baseball fans in Texas," Hamilton said then. "But it's not a true baseball town. They're supportive, but they also got a little spoiled at the same time pretty quickly."
To an area that was passing out claw and antler T-shirts to newborns in 2010, Hamilton might as well have called the local barbecue inauthentic, or zinged the Bushes.
"Well, look, at some point you have to cross all the way over and become part of your new team," said starter C.J. Wilson, who was in the same position as Hamilton a year ago after leaving the Rangers and signing with the Angels as a free agent.
"Obviously, the fans have made a clean break and made that transition. I'm sure there still will be some highlights of Josh that pop up around here, like the four-home run game.
"But now he's an Angel. And the fans are treating him as such."
They would be viewing him as a traitor strictly on the basis of the five-year, $125-million deal he signed in Anaheim.
Toss in the perfect spiral that was his pigskin proclamation, and Hamilton will be trapped in his own end zone for quite some time.
They booed as he struck out in the second (including between pitches). Booed as he went down again in the fourth on another terrible third-strike swing.
They catcalled as he warmed up between innings in right field. Hooted when he ran in to catch Craig Gentry's shallow pop up in the fourth.
The sellout crowd of 48,845 gained momentum as the game rolled on and Hamilton's struggles from the last weeks of 2012 seemed to carry over into 2013.
"I got worn out today just as good as I have anywhere else," Hamilton said, sounding weary, wounded and more than a little worn. "The chanting. I was hearing chants of 'Crackhead!' in Yankee Stadium like today."
Those, he said, came from behind him in the right-field stands around "the seventh inning, after the alcohol was flowing."
"It probably hurts a little more knowing people can turn that quickly," he said.
It surely doesn't help that the Angels now have lost three of their first four games. Or that Hamilton is hitting .063 (1 for 16) with eight strikeouts.
Though manager Mike Scioscia claimed he saw nothing unusual about Hamilton on Friday, Hamilton admitted to being rattled by the reception during his first two at-bats.
"A little jumpy," he said.
The third at-bat (fly ball to right field in the sixth) "felt better", and the last at-bat (deep fly to center in the ninth) was the best of all.
Wouldn't you know it, Hamilton came to the plate in the ninth inning with one out, nobody on and the Angels trailing 3-2. There is no hiding in baseball. Situations seek you out. Especially on a day like this.
All afternoon, same story.
Second inning, no score, Nelson Cruz on second with one out, A.J. Pierzynski rattled one into the corner and the ball skipped off the wall and past Hamilton.
Pierzynski wound up on third with an RBI triple. It should have been a double and an E-9. Pierzynski, who also now occupies Hamilton's old locker, is going to dig Texas' official scorer.
Then, at 2-2 with two out in the eighth and the speedy Gentry on second, Ian Kinsler rifled a single to right. Hamilton came up firing, but his throw short-hopped catcher Chris Iannetta, bouncing past him as Gentry scored what was the winning run.
It was moments later when Hamilton came to the plate as the tying run. Boooo!
A young couple in the middle deck stood and turned their backs on Hamilton -- literally -- until he had safely been retired.
Then they turned around and whooped along with everyone else. While the guy next to them hoisted a tin of Copenhagen, screaming, "You want a dip?! You want a DIP?!"
"You know," Hamilton said. "They paid to come to the game. They expressed themselves how they wanted to express themselves. …
"It was fun. I enjoyed it. I can't wait to talk to my wife and hear her story on how things went in the stands."
Maybe that should be a conversation best conducted later. Perhaps, during football season.
Gallardo spent the first eight years of his career in Milwaukee

MLB revenues are at a record high right now, but teams aren't spending it on players

Chicago added Tyler Chatwood earlier this offseason but might not be done adding to the ro...
The Dodgers and Braves pulled off a whopper on Saturday

Sabathia will reportedly spend a 10th season in the Bronx

Fowler suffered a knee injury at Chicago's Guaranteed Rate Field