FAQ: Oregon State top seed for NCAA baseball tournament
Oregon State was named the top national seed for the NCAA baseball tournament, looking for a third College World Series title in school history.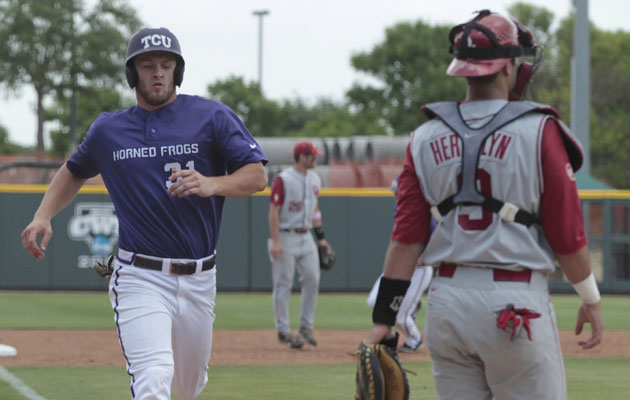 More MLB: Power Rankings | Expert Picks | Latest news & notes | Fantasy news
The field for the 2014 NCAA Baseball Tournament was announced on Monday and two-time national champion Oregon State is the top overall seed.
It has been a good few years for the Pac 12 in baseball, something the Beavers will look to extend. Arizona won the title in 2012 followed by UCLA last season. Going back to 2006 when OSU won the first of back-to-back titles, the Pac 12 will be hoping for a fifth championship in the last nine years.
The top eight seeds, the national seeds, in the tournament go as follows: 1. Oregon State (42-12), 2. Florida (40-21), 3. Virginia (44-13), 4. Indiana (42-13), 5. Florida State (43-15), 6. Louisiana-Lafayette (53-7), 7. TCU (42-15), 8. LSU (44-14-1). LSU is the only other school in the top eight that has won a national championship in baseball (six of them to be exact).
Here is how the entire bracket shakes out with the Regionals (and Super Regional matchups paired with):
Corvallis Regional
Seed
School
1
Oregon State (1)
2
UNLV
3
UC Irvine
4
N. Dakota St.
Stillwater Regional
Seed
School
1
Oklahoma State
2
Nebraska
3
CS-Fullerton
4
Binghamton
Houston Regional
Seed
School
1
Rice
2
Texas
3
Texas A&M
4
George Mason
Baton Rouge Regional
Seed
School
1
LSU (8)
2
Houston
3
Bryant
4
SE Louisiana
Tallahassee Regional
Seed
School
1
Florida State (5)
2
Alabama
3
Kennesaw State
4
Georgia So.
Louisville Regional
Seed
School
1
Louisville
2
Kentucky
3
Kansas
4
Kent State
Nashville Regional
Seed
School
1
Vanderbilt
2
Oregon
3
Clemson
4
Xavier
Bloomington Regional
Seed
School
1
Indiana (4)
2
Indiana State
3
Stanford
4
Youngstown St.
Gainesville Regional
Seed
School
1
Florida (2)
2
Long Beach St.
3
N. Carolina
4
Coll. of Char.
Coral Gables Regional
Seed
School
1
Miami
2
Texas Tech
3
Columbia
4
Bethune-Cook.
S.L. Obispo Regional
Seed
School
1
Cal Poly
2
Arizona St.
3
Pepperdine
4
Sacramento St.
Fort Worth Regional
Seed
School
1
TCU (7)
2
Dallas Bap.
3
Sam Houston St.
4
Siena
Lafayette Regional
Seed
School
1
UL-Lafayette (6)
2
Miss. State
3
S. Diego St.
4
Jackson St.
Oxford Regional
Seed
School
1
Ole Miss
2
Washington
3
Georgia Tech
4
Jacksonville St.
Columbia Regional
Seed
School
1
S. Carolina
2
Maryland
3
Old Dominion
4
Campbell
Charlottesville Regional
Seed
School
1
Virginia (3)
2
Arkansas
3
Liberty
4
Bucknell
A couple of notes: Florida State is hosting a Regional for a record 31st time while the Seminoles are still seeking for that elusive first title for longtime head coach Mike Martin. Their archrivals, the Miami Hurricanes, are in the NCAA tournament for a 42nd consecutive year, the longest such streak going in baseball.
On the other side of the spectrum, Maryland is making its return to the NCAA tournament for the first time since 1971.
Much like football, the SEC leads the way in baseball, putting a tournament-high 10 teams into the field. Next is the ACC with seven teams while the Big 12 and Pac 12 each placed five teams
The defending champion UCLA Bruins failed to make it back to the big dance after finishing the season 25-30-1 overall, 12-18 in the Pac 12.
Now for some Frequently Asked Questions:
How does the tournament work?
Like the NCAA basketball tournament (or like it was a few years ago), the field is 64 teams deep. There are 16 Regional sites with four teams in each regional; eight of those regionals are hosted by national seeds, the top eight-rated teams in the tournament.
Each Regional is a simple double-elimination tournament, starting with the traditional seeding breakdown of 1 vs. 4 and 2 vs. 3. Last team standing advances then to the Super Regional.
This is where the national seeds play their biggest roles. When the tournament is announced, two regionals are paired, one with a national seed and one without. If the national seed wins its Regional, it will host the Super, meaning national seeds have home-field advantage all the way to Omaha. In the Super Regional it's simple: A quick best-of-3 series plays out, winner advances to the College World Series.
Once the eight teams are set for Omaha, the Regional and Super Regional formats essentially repeat. Split into two groups, each half of the bracket plays a double-elimination "Regional" with the two winners advancing to the CWS final, structured just like the Super Regional again with a best-of-3 series. This is a departure from how the tournament used to be when it was a straight double-elimination event. Now in theory a team could lose two games in Omaha and still win the championship.
When does the tournament start?
The action will get under way starting on Friday when half the Regionals will begin and will be played through Sunday (if necessary) while the other half of the Regionals will start on Saturday and through to Monday (if necessary). It's a lot of baseball crammed into a couple of days.
As for the actual World Series, that is set to begin on June 14 in Omaha with the championship being awarded either on June 24 or June 25.
Will this finally be the ACC's year?
This is a FAQ because literally, it gets asked every year. The ACC is a great baseball conference, in the conversation annually as the best in the nation but yet it has not produced a champion since Wake Forest all the way back in 1955. It has a four-time national champion as part of its conference in the University of Miami Hurricanes but all four of Miami's titles were won as an independent.
Certainly there's a shot the ACC could get that elusive title this year with two of the top teams in the tournament in Virginia and Florida State (and Miami is also a Regional host). But we're just in a wait-and-see mode with the conference because one year the ACC literally comprised half of the CWS in 2006 and still no team took home the title.
What should we expect, 11-10, gorilla baseball?
Not at all, the college game has changed tremendously over the past few years; gone are the days of Skip Bertman's LSU teams and others simply outhomering teams. The college game has seen the runs dry up substantially and it has become much more of a pitching-dominated affair.
The biggest reason for this was a change to the equipment restrictions, reducing the "Bat-Ball Coefficient of Restitution" standard in 2011; basically it weakened the aluminum bats to hit more like wood.
Who should I watch for?
By the time the tournament gets to Omaha, you will have a better idea because the MLB draft will have taken place and you will see who might be going to play where (for the draft- eligible players, that is). But of course not all the best players will make it to Omaha, only a handful will. So with that in mind, here are 10 players from the Field of 64 (in no particular order).
Ben Wetzler, Oregon State: The Beavers pitcher is 11-1 this season with an absurd 0.76 ERA in 95 innings pitched. He was a fifth-round pick by the Phillies in 2013, though they turned him in to the NCAA for using an agent during contact negotiations. Wetzler was suspended for part of the season as a result.
Brandon Finnegan, TCU: A projected first-round pick, the lefthander has 103 strikeouts in just 79.1 innings and a 2.14 ERA. He's one of four Horned Frogs with at least 8 wins and a sub 3.01 ERA.
Aaron Nola, LSU: Another hard-thrower projected in the first round, the Tigers ace is third in the nation with 127 Ks in 109 innings.
Kyle Schwarber, Indiana: The 1B/catcher led the Hoosiers with 12 home runs this season and slugged .623. with an average of .340. he's one of six IU players above .310.
Nathan Kirby, Virginia: The Cavaliers are led by their pitching and Kirby leads the way with a 1.48 ERA for a staff that has a combined ERA of 2.36 and a very strong bullpen.
Jameis Winston, Florida State: Ever heard of this guy? The Heisman Trophy winner isn't half-bad at this baseball thing. He posted a 1.17 ERA in 30.2 IP, averaging nearly a K per inning and posting seven saves.
Max Pentecost, Kennesaw State: A catcher with the whole package, Pentecost is a hitting machine with a .423 average and leads the Owls in the Triple Crown categories. He is also 16-of-18 on steal attempts.
A.J. Reed, Kentucky: College baseball's biggest slugger, Reed led the nation with 23 home runs this season and finished fourth with 70 RBI. Oh, and the 6'4, 240-pounder pitches too.
Caleb Adams, Louisiana Lafayette: The Ragin Cajuns have quite the ragin offense. Led by Adams' .386 average, eight Cajun regulars are hitting above .300 and the team average is .317.
Dale Carey, Miami: Carey leads the Hurricanes with a .313 average but he makes the list for his penchant for defensive plays in centerfield. Plays like this one earlier this season against Virginia: