Far ahead of schedule, Pelfrey has Twins starting to believe
Mike Pelfrey had Tommy John surgery last May 1. Pitchers normally take 12 months to come back from Tommy John, but Pelfrey is so far ahead of schedule that he's scheduled to make a spring training start for the Twins on Tuesday. From there, who knows?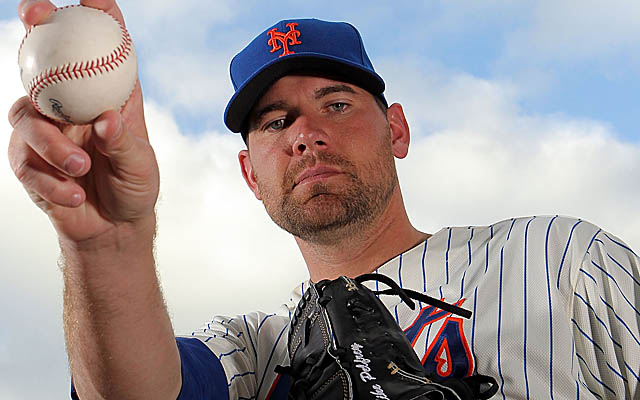 Just 10 months after surgery, Pelfrey is expected to start Tuesday for the Twins. (Getty)
FORT MYERS, Fla. -- No one believed Mike Pelfrey.
I'm not sure even the Twins believed him. I'm not sure all of them do now.
They're starting to believe. More than that, the Twins are starting to think that maybe they found a little gold when they signed Pelfrey last December, taking a chance on a guy who was coming off Tommy John surgery but told them that he was far ahead of schedule.
Pitchers come back from Tommy John surgery these days. They come back strong. But they come back in 12 months.
Late next week, Pelfrey will hit the 10-month milestone. Before he even gets there, he'll start a spring training game for the Twins on Tuesday against the Blue Jays, scheduled for two innings, just like any other starter.
There's no reason now to doubt that Pelfrey will be ready to take a place in the Twins' opening-day rotation. There's some reason now to wonder if he could even be the Twins' opening-day pitcher, even though opening day will be on just the 11-month anniversary of his surgery.
More than that, there's reason to wonder if Pelfrey can be part of turning around a rotation that was so bad that the Twins spent all winter focusing on adding pitching, to the point that it had them trading away two center fielders.
"You saw it today," pitching coach Rick Anderson said after Pelfrey threw batting practice. "That's as good as it gets."
Pelfrey is just three years removed from being a 15-game winner and 200-inning pitcher with the Mets. There were some promising stretches in New York, but also enough struggle and frustration that Mets fans booed Pelfrey on opening day 2013 at Citi Field.
Days later, Pelfrey made a start in Philadelphia that had him thinking he was headed for a great season.
"It actually clicked," he said. "I thought, 'I'm about to take off.' "
Six days later, he pitched eight innings against the Giants. He never made another start for the Mets.
The next few days after that start against the Giants were a little strange, with an MRI showing a ligament tear but with Pelfrey insisting he was going to make his next start. Then came a trip to see Dr. James Andrews, and then the surgery that ended his season and his Mets career.
He was non-tendered after the season. The Mets had little choice, because they could hardly commit to an arbitration-level contract, given Pelfrey's up-and-down performance and his health issues.
What no one could understand then (and few could believe) was how far ahead of schedule Pelfrey was in his rehab. Andrews had told him originally to shoot for returning in May, after the normal 12 months.
But as things progressed, Pelfrey felt good and started to push it. Eventually, he called Andrews to ask if he was doing the right thing.
"I said, 'I'm not sore,' " Pelfrey said. "Andrews said, 'Don't worry, your elbow will let you know.' "
So he kept throwing, and by December he had built up to 120 pitches. He and agent Scott Boras told teams how well he was progressing, but Pelfrey said they had a hard time getting teams to believe it was true.
It was true. The elbow hadn't given him any negative feedback.
It still hasn't. From the start of spring training, the Twins have had him go through the same program as their other starting pitchers, and Pelfrey has been able to handle it all.
"I haven't felt anything," he said. "I haven't felt a twinge."
"You know what," Anderson said. "You don't even know he's been hurt."
The Twins already rave about Pelfrey, and not just about his quicker-than-expected rehab. General manager Terry Ryan says the 29-year-old right-hander has already become the leader of a very young and inexperienced rotation.
At some point in the next month, there may be a setback. At some point, Pelfrey may show that while he feels strong, he's not ready to pitch at a high level.
Or maybe the Twins will just get to feeling the way the Mets sometimes felt, that Pelfrey was a good major-league starter who showed promise of being more but never quite got there.
For now, Pelfrey allows the Twins to dream that their turnaround could happen quicker than others believe. Perhaps he can help them speed up the process, just as he sped up his rehab process.
"He has the size, the stuff and the resume," Ryan said.
As bad as their pitching was last year, the Twins knew they had to take some chances. They took a shot with Pelfrey. They took a shot with Rich Harden, who was coming off shoulder surgery.
Maybe they believed then that the Pelfrey chance would pay off, maybe they didn't.
Either way, they're starting to believe it now.
Plus the Cubs can clinch the NL Central title. Keep it locked right here for the latest from...

The club is expected to part ways with Collins after the season

Here is a preview of what's on the line Tuesday
Jerry Dipoto will have his hands full

Otani is said to be coming over this offseason, though nothing has been made official yet

What do the Mets need to do to get back to the postseason next year? Well, a lot