Favored Yanks, Cubs wait on Girardi; meantime, Cubs meet two others
The Yankees have no set a deadline for Joe Girardi to respond to their contract offer, but they are also not giving him permission to speak to other teams. the Cubs are interested in Girardi, but while they wait have reportedly kicked off talks by meeting with A.J. Hinch and Manny Acta.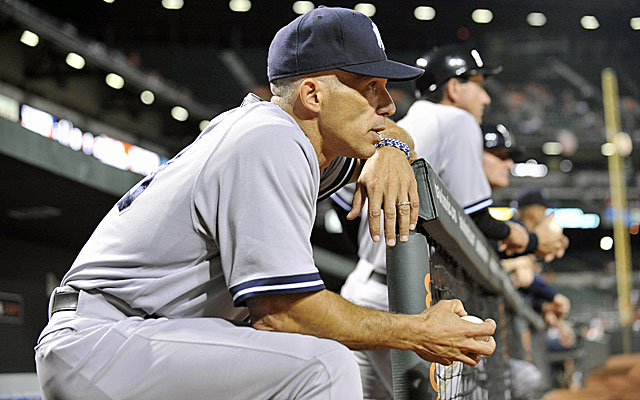 The New York Yankees were still awaiting a definitive answer from manager Joe Girardi regarding their new contract offer, but while they wait, the Yankees have two potential allies -- Girardi's old contract and the clock.
A bona fide Girardi Derby is developing, which could give him vast negotiating leverage -- provided the other interested teams and Girardi are willing to wait.
It could potentially be a wait of some significance. The Yankees have not given Girardi permission to talk to other teams, sources say, and there may be nothing to compel them to do so anytime before his current contract expires Nov. 1.
The Yankees, according to sources, also have set no deadline for Girardi to respond, which seems only fair since he's currently ineligible to talk to other teams.
With the Girardi situation still unsettled, the Cubs, who have Girardi atop their list, have gotten started on their other interviews, reportedly meeting with Padres assistant G.M. A.J. Hinch, as was suggested here several days ago, and also Manny Acta, according to David Kaplan of CSNChicago. Hinch is a former Diamondbacks manager, and would seem to be a good fit as a former farm director. Acta previously managed the Indians and Nationals.
Sandy Alomar Jr., Dave Martinez, Brad Ausmus and others have been mentioned as other possibilities for the Cubs. But until Girardi has a decision, it's quite possible nothing will happen with the Cubs, either.
Girardi had not give the Yankees an answer by late Monday afternoon, though one Yankee official later responded to the question of Girardi's response with the somewhat murkier three-word answer, "nothing to report."
Under these conditions, it's possible the wait could drag on for another three-plus weeks, though there is also nothing preventing Girardi from working it out sooner with the Yankees. New York has been perceived as the favorite in this competition, with Girardi's current residence in Westchester, N.Y., and the strong relationships he has with his Yankees bosses, including managing partner Hal Steinbrenner.
The Cubs have admiration for Girardi, and Mark Gonzales of the Chicago Tribune reported they may be willing to top $5 million annually, which would make him the highest paid manager in the game. There are also several other teams with managerial openings (the Nationals, Reds and Mariners) as well as others with potential openings that could pop or even be created for baseball's hottest managerial commodity.
Girardi was speculated here as a possibility in the long-shot event the Dodgers decide to make a change from Don Mattingly, though that is based mostly on the fact Dodgers bosses haven't acted upon Mattingly's 2014 option as well as speculation from outside the team.
Hosmer recently signed an eight-year contract with San Diego, and his usual No. 35 was spoken...

As part of the five-player deal, Brandon Drury is headed to the Bronx

Stoneman Douglas caps will be worn during Friday's spring training games
Arrieta is the top starting pitcher left on the market

The Angels are lowering the fence from 18 feet to 8 feet, so we should see a jump in home...

Mathis is one of the best at something that cannot be measured but is valued