Felix Doubront coming up aces as reliever for Red Sox in World Series
Jonny Gomes will hog the headlines for the Red Sox after their Game 4 victory, but don't forget about Felix Doubront's huge two innings in relief.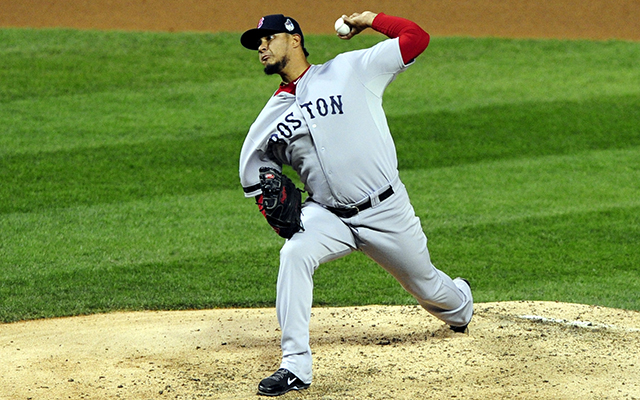 World Series Game 4: Quick hits | Grades | Pickoff ends game | Game 5 pitching preview
ST. LOUIS -- Red Sox left fielder Jonny Gomes is going to get the lion's share of the attention in the aftermath of Boston's 4-2 win in Game 4 of the 2013 World Series. Rightfully so, too, as he had the three-run homer was the single biggest play in the game.
But let's not overlook Felix Doubront.
"Felix would probably be up there as one of our MVPs of the night along with Jonny [Gomes]," catcher David Ross said. "That guy really shut the door when we needed it most. We needed to put up some zeros and he did just that."
Doubront, primarily a starter, piggybacked off fatigued starter Clay Buchholz with two spotless innings to get the Red Sox through the fifth and sixth innings.
"He's got good stuff," Cardinals third baseman David Freese said. "He has a good tilt on his fastball and commands his curveball well. He just knows how to pitch."
Freese has flied out and grounded out in two at-bats against Doubront this series.
"I now know why the Red Sox are excited about him," Freese added with a sheepish smile.
After getting two more outs in the seventh, Doubront did cough up a double to Shane Robinson before being replaced by Craig Breslow. Robinson would score, so Doubront was charged with an earned run.
Still, that's pretty ancillary to the bridge-job Doubront did, and at this point the Red Sox had a two-run lead -- so the margin for error was bigger.
And, again, note that Doubront isn't really a reliever. Last season, he made 29 starts and zero relief appearances. This regular season, he started 27 games and appeared in relief twice. Moving to the bullpen is an adjustment, to be certain -- and Red Sox manager John Farrell leaned on Doubront for some real important outs for a second extended relief outing in as many days. Not that it bothered Doubront.
"I prepared myself to go more than two innings, at least, knowing that I threw two innings yesterday and today was a different day," Doubront said. "I think all the excitement and adrenaline that I want to pitch, and I want to be in the game, I want to be a part of the team to win the game. I was just relaxed and doing my job. When I got the opportunity, I was so focused in. Just focusing on getting outs."
Buchholz was less than 100 percent -- he even admitted as much himself -- and was lacking velocity in the early innings. Just getting him through four innings had to be considered a moral victory in the mind of Farrell. Ryan Dempster -- the other starter in the Red Sox bullpen for the World Series -- seemed a likely candidate to piggyback Buchholz given that Doubront threw two innings in Game 3, but he's been real shaky lately.
So Farrell went back to the well with Doubront -- a gutsy move, as Doubront hadn't appeared in consecutive games since 2011 -- and it proved to absolutely be the correct move.
"It's all hands on deck, there's no tomorrow," Ross said when asked if he was surprised that Farrell rolled the dice on Doubront. "You gotta have a sense of urgency in the World Series."
On the subject of Game 3, this outing was almost a carbon copy of that one. Jake Peavy was probably very fortunate to get through four innings, and the Red Sox had to find a way to bridge the gap to their normally reliable late-inning relievers Saturday night. Doubront only needed 25 pitches to get through the fifth and sixth innings without allowing a run. He gave his team a chance to win that game and that's all you can ask, however, also note the efficiency.
That Doubront only needed 25 pitches had to have been a part of why Farrell was able to go to him instead of Dempster in Game 4.
"We felt like the work he did last night put us in a position where we would hope to be," Farrell said after Game 4.
And this time around, Doubront's work put the Red Sox in position to win, and they ran with the opportunity instead of blowing it.
This was the first time a pitcher worked two-plus innings in relief in consecutive postseason games since 2003, when Yankees reliever Jose Contreras did so (hat-tip: BBRef Play Index on Twitter).
Now, it's all evened up at two games apiece in a seven-game series. We can't say that Doubront was responsible for the win, but we absolutely can surmise they don't win Game 4 without him.
Sunday's MLB roundup features the D-Backs clinching a postseason spot and the Mariners going...

The 2017 season has been, by far, the worst season of Cabrera's career

The Mariners were eliminated from postseason contention with Sunday's loss
Maxwell became the first MLB player to kneel during the national anthem Saturday

The Blue Jays are not expected to bring Bautista back next season

The Dodgers have already clinched the NL West title, so the D-Backs will be a wild card te...