Felix has his deal, and now Verlander will want to top it
Like most great athletes, Justin Verlander is as competitive as they come. So now that Felix Hernandez's $175 million deal with the Mariners is official, you can bet anything you have that Verlander will want to top it.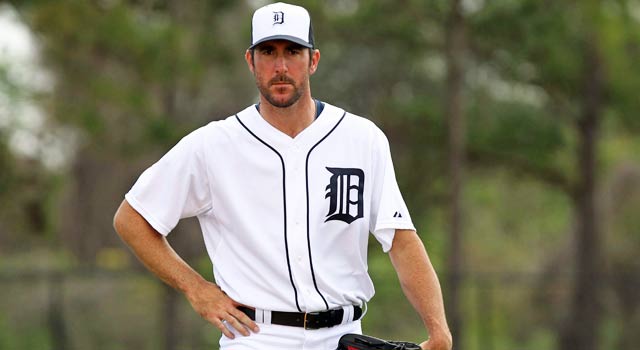 Justin Verlander knows he can get a huge deal in free agency. (US Presswire)
Last weekend, Justin Verlander held back.
As ultra-competitive as he is, Verlander had to work not to display it on the golf course, as he played in the Pebble Beach National Pro-Am. He wanted to win, but he wanted to enjoy the experience.
"If I tried to go into game mode like I was starting, I'd have been the worst partner in the history of golf," Verlander said Monday in Lakeland, Fla.
So he held back on the golf course.
Don't expect him to do the same at the negotiating table.
In other words, while you may look at Felix Hernandez's now-official $175 million contract with the Mariners as a huge deal, you can bet anything you have that Verlander looks at it as a number to beat.
You can bet he believes he should get more than Hernandez's $25 million a year. You can bet he wants his name next to the words "record contract."
Hernandez is good. Hernandez is three years younger. Hernandez has won a Cy Young.
Verlander combined his Cy Young with a Most Valuable Player award.
When the news of Hernandez's contract broke last week, attention in the contract business shifted to Verlander and Clayton Kershaw. Kershaw is even younger than Hernandez, and like Hernandez (before this deal) and Verlander, he's eligible for free agency at the end of the 2014 season.
Kershaw told reporters in Arizona that he and the Dodgers have yet to begin discussions about a new contract. Verlander will say little about his situation, other than repeating that his hope is that he spends his entire career with the Tigers, but you can also bet that the Tigers have been talking to his representatives.
The length of the contract is no doubt an issue, very possibly the biggest issue. Hernandez got seven years, but he's younger.
But don't kid yourself. All the numbers will be an issue. Verlander will want more than Hernandez got, not because the extra $1 million or $5 million or $10 million or $30 million will help him support his family, but because he wants to win at everything.
Phil Garner, who once managed the Tigers, explained it well quite a few years back.
"These guys are super-competitive," Garner said, speaking of baseball's best players. "It's what makes them what they are. Why would you think they wouldn't compete on their contracts, too?"
They do. Verlander will.
He plans to beat Felix's deal. You can count on that.