Felix Hernandez actually deserves more attention than he gets
I could be in the minority, but I actually don't think enough is being made of the season Felix Hernandez is having.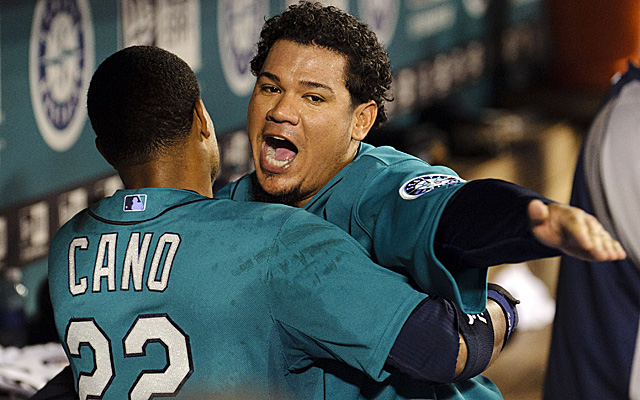 More MLB: Power Rankings | Expert Picks | Latest news & notes | Fantasy news
Is everyone paying attention to Mariners ace Felix Hernandez -- rightfully dubbed King Felix -- just yet? Are we sure? Because he belongs right alongside Clayton Kershaw in conversations about the best pitcher in baseball.
After yet another stellar outing Monday night, this time against fellow AL wild-card combatant Toronto, Hernandez is 13-3 with a 1.95 ERA, 0.86 WHIP and 194 strikeouts against 32 walks in 180 1/3 innings. He leads the AL in wins, ERA, WHIP, hit rate (hits allowed per nine innings) and, get this, starts. That's right, not only is he awesome, but he's durable.
Advanced metrics? Sure! Hernandez leads the AL in FIP, xFIP, ERA+, both versions of WAR and so on. It's a blowout in many categories, too.
It's not just the numbers as a whole, though. I know it's tough for many since the Mariners are basically never nationally televised, but watching him work is a joy. He's a surgeon. He's efficient while also setting guys up and making them either miss or inducing weak contact. I would actually describe myself as shocked when he gives up hits, though he rarely gets squared up. Opponents are hitting just .191/.231/.274 this season.
Think about that for a second. B.J. Upton is hitting .210/.278/.329 this year. Zack Cozart is hitting .224/.272/.301. King Felix makes entire opposing lineups -- almost all AL lineups, mind you, with no pitcher slots -- look far worse than lineups full of Uptons and Cozarts.
At age 28, he's having the best year of a 10-year career that has already included five All-Star berths and three top-five Cy Young finishes, including the 2010 AL Cy Young. What's interesting about this is it's coming just a few months after there were mild concerns. On May 7, he allowed 11 hits and didn't record a single strikeout. It was just the third time of his career he didn't have a single strikeout and the first since 2008.
He followed it up by allowing eight hits and four earned runs to the Rays, but that's a bit deceiving. He had a shutout going through six. And ever since then, he has been as locked in as any pitcher in baseball history.
In those 16 starts, Hernandez is 9-2 with a 1.41 ERA and those losses were due to a lack of support. He could easily be 16-0. He has allowed no more than two earned runs in any one of those starts while working no fewer than seven innings per. That's a record.
Here's the list of players with at least 13 straight outings of seven-plus innings and two-or-fewer earned runs since 1914, thanks to baseball-reference.com's play index:
1. Felix Hernandez, 16 games, 2014 (current)
2. Gaylord Perry, 15, 1974
3. Randy Johnson, 14, 1999
4 (tie). Pedro Martinez (1999-2000), Tom Seaver (1973), Tom Seaver (1971), Johnny Niggeling (1943-44), Mort Cooper (1942), Walter Johnson (1919), 13 games
Pretty ridiculous, no?
I'm not saying King Felix should get as much attention as Kershaw, and this isn't to denigrate Kershaw one bit. I'm a huge Kershaw fan. Even if you want to say Kershaw is better (more Cy Youngs, still younger, etc.), I wouldn't argue. I'm just saying maybe the gap shouldn't be as wide as it is when it comes to national recognition. There are two clear-cut best pitchers in baseball, not just one.