Felix Hernandez and how to cope with velocity loss
Mariners ace Felix Hernandez keeps on keeping despite having lost a lot off his fastball. How does he do it?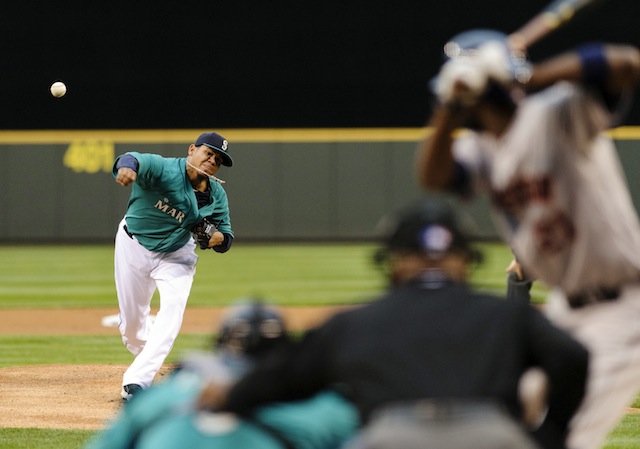 More MLB: Power Rankings | Expert Picks | Latest news & notes | Fantasy news
In Monday night's 12-5 win over the Rays, Mariners ace Felix Hernandez wasn't quite himself. Not only did he suffer his first career ejection, but he also gave up four runs in 6 2/3 innings of work. On the other hand, King Felix struck out seven against no walks, and his numbers on the season remain quite strong (3.03 ERA, 5.00 K/BB ratio, AL-leading 59 innings). 
More broadly, what's impressive about Hernandez is that, even though he's still just 28, he's already undertaken a major transition in his career. That is, Hernandez has successfully adjusted to significant velocity loss. 
As a 21-year-old in 2007, Hernandez, per Pitchf/x, had a four-seam fastball that averaged 96.3 miles per hour. That's hasty -- in fact, since 2007 (the back end of consistent Pitchf/x data), that's the fastest average fastball by any qualifying starting pitcher. 
After that season, though, Hernandez underwent a steady and methodical pattern of velo loss. His average readings dropped to 94.5 in 2008 to 93.2 in 2011 to 91.3 last season. That's the loss of five miles per hour from ages 21 through 27. To put a finer point on it, King Felix has declined from the fastest heater in the game to a league-average fastball. What hasn't changed, though, is his standing as a frontline ace. He's still dominant in the here and now, but he's a different kind of dominant. 
To be sure, velocity loss isn't necessarily a problem. Every pitcher endures it, and the onset occurs almost immediately upon reaching the majors. That is, velo (generally) peaks early and then begins a fairly linear descent. Adaptable and full-repertoire pitchers like Hernandez, though, can and do adjust. 
So how, exactly, has Hernandez made those adjustments? Broadly speaking, he's done two things: relied more on movement and concentrated on staying away. 
On the first point, consider Hernandez's pitch mix since that high-velocity season of 2007 (courtesy of Brooks Baseball) ...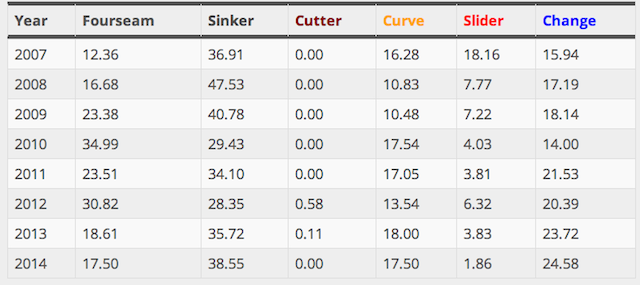 What you see above is the percentage of time Hernandez has used each pitch. Hernandez was sinker heavy in those early years, then favored the fastball and is now back to a high "two-seamer-to-four-seamer" ratio. As well, he's now throwing more changeups than ever, and he's backed off his hard slider to a significant degree. From 2008-12, Hernandez threw hard stuff roughly 60 percent of the time. Now, that figure is in the mid-50s and may decline further as the months and seasons go by. It's a modest shift at present, but a shift it is.
The upshot? Hernandez's rate of contact allowed on pitches in the zone has remained fairly constant. However, these days, he's throwing more pitches outside the strike zone, and he's teasing out swings on stuff outside of the zone at a higher rate than he was during his peak-velo years. As well, his contact rate on pitches outside of the zone is declining. All of this suggests a greater reliance on movement -- a reliance to great effect. Obviously, it helps if, like Hernandez, you have exceptional breaking and offspeed stuff. 
All of this is intuitive enough -- as you lose the ability to blow it by hitters, you focus more on deceiving them with movement. That Hernandez is doing this isn't particularly surprising. What's more interesting to me is that he's also evolved in terms of location tendencies. 
Hernandez has always liked to work down and away to right-handed batters. However, the change has come against the opposite side. Contrary to early in his career, King Felix now seems to prefer working down and away to lefties, too. To be sure, part of this is that he's (wisely) come to favor his changeup (downward break) over his slider (glove-side run) in platoon-disadvantaged situations, but it's also the case for his hard stuff. 
On that point, check out where Felix tended to spot his fastball and sinker against lefties in 2007 (the image is rendered from the catcher's point of view) ...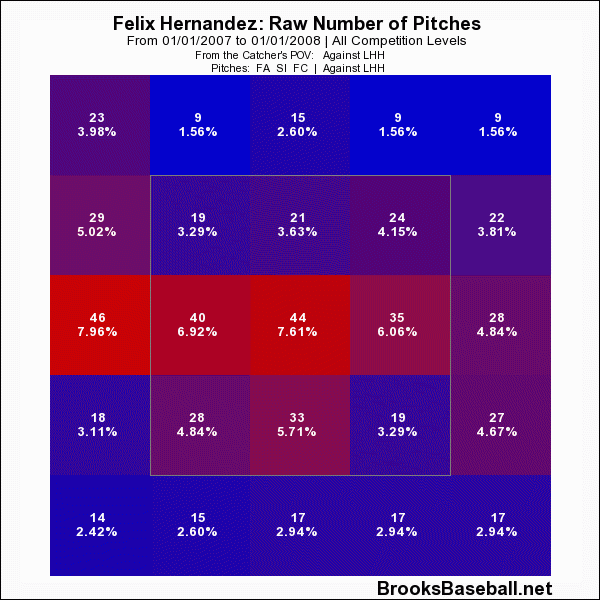 You can glean some outside tendencies but also a pronounced willingness to challenge left-handed hitters over the heart of the plate and even go middle-in. 
Now compare that to where he's been spotting his hard stuff against lefties since the start of last season ...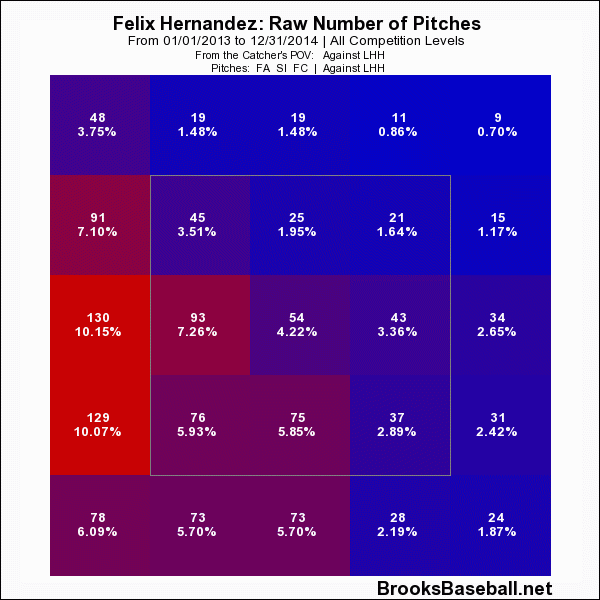 (Both graphics courtesy of the most wondrous Brooks) 
The outside and low-and-outside drift of his fastballs against lefties is pretty clear here, and he's also cut his middle/middle-in rate by roughly half. The guess here is that's no accident. In a related matter, Hernandez's platoon splits are presently much more balanced than they were early in his career. Staying low-and-away and swapping out horizontal-oriented break for vertical break will help you do that. 
Soft-tossers like Tom Glavine and Mark Buehrle have long realized the value of pitching low and away, and indeed there's evidence to suggest that the mid-80s fastball is as effective as the mid-90s fastball when it's located down and outside (after all, staying away against an opposite-side hitter means you never cross the meat of the plate). Little wonder, then, that a heady pitcher like Hernandez has found his way there. 
So how do you cope with a diminishing fastball? Felix Hernandez might tell you to go to your secondary offerings more often and spot that compromised fastball low and away as often as you can. Of course, it might also help to actully be Felix Hernandez. 
After acquiring Ian Kinsler and Zack Cozart in recent days, the Angels are trending upward

Cozart's coming off a big season as the Reds' shortstop

The veteran slugger spent the last eight seasons with Cleveland
The Padres may be poised for an active winter

Yes, Bryce Harper is going to make a lot of money next winter

Outfield prospect Clint Frazier might be part of the talks