Fernandez injury a harsh reminder of risk of building around young arms
Jose Fernandez is hurt, as if we needed another reminder about the risks of building around young pitching.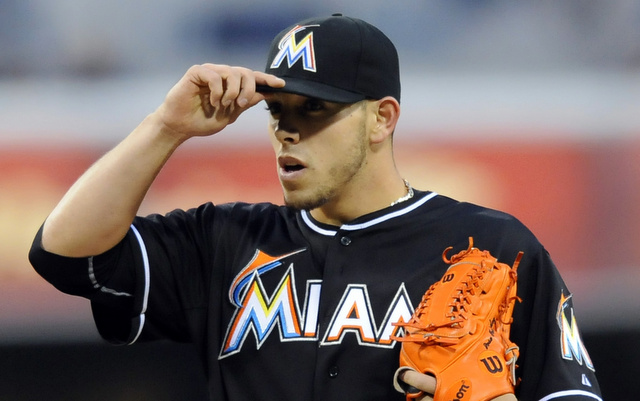 More Fernandez: Heyman: Elbow condition said to be 'worrisome'
These last nine months or so have been really rough for young pitchers.
Within those last nine months, baseball has lost Matt Harvey , Cory Luebke, Kris Medlen, Brandon Beachy, Jarrod Parker , Patrick Corbin, Bruce Rondon, Jameson Taillon, Matt Moore , A.J. Griffin and several others to Tommy John surgery. It has become an epidemic.
Miami Marlins right-hander Jose Fernandez was placed on the 15-day DL with an elbow sprain on Monday. By definition, the sprain means there is tearing and/or stretching of his ulnar collateral ligament. Tommy John surgery is likely in his future, either immediately or years down the line. Once the damage starts, there's no way to reverse it.
These last nine months have been a very harsh reminder of just how unnatural and unhealthy the act of pitching is. These guys are all still young. Kids, practically. Fernandez is 21, he's still maturing physically. Dr. James Andrews recently said he believes all the blown elbows stem from pitching too much at a young age, including year-round in Little League and high school in warm weather states.
Whatever the reason, teams are losing their pitchers to major injury at an unbelievably high rate. And yet, pitching still reigns supreme in baseball. Even in this current offensively starved era -- this is the worst offensive year in baseball since before the DH was implemented -- teams want pitching, not hard-to-find productive bats. Pitching, pitching, and more pitching. Ask any manager or GM.
For years, the Tampa Bay Rays built contenders on the cheap through young pitching, and, to their credit, just about all of those pitchers stayed healthy until Moore got hurt a few weeks ago. The Seattle Mariners , on the other hand, were dreaming of a young power rotation behind Felix Hernandez not too long ago. Now Danny Hultzen is out with shoulder surgery, Taijuan Walker is having shoulder problems of his own, and James Paxton has a lat injury. Felix is the only healthy one at this very moment.
Part of the reason the Rays have been so successful the last few seasons is their glut of young arms. It wasn't one or two guys. Fernandez isn't the only guy for the Marlins -- Nathan Eovaldi , Henderson Alvarez and Jacob Turner are all pretty good in their own right -- and neither was Parker for the Oakland Athletics or Harvey for the New York Mets . All of their clubs have been hoarding young arms because they are so risky, they've learned that the hard way. You need about three good pitching prospects to get one actual MLB pitcher.
These teams have also learned not to rely exclusively on that young pitching. The Rays have beefed up their offense in recent years, ditto the Athletics. The Marlins are in the process of doing that. A few years ago, when runs were easier to come by, pitching was at much more of a premium. Now teams need more balance and have stopped leaning on their arms, partly because it's tough to count on them. Pitching won't carry a team like it used to.
Pitchers break, but clubs still need them. Lots of them because a few are bound to miss time. Young pitchers are slightly riskier than older pitchers only because they may not be physically developed yet -- older pitchers are just pitchers who haven't gotten hurt yet, really -- but they also tend to perform better. Franchise pitchers likeFernandez and Felix and Clayton Kershaw are the exception. Building around arms is becoming an outdated philosophy.
Our annual look back at the preseason predictions and rankings shows lots of good and bad

Keep it locked right here for everything you need to know about the world of baseball Tues...

There have been several racially charged incidents at Fenway Park this year
Washington's right fielders have sputtered offensively since Harper went down

The good news? Wichita still has a chance to win the series Tuesday night

The 2017 season is going to shatter the all-time collective home run record