Fightin' Phils tiring of watching their hitters get drilled
Roy Halladay was clear about two things after the Fightin' Phillies and Nationals revved up a rivalry this week that has become baseball's best (sorry, Yankees-Red Sox). ...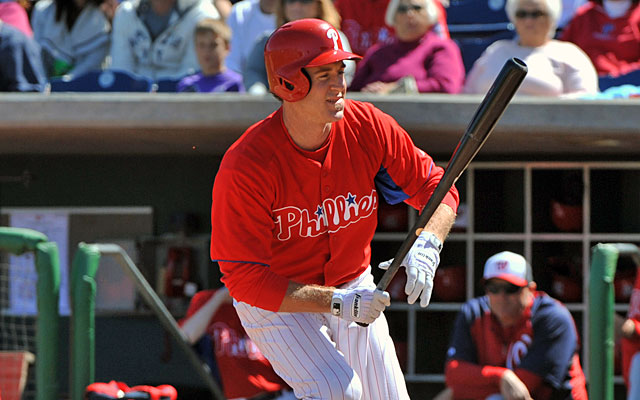 CLEARWATER, Fla. -- Roy Halladay was clear about two things after the Fightin' Phillies and Nationals revved up a rivalry this week that has become baseball's best (sorry, Yankees-Red Sox):
He did not throw behind Washington's Tyler Moore on purpose -- it "slipped." (Insert your own laugh track here). Certainly not retalitation for the Nats' Stephen Strasburg hitting Chase Utley in the ankle in the previous inning.
And, Utley "suggested drilling a few guys this year, so I might mix that in." Halladay went on to explain that the Phillies "have had a lot of guys hit over the years. I think as a staff we need to do a good job of protecting those guys."
He's right about the guys-getting-hit part and, without a doubt, this will be something to watch when it comes to Halladay, Cliff Lee, Cole Hamels and other Phillies pitchers this summer.
Since 2006, the numbers show that either Phillies hitters consistently crowd the plate too much or they're ripe targets. Take your pick.
"They like to throw at our left-handed hitters," manager Charlie Manuel said. "They throw at Utley and Ryan Howard. Anybody in the National League -- if they're going to send us a message, they go after those guys."
In the past seven seasons beginning with 2006, Phillies hitters have ranked either first or second in being hit by pitches four times. They've ranked among the top three NL teams in six of those seven seasons.
"That's pretty astounding," new Phillies center fielder Ben Revere said. "I guess pitchers have been trying to intimidate them.
"We've got some guys that like to be on the dish. But we know we have guys who have our backs and won't be afraid [to protect the hitters]."
"As pitchers, we've got to look out for our guys," Phillies starter Kyle Kendrick said. "I think it's always a priority. It's how baseball works."
"We could probably do it more," Manuel agreed. "Before, if you started something, it was the other team that did all the talking. We didn't.
"I may have had something to do with it. We just figured we'd beat 'em on the field.
"But at the same time, they want to hit you because you're good. And why shouldn't we be concerned about it?"
Phillies hitters were plunked 63 times last season, second in the NL to the Brewers' 90.
Though the Phillies ranked seventh in the NL in hit batters in 2011, they were third in 2010 (63), tied for first in 2009 with the Brewers (71), tied for third in 2008 with the Nationals (67) and led the NL in both 2007 (90) and 2006 (95).
"That speaks for itself," Manuel said. "They like to hit us, send us messages."
The manager says he has not broached the subject with his starters, mostly because guys like Halladay, Lee and Hamels have been around the block enough to know.
"With the veterans we have, I shouldn't have to say anything about protecting our hitters," Manuel said. "If I need to, I will."
Utley apparently already beat him to it. And maybe nobody should be surprised that Halladay acknowledged that Utley did so. The second baseman has been drilled 143 times since 2005, tops in the majors.
Catcher Carlos Ruiz, a right-handed hitter, has been hit 32 times from 2010-12, which ties for eighth in the majors during that span.
"I know a lot of our guys stand on top of the plate," Kendrick said. "You want to move hitters' feet to make them uncomfortable. That's what I do."
Consequently, the extraordinarily high number of times that Phillies hitters have taken plunkings, Kendrick says, could be partly attributable to that.
"You never want to hurt anybody," Kendrick said. "But as a pitcher, you want to move hitters' feet."
Regardless, when Hamels drilled Bryce Harper early last season, that not only moved the rookie phenom's feet, it significantly moved the needle on a burgeoning rivalry, catapulting every Phillies-Nationals game into must-see TV.
Now, with Wednesday's shenanigans, it's unquestionably game on between the Fightin' Phils and the pesky Nats.
Following five consecutive NL East titles, the Phillies dropped to third in 2012. Division champion Washington evolved into what the Phils once were: A young, eager and brash team with enough talent and arrogance to seize the moment.
Healthier than they've been in two years, the Phillies are in no mood to allow their once vise-like grip on the division to slip any further.
"It's the beginning of what we're going to see the whole season," Revere said. "Us and the Nationals, it's going to be a fight."
Keep tabs on the top 50 free agents right here

Your one-stop shop for all things MLB Winter Meetings-related

The Angels knew about the first-degree sprain and still wanted to sign the potential ace, of...
The run on relievers continues with two more signings

The Yankees added Giancarlo Stanton in a blockbuster trade, though they now have openings at...

Smyly is currently on the mend from Tommy John surgery