Finding the right manager just got a little more crucial for Blue Jays
The Blue Jays just added big-name players, big salaries and big expectations. They made their managing job more attractive, but they also made the decision on hiring a new manager even more crucial.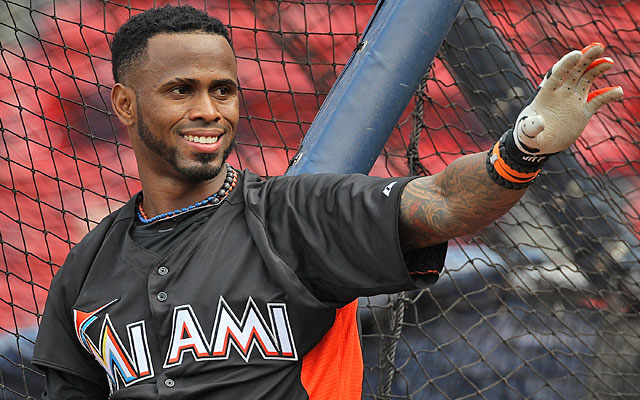 Jose Reyes bids farewell to the NL without knowing who his next manager will be. (Getty Images)
Imagine you're Josh Johnson.
You just got traded for the first time in your career. You're going to play with a new team, in a new league, in a new country.
You've always been a Marlin, for better or for worse. Now, with a year to go to free agency, you're not sure what you are.
And you're waiting for a call from your new manager.
Imagine you're Jose Reyes.
You chose Miami, but now Toronto has chosen you. Your taxes just jumped, and your legs just got a little sore even thinking about 81 games on artificial turf.
And the guy who needs to convince you this will all work out for the best is your new manager.
I'm sure no Blue Jays fan is complaining that general manager Alex Anthopoulos chose his players before he chose the man to lead them. I know the job of Blue Jays manager is a lot more attractive today than it was when this week began.
But if the decision on a new manager was important before, it just became crucial.
If the Jays are going to have any chance at convincing Johnson to stay beyond 2013, they'll need to have the right manager in place. If they're going to have any chance to put Reyes and their other new players in the right frame of mind, they need the right guy.
Maybe that's Don Wakamatsu, who was on John Farrell's coaching staff. He showed a great talent for relating to players in his first year managing the Mariners, and presumably has learned from what went wrong in his second (and last) year there.
Maybe it's a veteran manager. It was never likely that Bobby Cox would return to the dugout, but you can't blame the Blue Jays for trying (as Foxsports.com's Jon Morosi reported they did). Maybe Mike Hargrove or Don Baylor is the right guy. Maybe Jim Tracy.
Managing a baseball team is about managing men, and it's no mistake that the two guys who managed in the World Series -- Bruce Bochy and Jim Leyland -- are two of the best in the business at that part of the job.
The new Blue Jays manager had better be a master at it, too.
For the first time in perhaps two decades, the Jays will go to spring training with huge expectations. That's fine if they become next year's Tigers, who survived all the expectations and won the pennant. That's not fine if they're next year's Marlins, the team that spent and thrilled us in the winter, then sputtered and disgusted us in the summer.
The Jays were a mess at the end of 2012, which is one big reason the organization had no problem agreeing to trade Farrell to the Red Sox. But the Jays were a mess at the end of a season that began with only mid-level expectations, and included so many injuries that they never had a realistic chance of winning.
The team needed a boost, and Anthopoulos just provided that. He acquired big talent without playing in a free-agent market that figures to be overpriced, and where the Blue Jays are always at a disadvantage, anyway.
It's not easy to lure big-name players to Toronto. The taxes are high, the money is different and constantly going through immigration and customs can be a pain for families. It's a beautiful and cosmopolitan city, but the fact is that a lot of players never have any interest in giving it a chance.
One way to change that is by spending big, and the trade suggests the Blue Jays are finally ready to do that. One way to change it is by winning, and the trade suggests the Blue Jays finally plan to try to do that, too.
But the other way to do it is with persuasion and a welcoming environment, and that starts with having the right manager in place. The better your boss, the better the chances you don't go looking for another job.
The new Blue Jays still can't meet the new boss, because they still don't have one.
That decision needs to come quickly. And it needs to be right.
Iowa and Missouri are two programs mixing technology and analytics

Sunday's MLB roundup features the D-Backs clinching a postseason spot and the Mariners going...

The 2017 season has been, by far, the worst season of Cabrera's career
The Mariners were eliminated from postseason contention with Sunday's loss

Maxwell became the first MLB player to kneel during the national anthem Saturday

The Blue Jays are not expected to bring Bautista back next season