First in HRs, last in fans: Indians show huge power, but none at gate
The Cleveland Indians are last in baseball in attendance, and it's not close.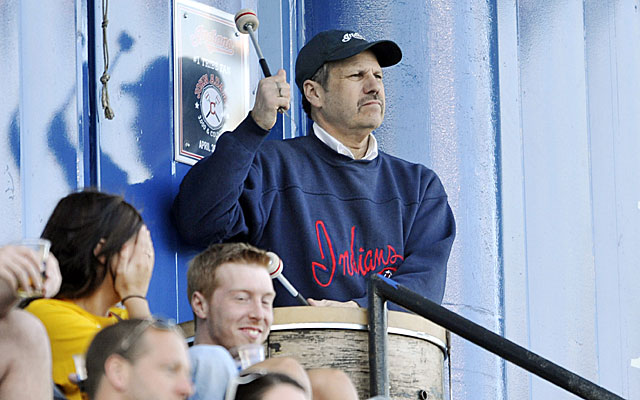 What's the deal with the Indians? They have an exciting, interesting, fun, and improved team, yet hardly anyone in Cleveland wants to come to see them.
The Indians spent more on free agents than anyone outside Los Angeles. Yet, they are last in baseball in drawing fans -- by a wide margin.
The 15-14 Indians lead baseball in home runs (44, tied with the Braves) and have the highest OPS (.817) for every team not playing home games at Coors Field. Yet, they have drawn 20 percent fewer fans than the second worst-drawing team, the Royals, another interesting, vastly improved team that's looking to catch on in KC.
The Indians' average attendance is 14,764, down 3.9 percent from last year, and not even within shouting distance of KC, which is averaging 18,498.
The Indians are, by far, baseball's most disappointing draw, bringing in tiny crowds despite a lot of offense, vastly improved play, and new, colorful personalities. A so-so first few weeks didn't help, but they've now won seven of eight -- scoring at least six runs in all seven victories -- and it's not picking up yet. They drew 9,500 for their game with the A's on Monday night, a 7-3 victory.
"I still think it's early in the season. I'm confident that if we continue to play well, the weather improves and kids start to get out of school, our attendance will pick up," Indians general manager Chris Antonetti said. "We'd like as much fan support as we can get. To the extent we can show we can be more consistent, I think our fans will come out to support us."
While the Indians won't say it publicly, their attendance obviously is quite disheartening to this point.
And there's no good reason for it (beyond the weather not being great to date).
Free-agent pick-up Michael Bourn gives them exciting speed. (Though he's been out after his hand was stepped on, and is expected to miss another four or five games).
Mark Reynolds, who already has 10 home runs, brings otherworldly power. His homer Monday off Jarrod Parker, coming after Parker beaned him earlier in the game and estimated at 460 feet, inspired Antonetti to say, "You don't see many balls go to that part of the ballpark." (Actually, few did see it.)
Nick Swisher and Jason Giambi bring personality (and more power).
Scott Kazmir is a nice comeback story.
And new manager Terry Francona, a former Indian, brings credibility.
The holdover personnel isn't bad either. Shortstop Asdrubal Cabrera and second baseman Jason Kipnis give them one of the better SS-2B combos in the league. Right-hander Justin Masterson is a strikeout artist who could develop into an ace. Chris Perez is a reliable and outspoken closer. And catcher Carlos Santana leads the league with a 1.129 OPS.
"He's a really good player, a switch hitter with a good ability to get on base and power who's improving defensively," Antonetti said.
The fans may need reminding.
The weather has not been good in Cleveland, but it's been equally as dreadful in Minnesota, Colorado and other places that are drawing better. Temperatures were in the 50s though it was windy (20 mph) Monday night when they failed to crack 10,000 fans.
The Indians sold out their home opener, which seemed to be an endorsement of all their winter moves. But they have dropped off drastically since then.
Their inability to bring in crowds is quite perplexing, really. Maybe everyone's still watching LeBron on TV?
Here are the bullet-points of what went down Tuesday regarding MLB and the Braves' punishm...

The owners need to ratify on the new system in place, but the takeaway here is Ohtani is coming...

A preliminary report National Transportation Safety Board has shined some light on details...
John Coppolella was placed on the permanently ineligible list by MLB on Tuesday

Among other sanctions, Atlanta lost the player who was deemed the No. 1 international signing...

Among other penalties, No. 1 international prospect Kevin Maitan is now a free agent