First in war, first in peace, first to shut down an ace pitcher in pennant race
Speculation over whether the Nationals should shut down young ace Stephen Strasburg, and when, has turned to reality: He's done for 2012. ...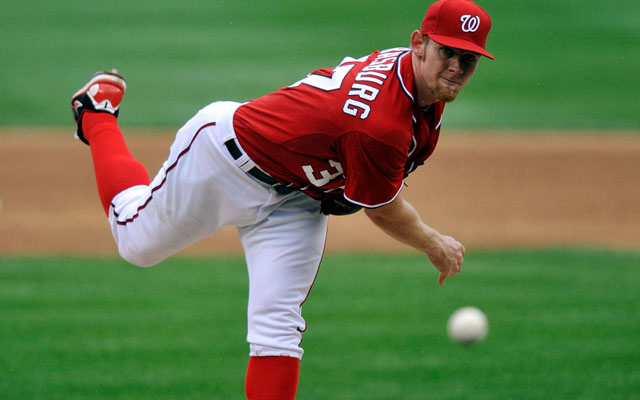 Stephen Strasburg is apparently unhappy with the shutdown, and it's hard to blame him.
(US Presswire)
That swishing sound you hear is the air going out of Stephen Strasburg's season.

That whooshing sound you hear is Nationals fans trying to suck oxygen back into their lungs.

That smashing sound you hear probably is the kid taking a baseball bat to several lockers, doors and the food spread in the clubhouse.

By all accounts, Strasburg is an unhappy camper with this decision, and I don't blame him. When you're 24, you want it all. And with the best record in baseball on Sept. 8 and a World Series within reach, the Nationals and Strasburg are so close to having it all.

But here's the thing. It's hard to blame the Nationals for this, too.

Because in making the decision to shut down their franchise pitcher, they are following their heart.

Repeat: They are following their heart.

Isn't that a nice change from a professional sports team following the money ... and then attempting to suck as many much of it out of a situation as it can?

Look, you can follow the science in this thing, spend all the time you want in the laboratory with the microscope and you can read every scholarly scientific study you can find.

Nobody can tell you for sure that the Nationals are making the right decision.

But nobody can tell you it's the wrong decision, either.

Kerry Wood, Mark Prior, Steve Avery, Mark Fidrych ... the baseball dumpster is stuffed with the baseball cards of young phenoms who flamed out far earlier than they should have. Here one day, gone the next. Heartbreaking stories. Tragic stories.

The trick as we become smarter, wiser and learn more about ourselves and the world is to not repeat mistakes from history.

So general manager Mike Rizzo and the Nationals, with significant input from Strasburg's agent Scott Boras, are trying to do just that. There are plenty of reasons, as Danny Knobler writes.

Will it work? Well, they tried keeping him in bubble wrap from the beginning and he blew out his elbow two years ago anyway, didn't he? This even after Strasburg was nurtured as well as any ace college pitcher in history by his coach at San Diego State, Hall of Famer Tony Gwynn.

There are no guarantees. Pure and simple. Maybe they shut Strasburg down this instant, with 159 1/3 innings pitched, a 15-6 record, a 3.16 ERA, 197 strikeouts (second in the NL to the Dodgers' Clayton Kershaw) and a .230 opponents' batting average (tied for seventh in the NL) ... and maybe he still gets hurt next year or the year after.

I hope not. And every single person involved with baseball is on board with that.

This kid is electric. He is so fun to watch. He's great for the game.

Washington, D.C.? Hasn't hosted a postseason game since 1933. Nineteen Thirty-Three. Franklin Delano Roosevelt was in the White House. An October run for the Nationals would be great for them and great for the game.

Doing the right thing is never easy. It's less easy when it's not guaranteed what the right thing is.

But the Nationals are trying, and bless them for that.

Ah, Washington. First in war, first in peace ... and, now, first to shut down an ace pitcher in the middle of a pennant race, with October on the line.
A beardless Wilson says that he tried to outrun the police on the second day he had his driver's...

The Diamondbacks outfielder was not impaired, he was just going way too fast

MLB can unilaterally implement rule changes, which will also include limits on mound visit...
If the MLBPA wants to repair MLB's salary structure, it should push for more money for young...

Fans aren't happy Gerrit Cole and Andrew McCutchen have been traded away

Acuna is arguably the best prospect in baseball