First-round picks that hurt: Rockies choose wrong arm
The Rockies went with a reliever by the name of Casey Weathers in 2007 with the eighth overall pick. The next two players picked were Jarrod Parker and Madison Bumgarner.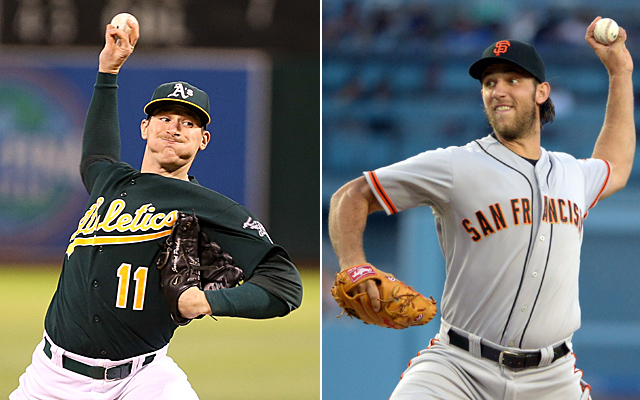 Clement over Tulo | Rowell over Lincecum, Scherzer | Bush over Verlander | 2002 Top 5
Throughout this week leading up to the draft, we've taken a look at a few notable, relatively recent first-round picks that have, in hindsight, harmed the franchise with the errant pick. Please again note the word "hindsight" in there, because drafting well in Major League Baseball is even more difficult than in the NFL and NBA due to all the different levels of scouting and minor-league levels the players must travel through before getting to the bigs.

Even though the first round was Thursday night, with this being Friday and the draft continuing, let's grab one more. For this installment, let's take a look at a club that has traditionally had trouble developing top-of-the-rotation arms -- due sometimes to factors outside its control -- and missed on two immediately after a bust in the 2007 draft.
The pick: Rockies select RHP Casey Weathers eighth overall out of Vanderbilt University.
The draft picks that immediately followed: Jarrod Parker and Madison Bumgarner.
Weathers' collegiate teammate, David Price, was the top overall pick and has more than paid off for Tampa Bay, obviously. The Rockies weren't as fortunate with Weathers.
Now, before moving forward, it's of utmost importance to take note of the fact that Weathers was a reliever in college and the Rockies knew they weren't drafting a starter. For me, though, that factors even further in the equation of a dubious decision. Who impacts a game more, top relievers (and their 70 innings in a season) or top starters (and their 200)? It seems pretty obvious to me.
That's only in a vacuum, too. When we get specific, the decision becomes even more dubious. Weathers' first season produced a 4.30 ERA in 14 2/3 innings between Class A and High-A. The following season he posted a 3.05 ERA in Double-A with a nice strikeout rate, but there were too many walks. And then he had to undergo Tommy John surgery and that was it. He was never real close to effective again and didn't get further than Double-A (last in 2012).
While certainly some of the issue could be blamed on the injury, Parker himself had Tommy John surgery before reaching the majors and still went 25-16 with a 3.73 ERA in 378 1/3 innings for the AL West-winning A's in 2012 and '13 combined. Including one outing for the 2011 Diamondbacks in the NLDS, he has already appeared in three different playoff series. He's now recovering from a second Tommy John surgery, but even if he never pitches again (which is doubtful), he has already done enough to make the Rockies regret the pick.
Bumgarner has been even better, of course. He's only 24 and he has already been an All-Star and is the owner of two World Series rings. He appears set to be a Cy Young contender for the foreseeable future, too.
Some other pitchers taken later in the 2007 first and sandwich rounds: Blake Beaven (17th), Rick Porcello (27th), Brett Cecil (38th), Sean Doolittle (41st), Neil Ramirez (44th), Tommy Hunter (54th) and Cory Luebke (63rd).
Marcell Ozuna figures to be the next Marlins star on the move

Several relievers have signed in the last two days

Several teams are interested in the switch-hitting first baseman
Neshek and the Phillies are closing on a two-year contract

And the team that first drafted Cole is interested

This scout was SUPER into Jeter