First-round picks that hurt: The 2002 top five
Three of the top five picks in the 2002 draft were busts and another could at least be considered a relative bust. The six and seven picks? Zack Greinke and Prince Fielder.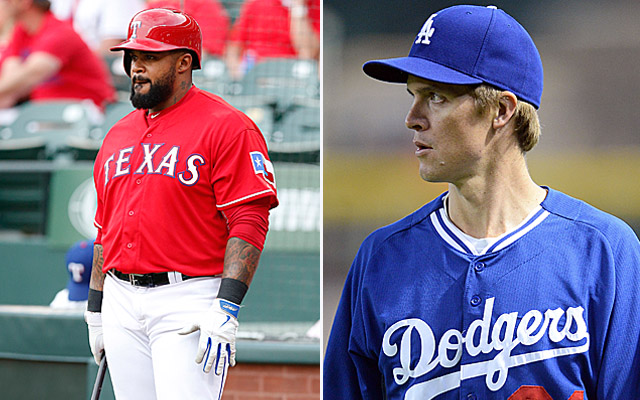 Picks that hurt: Clement over Tulo | Rowell over Scherzer | Bush over Verlander
Throughout this week leading up to the draft, we'll take a look at a few notable, relatively recent first-round picks that have, in hindsight, harmed the franchise with the errant pick. Please again note the word "hindsight" in there, because drafting well in Major League Baseball is even more difficult than in the NFL and NBA due to all the different levels of scouting and minor-league levels the players must travel through before getting to the bigs.

For this installment, we're gonna check out four different picks that happened in the top five of the 2002 draft.
The picks: Pirates take RHP Bryan Bullington first overall (Ball State University), Reds take RHP Chris Gruler third overall (Liberty HS in Brentwood, California), Orioles take LHP Adam Loewen fourth (Fraser Valley Christian HS in Surrey, BC) and Expos take RHP Clint Everts fifth (Cypress Falls HS in California).
The draft picks that immediately followed: Zack Greinke and Prince Fielder.
For those curious, it was B.J. Upton who went second overall. Try and separate him from what he is now and realize he was a helpful player on a Rays playoff team three times. There's no possible way to say he's a bust, considering all the first-rounders over the years who don't amount to much at the big-league level. 
The rest of the top five here were pretty big busts to varying degrees.
Bullington made it to the show, but he only gave the Pirates three career starts. In all, he appeared in 26 games for four different teams, posting a 5.62 ERA and 1.58 WHIP. He was never a regular in a rotation or bullpen at the big-league level. After the 2010 season, he departed the States to pitch in Japan.
Gruler never made it past Class A and was out of baseball after 2006. He battled serious shoulder injuries (needing surgery) and ended his pro career with a 5.05 ERA in 27 appearances across Rookie Ball and Class A in four years.
Loewen also made the majors and is a mild bust among this group, considering he went fourth. He was 8-8 with a 5.38 ERA in 35 appearances (29 starts). But, again, that's in the majors and his big-league career was halted by chronic arm injuries. In fact, he then transitioned to becoming a position player and even made it back to the majors in 2011 with the Blue Jays as an outfielder, hitting just .188. But at least he was again in the majors, so we'll reiterate he's just a mild bust here.
Everts is not. He's a career minor-leaguer who never made the majors that was drafted immediately ahead of two future stars. Everts was actually still in Triple-A last season, but never made the majors. Now 29, he's a teammate of Tracy McGrady's on the Sugar Land Skeeters (no MLB affiliation). His biggest claim to fame -- other than being picked in the top five, of course -- is being the player to be named later after the Blue Jays traded Jorge Padilla to the Mets for a PTBNL.
Fielder and Greinke, meanwhile, obviously don't need much of an introduction to MLB fans and aren't short on legitimate claims to fame. 
The rest of the first round yielded some quality big-leaguers, too, such as Scott Kazmir (15th), Nick Swisher (16th), Cole Hamels (17th), James Loney (19th), Denard Span (20th), Jeremy Guthrie (22nd), Joe Blanton (24th), Matt Cain (25th) and Sergio Santos (27th), among a few others. Given all that, it's remarkable how badly four (or at least three) of the top five picks were botched.
CBS Sports HQ Daily Newsletter
Get the best highlights and stories - yeah, just the good stuff handpicked by our team to start your day.
Please check the opt-in box to acknowledge that you would like to subscribe.
Thanks for signing up!
Keep an eye on your inbox for the latest sports news.
Sorry!
There was an error processing your subscription.
The Red Sox have not yet selected a starter for Game 5

The Brewers were hoping to gain an advantage in Game 5 of the NLCS vs. the Dodgers

Bregman has a .714 on-base percentage in the ALCS
Los Angeles tied the best-of-seven series at 2-2 after a walk-off win in Game 4

The Dodgers are looking for a much better start out of Clayton Kershaw

Manny Machado is reportedly fined after Game 4 incident with Brewers