First time ever: No All-Star starters combined for Red Sox, Yankees
It also happened in 1945 -- when the All-Star game was canceled because of World War II.
In case it only seemed like the AL East was in a period of decline, this ought to prove it: For the first time in All-Star game history, the Yankees and Red Sox, combined, won't have a single player in the American League's starting lineup. Not one, since the brainchild of Chicago Tribune Sports Editor Arch Ward inaugurated in 1933. The lone exception: 1945, when the All-Star game was canceled because of travel restrictions related to World War II.
Check it yourself. Here's a list of All-Star starters for the Red Sox. Here's a list of Yankees.
The Axis powers were among those to blame in '45. But it's not like this time we can blame Kansas City Royals fans, who voted seven of their players into the game, which is set to be played at Great American Ball Park in Cincinnati on Tuesday night. The Yankees and Red Sox didn't come close to electing any starters this year. Boston's Xander Bogaerts did the best among the AL East titans, finishing fourth among AL shortstops, roughly 8 million votes behind leader Alcides Escobar. Alex Rodriguez of the Yankees  finished fifth among designated hitters, about 7 million behind Nelson Cruz of the Mariners. Yankees outfielders Jacoby Ellsbury and Carlos Beltran finished 10th and 15th, respectively. (Hey, where were Yankees fans on Brett Gardner?)
This is the nadir. What about the zenith of Yankees-Red Sox All-Star starter power? In 1939, they combined for eight of the nine starters, including six Yankees, when the game came to "The House That Ruth Built." Hank Greenberg of the Tigers was the exception at first base, with Lou Gehrig coming off the bench. (See? Yankees manager Joe McCarthy was fair about it.) In all 14 of the 25 players on the AL roster in '39 came from the Yankees and Red Sox.
This season, Mark Teixeira, Dellin Betances and Gardner represent the Yankees, who are assured of first place heading into the break. The lone Red Sox representative is utility man Brock Holt.
It's been noted by several outlets that the Yankees and Red Sox don't have any starters, but Bob Matthews of Newsradio 1180 WHAM-AM in Rochester, N.Y. appears to have scooped everyone on the "first time in history" part. "WHAM!" is right.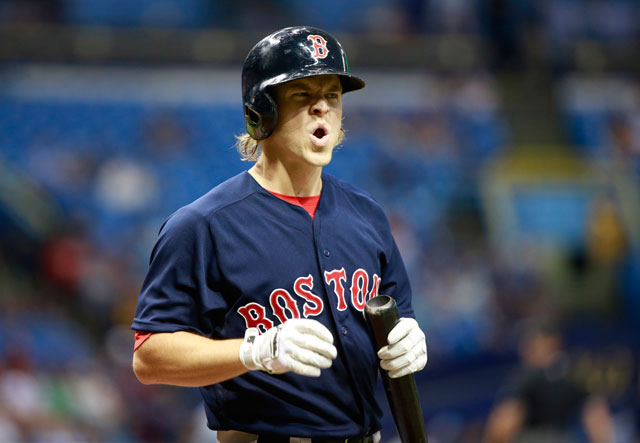 Dioner Navarro still hopes to return someday

Christian Yelich's agent says his client's relationship with Marlins is 'irretrievably bro...

The free-agent market has been slow and one player is bracing for an even longer wait
The Mets didn't want to trade a young outfielder for an older one

Josh Harrison doesn't sound pleased Gerrit Cole and Andrew McCutchen have been traded away

The team's media contracts expire following the 2019 season