Fish fans love Infante more than Reyes, and other All-Star oddities
The first All-Star voting totals are out, and as usual there are some surprises. Like Omar Infante getting more votes than his high-priced Marlins teammates, Jose Reyes and Hanley Ramirez (or emerging star Giancarlo Stanton). Or Albert Pujols ranking fifth among American League first basemen, and Adrian Gonzalez not even making the top five.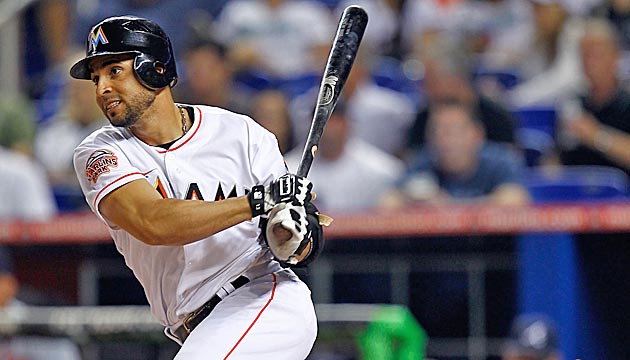 Omar Infante is feeling the love from fans in South Florida. (Getty Images)
The
Marlins
are spending $25 million this year on the left side of their infield.
The fans prefer the $4 million guy on the right side.
That's not entirely true, but unheralded second baseman
Omar Infante
has received more All-Star votes thus far than shortstop
Jose Reyes
or third baseman
Hanley Ramirez
.
Obviously, the competition at shortstop (Troy Tulowitzki) and third base (
David Wright
) is stronger than at second base (where
Dan Uggla
of the
Braves
has the early lead over
Brandon Phillips
of the
Reds
). Still, it's a little shocking to see Infante (512,049 votes) get more support than Reyes (425,682) or Ramirez (who didn't even get enough votes to make the top five at third base).
Also shocking -- or at least notable -- about
the first round of results released Tuesday by Major League Baseball:
-- The fans noticed
Melky Cabrera
's strong May with the
Giants
, giving him enough votes (714,642) that he placed fifth in the National League outfield, behind much bigger stars Matt Kemp,
Carlos Beltran
,
Ryan Braun
and
Andre Ethier
.
-- After his turbulent winter, Braun placed lower than last year, but still had strong support. And it obviously wasn't just from
Brewers
fans, since no other Brewer player came close to his total.
-- A year ago at this time,
Jose Bautista
led all vote-getters. He ended up as the leading vote-getter, too, the first Blue Jay ever to win that honor. This year: He wouldn't even make the starting American League outfield, placing fourth in the voting so far.
-- The
Phillies
, who have had at least one player elected to the NL team every year since 2005, don't have anyone close in early balloting this year.
Carlos Ruiz
is fourth among catchers (behind
Yadier Molina
,
Buster Posey
and
Brian McCann
), while
Hunter Pence
ranks 12th among outfielders.
--
Alex Rodriguez
, who has been voted to more All-Star teams (12) than any other active player, is fourth in the American League balloting at third base, behind
Adrian Beltre
and
Miguel Cabrera
, but also behind Evan Longoria, who has spent most of the season on the disabled list.
-- While Melky Cabrera's strong May got noticed,
Giancarlo Stanton
's did not. Stanton didn't even make the top 15 vote-getters in the National League outfield.
-- A year ago with the
Cardinals
,
Albert Pujols
led the National League voting at first base (although
Prince Fielder
eventually overtook him). This year with the
Angels
, Pujols is fifth among AL first basemen, behind Fielder,
Mark Teixeira
,
Paul Konerko
and
Mitch Moreland
.
Adrian Gonzalez
, who won the fan voting at first base last year, didn't even make the top five.
-- The
Royals
, who host this year's game, obviously have made a strong push to get their fans to vote. Royals totals were higher than expected, although not high enough where any Royals threaten to start the game. Meanwhile, the
Padres
didn't get enough votes to place any of their players among the leaders, the only one of the 30 teams that had no one listed.
-- Worth remembering: These are early totals. Of the 17 players who led when the first balloting was released last year, only nine ended up being voted as All-Star starters.
Francisco leads the Dominican Winter League with seven home runs

Thome deserves enshrinement and here's why the case against him does not hold up

The Twins have already fortified the bullpen with Addison Reed, and now they want to address...
The Orioles likely want pitching, and the Indians have plenty of it

Halladay died in a November plane crash off the coast of Florida

The power-hitting outfielder is headed to Toronto