Fish out of water? Stanton in great place (though not ready to commit)
Marlins star Giancarlo Stanton is enjoying life as a Marlin at the moment. but he'll wait to to talk about a long-term deal.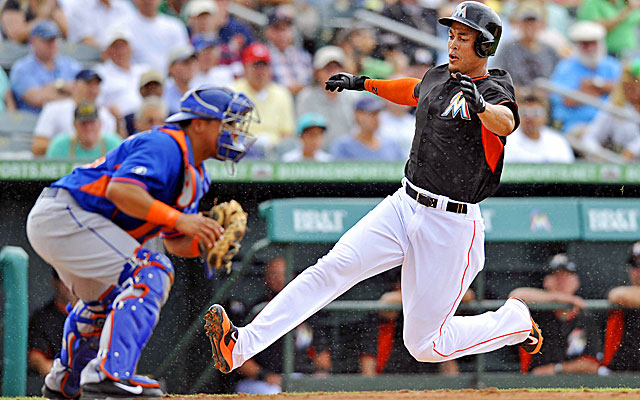 More: Likes, dislikes | Over/unders | All Team Previews | Spring Training
JUPITER, Fla. -- Giancarlo Stanton appears to be in a good place, and yes, he's still very much a Miami Marlin. He's hitting, he's smiling broadly and constantly, and most importantly, he likes where he is.
"There's a good vibe here," Stanton says, before adding, "and I'd say so if it wasn't."
Umm, yes, we knew that last part.
It won't soon be forgotten that Stanton, the Marlins' slugging wunderkind who's still only 24, sent off perhaps the punchiest six-word tweet in baseball history a winter ago, when after the trade of seemingly half the team (as well as most of its payroll), the almost always upbeat Stanton tweeted, "Alright, I'm pissed off!!! Plain & Simple."
Things aren't quite as simple here a year later, as the Marlins, still young and lean, are making a little noise in the Grapefruit League (and in Panama, where they no-hit the Yankees). All of their young pitching is getting folks excited around here. (Given that everyone else in the division is suffering from pitching woes, no less than former Marlins manager/current Marlins ambassador Jack McKeon said he could even see this team slip into second place. Maybe.)
Better yet, Stanton is among those taking note of the possibilities here.
But let's not get crazy. Not yet. While the Marlins do have interest in trying to lock up Stanton to a long-term deal (assuming they could somehow scrape together the scratch), Stanton, being a veteran of the ups and downs of the big leagues in a small and turbulent market, isn't rushing into anything.
Before making the plunge, Stanton very respectfully admitted in the interview here that he'd "need a season" seeing the team before contemplating locking himself into anything long term. Can't blame him there.
And actually, the Marlins, while signing Stanton to a generous first-year arbitration-eligible salary of $6.5 million, more than a ten-fold raise from $537,000 the year before following a largely disappointing season in which he hit .249 with 24 home runs, sent out a feeler about a possible long-term deal  though agent Joel Wolfe. However, Stanton wasn't quite ready to commit, and he said so. As he said, he needs to see a season.
So far, so good. Marlins people are just happy to hear how pleased Stanton seems.
"I like that," first-year Marlins GM Dan Jennings, the upbeat new leader contributing to the positive feeling, said upon hearing Stanton's positive early review. "Happy players are better players."
And so far this spring, Stanton seems in a better place on the field, too. Early, he hit a monster homer off promising young Mets lefty Jack Leathersich at Port St. Lucie that flew onto an adjoining field. Today he hit another bomb here, his third homer of the spring, off Mets righthander Gonzalez Germen, after earlier making a sliding shoestring catch in right field on Mets minor leaguer Eric Campbell.
Nice signs, though Stanton is too polite to ask the real questions aloud, such as: 1) Who'll bat behind him? 2) Will he get many pitches? 3) May the dimensions ever be made more reasonable? 4) After losing 100 games last year, can the Marlins win on pitching and Stanton alone?
 The answers could be 1) Probably Pirates discard Garrett Jones, though perhaps free-agent pickup Jarrod Saltalamacchia. 2) Probably not, but he'll handle it much better than he did early last year. 3) No sign of that yet. 4) They should be much better, though they'll struggle to score runs, and second place might be quite a stretch.
Following the upsetting previous offseason highlighted by the dissolution of the failed 2012 experiment (and the very memorable tweet), Stanton early last year had trouble adjusting early to having a target on his back as the Marlins' only major threat. He wasn't getting many pitches to hit, and when he was, he was missing them.  He walked only nine times in April at a time when many were trying to avoid him, and he slugged only .387, pedestrian for even a player of average power.
Scouts recalled that while he behaved himself admirably as always, he just wasn't himself, and Stanton admits, "It was partly my fault," before adding, hopefully, that it was "great to go through it."
At the time, it wasn't very enjoyable, however. "It was just so different than what I've ever seen before," he recalled. "In high school you do (get pitched around) but this was different. It was every day, and you don't really know what to do. Some teams would completely avoid, some would pitch to me." When they did, he seemingly wasn't ready; Stanton hit .227 in April. Worse, he looked lost.
That one tweet (and that one early stretch) notwithstanding, Stanton is among the more positive young men you're going to find. With rare exception, he says only nice things about everyone and everything. (Incidentally, he declined to comment on the expansive stadium, which has caused much consternation among lesser power hitters.)
He loves living in Miami (he resides downtown, not far from the stadium), and he relishes his winters working out at UCLA, not too far from where he grew up in the Los Angeles Valley. He called it "super chill' which conjures an idyllic setting to work on his game, barring rush hour which he has learned to avoid. His strategy? During those times, "I don't leave the house."
Stanton himself endured the bewildering strategy of pitch avoidance and semi-avoidance early last season (the Braves pitched around him while some others surprise him by throwing him strikes). He thinks he's better prepared this time, crediting it to an "evolved mindset."
There's no question he's stressing the positive here, which is a dynamic young pitching staff led by otherworldly Rookie of the Year talent Jose Fernandez, no-hit man Henderson Alvarez and hard-throwing Nate Eovaldi, plus position players like Christian Yelich coming. The team doesn't look like it'll be able to hit enough to come close to contending, and there's serious question as to whether they'll be able to protect Stanton. But he sees the "good core."
And he's learned an important lesson as well.
Stanton, a year wiser at 24, said: "You've got to deal with what you've got."
The Pirates recently shipped Gerrit Cole and Andrew McCutchen to Houston and San Francisco,...

Surely, Martinez and his agent are holding out for more

The reliever had a very good 2017 season with the NL Central champs
We don't need to discuss Chipper's Hall of Fame case, so let's have fun instead

Dioner Navarro still hopes to return someday

Christian Yelich's agent says his client's relationship with Marlins is 'irretrievably bro...