Five AL East storylines to watch in 2014
The AL East has been baseball's toughest division for the last 15-20 years and 2014 will be no different. Here are five burning questions.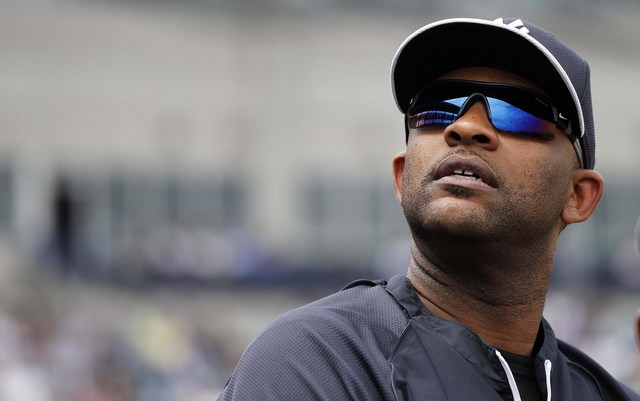 More 2014 Storylines: AL West | NL West
Technically, the 2014 regular season has already started. The Dodgers swept a two-game series from the Diamondbacks in Australia over the weekend, and they've now returned home to continue spring training. The regular season really starts this coming weekend and next week, when all 30 clubs get underway.
Between now and then, we're going to tackle five burning questions for all six divisions. We continue the series today with the American League East.
1. Can CC Sabathia rebound from a dreadful 2013 season?
We could run a "five questions" post just for the Yankees if we really wanted. They have lots and lots of them. Since we're focusing on the 2014 season only, I'll go with Sabathia and his chances for a rebound because last season was by far the worst of his career. Out of 81 qualified starters, he ranked 76th with a 4.78 ERA and 72nd with 0.3 WAR. Sabathia was legitimately one of the worst pitchers in baseball a year ago.
Why did his performance slip so much? There is no shortage of theories. He lost too much weight. He had not come all the way back following offseason elbow surgery (to remove a bone spur). All the innings are catching up to him. All of that and more were likely factors. Sabathia's fastball has sat mostly in the 88-89 mph range during spring training -- down from 91.3 mph in 2013 and 92.4 mph in 2012 -- but he's been excellent in camp, allowing three runs on 10 hits and three walks with 16 strikeouts in 17 innings.
The Yankees missed the postseason for only the second time in 19 years last season, winning 85 games despite a rash of injuries and Sabathia's poor performance. I don't know if all their new additions will be enough to get them back into the playoffs this year, but I do know they have little chance of getting back into October without vintage CC.
2. Will the Red Sox's young players step up to replace their lost free agents?
The Red Sox have obviously earned some leeway after winning the World Series, but they did not have a productive offseason. They lost both Jacoby Ellsbury and Jarrod Saltalamacchia, and it looks like Stephen Drew will walk as well. A.J. Pierzynski was signed to replace Saltalamacchia, but otherwise prospects are being handed the reins to shortstop and center field. Well, prospects and maybe whatever's left of Grady Sizemore's career.
Sure, Jackie Bradley Jr. and particularly Xander Bogaerts look like excellent young players, but prospects are always suspects until they prove otherwise. Remember how awesome Bradley was last spring? Those are two untested kids (untested over a full 162-game season) at premium up the middle positions, where contending teams like to be their strongest. Boston is still very, very good, but they appear to have taken a step back this past offseason and are closer to the rest of the AL East pack.
3. How long will Manny Machado's knee be a problem?
GM Dan Duquette played the market very well and landed both Ubaldo Jimenez and Nelson Cruz on favorable terms as spring training began, improving a team that retained most of its core and won 85 games a year ago. However, the Orioles will be without Machado to start the year following offseason knee surgery and his timetable for a return is being measured in weeks, not days.
Even without Machado, the Orioles still have a pretty strong offense with Cruz, Adam Jones and Chris Davis, but he does serve as a table-setter for those guys as the No. 2 hitter. His all-world defense at third will be greatly missed, especially by ground ball pitchers like Jimenez. Baltimore is much improved but losing Machado is a big blow, especially if the knee hampers his mobility all at.
4. Is this the year the Rays run out of pitching?
Over the last seven or eight years, the Rays have had a knack for cranking out one quality starter after another. First it was Scott Kazmir, then it was James Shields, then Matt Garza, then David Price, then Jeremy Hellickson, then Matt Moore, then Alex Cobb, then Chris Archer ... year after year, another young stud came up from the farm system. The well is starting to run dry, however.
Hellickson will start the season on the DL following elbow surgery and he will be replaced by Jake Odorizzi, a good but not truly great prospect. Alex Colome, the next in line for call-up, was just suspended 50 games for performance-enhancing drugs. That leaves Enny Romero and his troublesome 110/73 K/BB in 140 Double-A innings in 2013 as the sixth starter. The rest of the club's top pitching prospects are in the lower minors and not expected to be big league factors in 2014.
Price, Cobb and Archer are absolute studs, but Moore has had major problems throwing strikes this spring (15 walks in 14 1/3 innings) and that has to be something of a concern heading into the regular season. As Jeff Sullivan of FanGraphs recently showed, spring training walk rates do have some predictive value. Hellickson is out, Moore and Odorizzi are question marks, and pitching pipeline isn't as robust as it once was. The Rays always seem to find the next great pitcher, but they appear more vulnerable on the mound than at any point in the last seven or eight years.
5. What, exactly, is the Blue Jays' plan?
Obviously, the Jays went all in last season, making some huge trades and signings during the prior offseason. Then they were massive disappointments in 2013. The 2013-14 offseason brought Dioner Navarro and ... that's it. No pitching help, no second base help, nothing else. Hard to believe, really.
The Blue Jays are clearly banking on good health and improvement from incumbent players to contend, but they need to find about 15-18 wins somewhere if they want to contend. With Jose Reyes already nursing a hamstring problem, that "good health and improvement" plan has already hit a speed bump. It appears the decision to go all-in applied to 2013 only.
The Angels' Ohtani faced Milwaukee in Cactus League action on Saturday

New Mexico broke the school and WAC single-game run record with a 39-0 victory over Mississippi...

It's the first Saturday slate of spring training games, and Ohtani will be taking the mound...
The Tigers are very early in their rebuild and they're counting on Miguel Cabrera to rebound...

The Grapefruit League and Cactus League seasons started on Friday

Data will be collected and then used to determine whether humidors are necessary in 2019