Five MLB managers whose seats may be lukewarm
It looks like a quiet year for managerial firings, but this quintet may not be guaranteed to be back next year.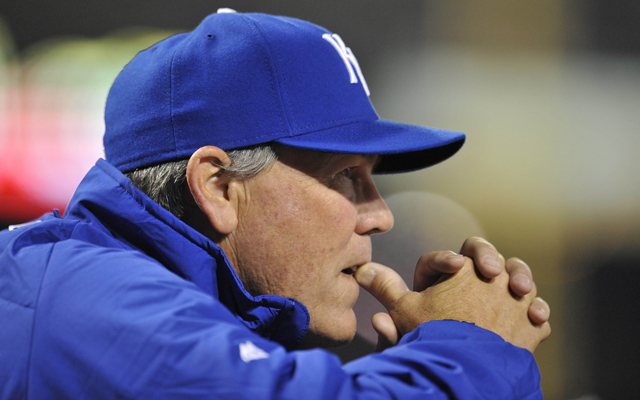 More MLB: Power Rankings | Expert Picks | Latest news & notes | Fantasy news
Thanks to parity around baseball, long-term managerial contracts, short-term tenures and long-standing reputations, it's hard to name a manager legitimately on the hot seat through two months of the season.
In fact, it's quite possible that no managers are in immediate jeopardy of losing their jobs – though of course, a bad spell, a disagreement with upper management or some unknown behind-the scenes complaint may make that untrue. But for now, it appears there are only managers whose seats are even lukewarm (we will define lukewarm below), and not even very many of those.
Not that there aren't teams that are underachieving.
While a few teams may claim to be underachieving, the team that may be suffering most from underperformance to this point, considering its talent and relative health, may well be the Royals. (Maybe it was a bit of a reach, but I was one to pick them to win the division and even the World Series, and at this point they show no signs of being on their way to such heights.)
I guess one could say it's something of a positive development in Kansas City, which had nine straight losing seasons before breaking through with an 86-76 ledger last year, that there's severe disappointment to be under .500 at this juncture. But the disappointment at 28-30 is clearly real. Much more was expected.
This is a team that appears to at the very least possess strong championship elements – an ace pitcher in James Shields, a top closer in Greg Holland, a strong defender at every position (and in many cases a Gold Glove caliber defender), enough good hitters (at least based on past performance) and plenty of youth. It looks like a clear case of underachievement to date.
Yet, Royals manager Ned Yost appears to maintain the full backing of his bosses and unquestionable his immediate boss GM Dayton Moore. Speaking of Yost and his current coaching staff (how it stands now with some shifting, including Dale Sveum moving from third base to hitting coach), Moore used to words "terrific" and "consistent." While Moore is known as a loyal man, those are quite obviously strong words of praise.
Moore himself took the blame.
Speaking a couple days ago, before two straight wins over the in-state rival Cardinals brought the Royals to 28-30, Moore said, "I'm the one who's responsible for the players. It's not Ned Yost. We're all part of the situation. We have yet to play as well as we'd hoped but I'm confident we will play well. It has nothing to do with Ned."
Moore's strong support is admirable, though from here this is a lot better team than it's showed so far.
Considering Moore's heartfelt backing, Yost has to be considered among the managers considered safe for now. But considering also the slippage in overall performance despite a beefed-up roster (the Royals added Jason Vargas, Omar Infante and Nori Aoki, though it lost Erin Santana to free agency) and relatively healthy roster (set-up man Luke Hochevar was a notable loss), he will be considered here to have a lukewarm seat, which we will define as having no guarantee to make it to 2015.
Here are the five managers with lukewarm seats, from warmest to least warm, and a couple thoughts on a few managers that might have a little extra pressure:
1. Kirk Gibson, Diamondbacks
He has to be considered as being the most under the gun considering it was learned at the time iconic Tony La Russa came in as the team's new chief baseball officer that D-Backs higher-ups had considered all options, including letting go one or both of Gibson and GM Kevin Towers. The move to hire La Russa was "brilliant" in the words of one rival GM in that in insulates Arizona's big bosses (owner Ken Kendrick and president Derrick Hall) from a possible removal of one or both the club's respected, big-name people at the top of their baseball hierarchy, that is beyond the obvious plus of adding the brilliant La Russa, a proven winner.
The move to hire La Russa for the front office, while raising questions abut Towers' status (who told a Phoenix radio station that he hoped he wouldn't become a "pseudo GM"), was said to have "energized" Gibson. And so far the D-Backs are 8-8 since the hiring, a major improvement over their 24-36 start.
Gibson's squad undoubtedly has been hurt by very bad luck, as the team's ace Patrick Corbin and set-up man David Hernandez, both went down on the eve of the season with ulnar collateral issues and Tommy John surgeries. The loss a couple days ago of emerging outfield star A.J. Pollock to a broken hand has the potential to be a killer, as the talented Pollock was on the cusp of establishing himself as a real leadoff threat.
There were communication issues last year between Gibson and his coaching staff and some of his players, and a couple of the younger players were said to find him very intimidating, The communication was said early this season to be "better" but he may need more winning than the roster, considering its current injury situation, can provide.
2. Ned Yost, Royals
The team mostly just hasn't hit, as it ranks at the bottom of most key slugging categories, and the hope is that the third switch in hitting coaches within a year might help. Eric Hosmer and Billy Butler, two key middle-of-the-order bats, have only one homer apiece, and Mike Moustakas, who was just called back up after thriving at Triple-A, is hitting .154.
The team, probably correctly, believes the issue is Moustakas' talent or work habits but rather the extra pressure he puts on himself. If two of those three players can perform to expectations, the Royals still have a chance to threaten in an A.L. Central that is very bunched even with perennial champ Detroit getting off to a good start in April.
3. Terry Collins, Mets
From here, 28-30 looks like a slight outperformance for the Mets, and certainly not any sort of underperformance. But Mets higher-ups may expect even more.
The loss of star young pitchers Matt Harvey for 2014 (Harvey's pie-in-the-sky idea that he'll be back this year goes against all reality) seemed to set things up nicely for a potentially big 2015 considering the overall quality of young starters. But there seems to be no guarantee Collins is there for the big year.
GM Sandy Alderson's behind-the-scenes suggestion the team could win 90 games wasn't any sort of ultimatum or even a prediction, it seems to suggest they will be less than thrilled at a sixth straight losing season at beautiful but difficult (for the home team) Citi Field.
As far as Collins is concerned, that may just be life in the big Citi.
He's hearing a lot of seemingly nitpicky strategy complaints on twitter and the airwaves and his contracts are said to be light for a New York manager in terms of dollars and term (though exact dollars aren't known, he was thought to have started out at $1 million, or perhaps even less than that) may signal he's not as entrenched as he probably deserves to be.
4. Bud Black, Padres
There's been a hint of an ownership rumbling or two that's surfaced, but to everyone around baseball even a smidgen of doubt about Black seems absurd. If he were to be fired – and that seems not only silly but doubtful – he'd be snapped up by someone else immediately. Padres baseball management surely understands that Black did yeoman's work to get them team to 76 wins each of the past two years, considering the team's incredibly bad luck when it comes to healthy, not to mention its relatively puny payroll and inexperience.
More was expected this year, but at the moment, the sidelining of ace Andrew Cashner has been a big downer. The hitting has been an issue though, especially that off Chase Headley (.199) and Jedd Gyorko (.162), as much more was expected of them. Petco is a tough park to hit in, but presumably not quite that tough.
In any case, the view around baseball of Black, who has the support of his baseball bosses, is that he is one of the best things about the Padres.
5. Mike Scioscia, Angels
Scioscia was seen as maybe the best manager in the game for a few years while he was squeezing the most of a team built on speed and opportunism, but two straight disappointing years with a vastly different type team built on experience, names and power put the spotlight on Scioscia.
Things are going better with the team (they are 30-27 even after four straight losses) and there are signs of a better working relationship with his co-workers. Plus, there's still about $23 million to go on Scioscia's $50-million, 10-year contract, another major disincentive to ever make a change.
Others (These managers' seats aren't even lukewarm yet):
The Marlins got a better return for Ozuna than Stanton or Gordon

The two teams are going about things in very different ways

The Marlins are indeed in teardown mode under new ownership
The Marlins still have more attractive pieces

The A's need outfield help, and the Cardinals have a glut

Minnesota has designs on the best starting pitcher available on the free agent market