Five NL East storylines to watch in 2014
The NL East is one of the most interesting divisions in the game, with two legit contenders and some of the best young players in the world. Here are five questions.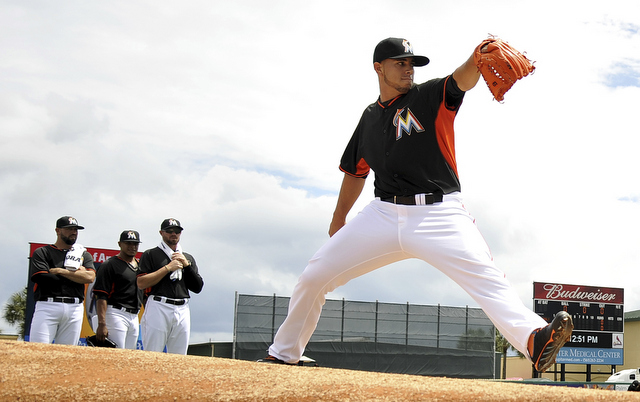 More 2014 Storylines: AL East | AL West | NL West
Technically, the 2014 regular season has already started. The Dodgers swept a two-game series from the Diamondbacks in Australia over the weekend, and they've now returned home to continue spring training. The regular season really starts this coming weekend and next week, when all 30 clubs get underway.
Between now and then, we're going to tackle five burning questions for all six divisions. We continue the series today with the National League East.
1. What will Marlins' ace Jose Fernandez do for an encore?
By WAR (6.3), Fernandez had the best season by a rookie pitcher since Mark Eichhorn in 1986, when he was 25. Fernandez is only 21. He led the league by allowing only 5.8 hits per nine innings and ranked fifth among all pitchers with 9.7 K/9, earning him the Rookie of the Year award and a third place finish in the Cy Young voting. Just a marvelous and historic season. Mike Trout followed up his dynamic rookie campaign with an even better year in 2013; can Fernandez do the same in 2014? My head say no, my heart says hell yes.
2. Are the Nationals really as good as everyone thinks?
On paper, the Nationals are stacked. Completely stacked. Stacked lineup, stacked rotation, stacked bullpen. Stacked. They look like a powerhouse, but the same was true last season and that didn't go according to plan. Wilson Ramos, Jayson Werth and Bryce Harper all missed time to injury and Adam LaRoche had a disappointing season. The pitching staff held up its end of the bargain, but the offense mustered a below-average 4.05 runs per game.
Washington brings back the same core in 2014, plus Doug Fister and a full season of Anthony Rendon. (Fister has been slowed by elbow inflammation but he is expected to start the sixth game of the season.) Their bench, which added Scott Hairston, Nate McLouth and Jose Lobaton in recent months, is much stronger as well. The Nats could be a juggernaut, but it's tough to shake the memory of last season's disappointment. They have to live up to the hype this year.
3. Do the Braves have enough pitching depth?
Injuries hit Atlanta hard this spring, as both Kris Medlen and Brandon Beachy have been lost for the season due to Tommy John surgery. Mike Minor has also been slowed by a shoulder issue. They added Ervin Santana on a one-year deal to help cover for the injuries and swapped Freddy Garcia for Aaron Harang, which was basically a wash, but that's all.
Now here's the real problem: the Braves had questionable pitching depth even before losing Medlen and Beachy. Alex Wood only threw 139 2/3 innings last year while Beachy was coming off his first Tommy John procedure, so counting on both guys for a full season was dicey. Though they were penciled in as the No. 4 and 5 starters. David Hale is promising and Gus Schlosser, who won the fifth starter's spot this spring, is making the jump from Double-A. Gavin Floyd is rehabbing from Tommy John and expected back at midseason.
The Braves effectively lost Medlen, Beachy and Tim Hudson this winter, replacing them with Santana and Floyd. That's all. Santana and opening day starter Julio Teheran are awesome, but the club is already counting on its sixth and seventh starters before the season even begins. With little room in the budget for a notable in-season trade pickup, Atlanta has to hope this group holds up all summer.
4. How much progress will the Mets make?
Losing Matt Harvey is a huge blow, but I think the Mets are clearly headed in the right direction after a few years of spinning their wheels. Zack Wheeler is Harvey-lite and Noah Syndergaard should make his MLB debut later this summer. He is one of the best pitching prospects in the game. Travis d'Arnaud is taking over as the everyday catcher and, of course, David Wright is still awesome. That guy deserves to be on a contending team again.
The Mets spent some money this winter, bringing in legitimate major league caliber players in Curtis Granderson, Chris Young (the outfielder) and Bartolo Colon, smart signings that are short-term (well, not Granderson) and address areas of need. Yeah, they desperately need a shortstop and a few relievers, but the organization is making progress. Are they contenders? No, not yet. The size of the step forward they take this year will determine how soon they get back to the postseason.
5. Can the Phillies reverse the trend?
The 2007-11 stretch was arguably the best in franchise history, with five NL East crowns, two NL pennants and one World Series title. Since then though? Look:
2011: 102-60, $166.0 million payroll
2012: 81-81, $172.0 million payroll
2013: 73-89, $165.9 million payroll
2014: projected $180.0 million payroll
The record has gotten worse while the payroll had increased, save for that little hiccup in 2013. Cole Hamels will miss a few weeks with a shoulder problem and Cuban import Miguel Alfredo Gonzalez was a big disappointment in camp, plus he's now hurt. The lineup is built around the declining bats of Jimmy Rollins and Ryan Howard, the bullpen around the volatile Jonathan Papelbon. Jason Collette of FanGraphs looked at the red flags in Papelbon's game over the winter.
Cliff Lee and Chase Utley are both exemplary players who rank among the best at their positions, plus Domonic Brown's power potential can't be ignored. A.J. Burnett should be solid as well. The rest of the team is full of question marks and, given the general age of the roster, there's a chance the Phillies will get even worse before they get better.
The free agent first baseman may be a fit in St. Louis

The front office changes in Atlanta continue

The Marlins are more likely than you think on our list
Judge finished a distant second in the balloting and he paid respect to the winner

Stanton just won the 2017 NL MVP award but could wind up being dealt this offseason

Altuve is the second Astros player to win a league MVP award