Five NL West storylines to watch in 2014
The Dodgers are the top team in the NL West by no small margin, but there is still plenty of intrigue in the division.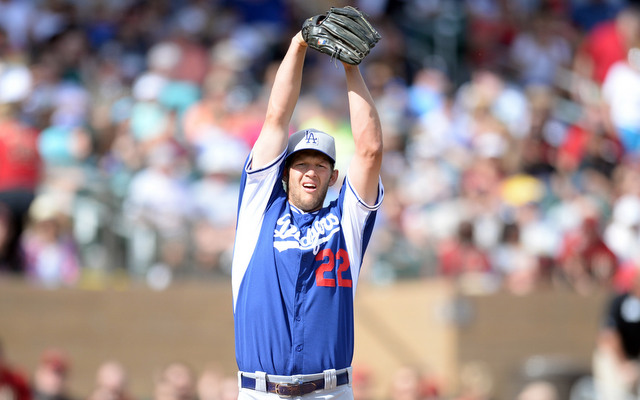 MORE: Spring Training | Scoreboard | Team previews
Technically, the 2014 regular season has already started. The Dodgers swept a two-game series from the Diamondbacks in Australia over the weekend, and they've now returned home to continue spring training. The regular season really starts this coming weekend and next week, when all 30 clubs get underway.
Between now and then, we're going to tackle five burning questions for all six divisions. We start the series today with the National League West.
1. Can anyone really challenge the Dodgers for the division crown?
In theory, yes. Of course. Weird, unpredictable stuff happens all the time and the Dodgers could definitely be dethroned after winning the division by 11 games last season. On paper though, there's no real contest. Los Angeles has the deepest rotation, the deepest bullpen, and, of course, the deepest pockets in the division. There are some health related question marks on offense (Matt Kemp, specifically) but they have more than enough to get by. For the Dodgers to not win the NL West in 2014, they'll need a rash of injuries and poor performance while pretty much everything goes right for another team.
2. Was 2013 a bump in the road for the Giants, or a sign of things to come?
The Giants have been the team version of early career Bret Saberhagen these last few years, alternating excellent seasons with not-so-excellent seasons. San Francisco won the World Series in 2010, missed the postseason in 2011, won the World Series in 2012, then finished in fourth place in 2013. Matt Cain was terrible in the first half last year and Tim Lincecum has regressed from Cy Young winner to fourth starter. Tim Hudson will help, but how much at age 38 and coming off a major ankle injury? Will Pablo Sandoval be motivated in his contract year -- it appears he is given his recent weight loss -- or disappoint again? The Giants have a great core with Cain, Madison Bumgarner, Buster Posey, Brandon Belt and others, but they appear more vulnerable right now than they have been at any point in the last four or five seasons.
3. Are the Padres ready to take that next step to become a postseason contender?
Their chances took a hit when Josh Johnson got hurt over the weekend (he'll miss at least 4-5 weeks), but they still have a strong rotation led by Andrew Cashner, Ian Kennedy and Tyson Ross. Chase Headley could be poised for a monster contract year because his thumb is healthy and he's right smack in the prime of his career at age 29. Losing Cameron Maybin hurts, but Carlos Quentin has reworked his batting stance this spring to take pressure off his surgically repaired right knee, so maybe he'll actually stay healthy for a full season. Will Venable, Jedd Gyorko, Chris Denorfia and Yonder Alonso are a very good supporting offensive cast, and the bullpen should be top notch even without Luke Gregerson thanks to the Joaquin Benoit and Alex Torres pickups. San Diego needs some players to stay healthy and things to break right, but this is the first time in a few years that they feel like a legit wild-card contender.
4. Can the Diamondbacks back up all their talk?
So far, no. The Dodgers led for 17 of 18 innings during the two games in Australia and a spirited comeback attempt in the ninth inning of the second game only made the final score less lopsided. The D-Backs, specifically manager Kirk Gibson and GM Kevin Towers, did a lot of talking this winter about being tough and making a run at the Dodgers, but they're coming off two straight 81-81 seasons. They have to walk the walk at some point. Ace Patrick Corbin is out of the year with Tommy John surgery and Bronson Arroyo's back is acting up, so their pitching depth is already compromised. Arizona fell short in their pursuits of Carlos Beltran and Masahiro Tanaka this winter, and falling short of wild-card contention won't be a good look after the last few months.
5. Will Troy Tulowitzki and Carlos Gonzalez finally have full, healthy seasons at the same time?
Last season, Tulo and CarGo combined to play only 236 games. Since Gonzalez arrived in Colorado back in 2009, the most games these two have combined to play in a single season was 270 back in 2011. That's the only time they both managed to appear in 125+ games in the same season. These two get hurt so much that it's easy to forget just how great they are, especially Tulowitzki. He's one of the top five players in the world when healthy. I'm not sure the Rockies have much of a chance to go to the postseason this year, but I know they have no chance if these two don't stay healthy. As a baseball fan, I want to see full seasons of Tulo and CarGo. They're a joy to watch.
Ellsbury is due at least $68 million over the next three seasons

Wright was arrested at his home Friday

The former Tigers teammates were voted into Cooperstown by the 16-person Modern Era Commit...
The Yankees still have room for a good-sized signing even after Saturday's trade with Miam...

St. Louis gets some much needed help for their bullpen

Keep tabs on the top 50 free agents right here