Following Felix, it's going to be even harder to find right Price in Tampa
Mature pitching star David Price says he loves the Rays and would prefer to stay long term, but in the wake of Felix Hernandez's $175 million, seven-year deal the odds seem stacked against it.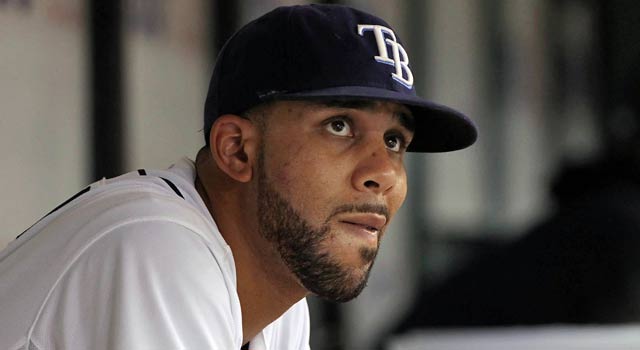 David Price on King Felix's deal: 'It doesn't pertain to me -- not right now. Could it? Yes.'
(US Presswire)
PORT CHARLOTTE, FLA. – David Price smiled broadly when the subject of Mariners star Felix Hernandez and his new $175 million, seven-year contract came up. What great ace wouldn't?
But Price, the Rays' consistently excellent left-hander, understands that particular contract isn't carrying over from one corner of the country to the other, from a city in the top half of baseball revenues (Seattle's is higher than you might think) to the bottom, the very bottom.
"It doesn't pertain to me -- not right now. Could it? Yes," Price said about King Felix's new record deal.
The Rays wow folks with their ability to outplay their revenues, and even their roster. And they stepped out to give star third baseman Evan Longoria a $100 million, six-year extension. But that's no market setter. And it surely was made possible by Longoria signing maybe the most team-friendly contract in modern history, a six-year, $17.5 million deal that was further weighed down by three team options, and the probable desperation that accompanied it.
More on Rays
Columns

Stories
For all his love for Tampa -- and Price does love the area by all accounts; he recently bought a home in the Harbour Island section of Tampa, though if you ask him he'll tell you he lives in his hometown of Murfreesboro, Tenn. -- this is going to be trickier, much trickier. When he's asked if he'd like to stay a Ray long-term, he doesn't hesitate. "I'm up for it," he said. "I love it here."
But Price, a Vanderbilt man who's whip smart, understands the Rays aren't playing in the same financial ballpark (even ballpark is a rough word for the Rays) as the Mariners. Few are, as Felix's deal was a record, beating CC Sabathia's previous $161 million deal for seven years with the New York Yankees.
Price, who went 20-5 with a 2.56 ERA in 2012, gets it. He grasps that these type deals are so infrequent that they take the right team, and the right circumstance. "I don't think anyone giving someone that much money is easy," Price said. "It's a tough pill to swallow."
it's going to take "commitment" on both sides, he said. Also, beaucoup dollars. And that's not something the Rays have in abundance. For all their great play, they have trouble drawing flies to The Trop.
"It's going to be tough," one Rays person says, honestly, about their chances to keep Price beyond the three arbitration years he has left.
Of course, that doesn't mean they aren't going to try, or that they haven't. Word is, at some point the Rays made at least a pass at a long-term deal. But there's no indication anything's going on now.
Rays general manager Andrew Friedman said it's team policy not to discuss any negotiations publicly. All he'll say is, "We love David. We love his work ethic and his competitiveness. As good as he's been, we think he has another gear."
Price, coming off a Cy Young season, said he isn't living off that glorious year. "It's over," he said. "Nobody cares what I did last year. Neither do I."
His only goals, he said, are to stay healthy and throw 200 innings. More than the glamour stats of strikeouts, ERA, WHIP, whatever, he believes that logging innings are a way to judge production today.
The Rays got much more than a talented arm when they drafted him No. 1 several years back (his fastball was clocked at a league-best 95-mph average in 2012), they got someone with their head together.
He's not the type to run to management when he sees a comparable pitcher getting much more money. He has three years to go before free agency, and he seems to be patient about it. (He might have learned that patience from manager Joe Maddon.) Price, who's going year-to-year and signed a $10.1125 million contract for this coming year, was only happy for Felix.
"It's good to see. Felix is a very deserving guy," Price said. "Felix is a guy who's taken the right road, and he's getting rewarded for it."
Price's time will come -- though perhaps not in Tampa Bay.
This is a two-man race coming down the stretch. Who should win?

Clayton Kershaw's injury appears to have made this a one-horse race

Maxwell had not played the last few games due to concussion symptoms
L.A. manager Dave Roberts indicated that Puig's benching was related to more than one inci...

Manager Torey Lovullo said so on Monday