For Dickey, reaching 20 wins gets a little tougher, but a Cy Young Award maybe gets a little closer
R.A. Dickey lowered his league-leading ERA Monday night. He also took over the league lead in innings, and moved closer to taking the league lead in strikeouts. His chances of winning the Cy Young may have gone up, even as his chance at 20 wins took a hit with his 3-1 loss to the Phillies. Dickey has 18 wins, with three starts remaining.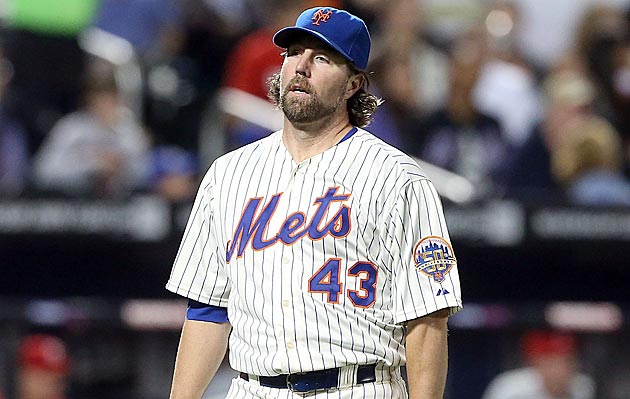 With some better run support, R.A. Dickey probably would already have 20 wins. (Getty Images)

NEW YORK -- The Mets want this badly for R.A. Dickey.
They want 20 wins. They want the Cy Young Award.

"It's such a good story," one Mets person said to me Monday afternoon.

It's a great story with or without the 20 wins. It's a great story with or without the Cy Young.

The odds of one got a little better Monday night. The odds of the other got a little worse.


More on MLB
Analysis

Related links
Dickey pitched well again, giving up onlytwo earned runs in seven innings. He took over the National League lead in innings pitched, held onto the NL lead in ERA and moved closer winning the NL strikeout crown as well (he trails Clayton Kershaw by one, and Kershaw is probably done for the year).

But Dickey also lost, because as badly as the Mets want this for him, they're so bad, they can't support him offensively. He lost 3-1 to the Phillies and to Cliff Lee, who can tell him plenty about the effects of poor run support.

So Dickey is stuck on 18 wins with three starts remaining, with no guarantee the Mets will give him any more offensive support then than they did Monday.

You can say this doesn't matter. You can say that pitchers' wins are a useless and meaningless statistic.

But if you've ever been around any pitcher chasing 20 wins, you know it's not meaningless to them, or to their team.

"You feel for him," Mets manager Terry Collins said, before explaining why he pinch hit for Dickey in the seventh inning Monday.

Dickey insisted later that it was the right decision. He insisted he doesn't want Collins to do anything out of the ordinary in an attempt to get him to 20.

"I could have pitched a complete game, I felt like, but that wouldn't have given us the best chance to win," he said. "I don't want to come in a game in the seventh inning, or bounce back on two days' rest [to try to get an extra win]. It just doesn't feel like.

"To manipulate it like that doesn't feel right to me."

His words probably only help him with Cy Young voters (full disclosure: I have an NL Cy Young vote this year, but have not yet decided who I'll put first on the ballot). Dickey's "story" might help, too, although it really shouldn't.

He has a strong case, and events elsewhere are helping make it stronger. Kershaw is hurt, Aroldis Chapman is getting time off because of shoulder fatigue, and Sunday night Gio Gonzalez had a sub-par game as he went for a 20th win.

Dickey's record is suffering a little bit now because the Mets are so bad. They've scored eight runs total in his past five losses (and only 12 total in his past three wins).

On the other hand, his run support still ranks in the upper half of NL starters, behind Gonzalez but ahead of Matt Cain, Stephen Strasburg or Johnny Cueto.

He insists that while he's a devotee of box scores, he's not paying any special attention to what Gonzalez and the others are doing as the season (and the Cy Young race) wind down.

"I just need to take care of me," he said. "And that's what I've done."

He's presented a good Cy Young case to go along with that great story the Mets are pushing. He was absolutely the pitching story of the first half of the season, when his back-to-back one-hitters had everyone talking about the knuckleball.

The Mets were terribly disappointed when he wasn't chosen to start the All-Star Game. They'll be even more disappointed if he doesn't win the Cy Young.

He didn't win it Monday, but he didn't hurt his chances, either.

On this night, with this team behind him, that's not a terrible result.
There's now a crowded outfield in San Diego

The former Braves star served as a race official for the Daytona 500

He'd be a good fit in the Bronx, but can they make it work and still stay under the luxury...
The slugger had shoulder surgery in November

Tebow reported to spring training with Mets position players on Sunday

Santa Clara senior Jake Brodt did the honors Saturday