For Francona, the Indian years might be more enjoyable
Terry Francona insists that he loved his time in Boston. But his new book details many of the demands that went with managing the Red Sox, and may help explain why he was so happy to get a more normal "baseball" managing job with the Indians.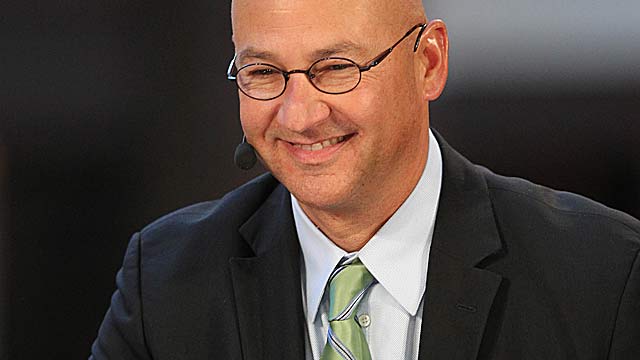 Terry Francona on Boston: 'It's a wonderful place. It's just very demanding.'
(US Presswire)
Reading Terry Francona's book, it's easy to get the idea that Francona really didn't enjoy his time with the Red Sox.

Not true, he says.

"I loved my job," Francona said Wednesday. "Most demanding job I've ever had, but it was a great job."

Fair enough, but reading Francona's book might give you a better idea of why he was so happy to become the manager of the Indians.

The Indians don't have the resources the Red Sox have. They don't have the talent that Francona was given in his eight seasons in Boston.

But they also don't have an owner emailing regularly with lineup suggestions. Or, for that matter, a front office that presents proposed lineups from unidentified bloggers.

That really happened with the Red Sox in one of the stranger scenes replayed in Francona: The Red Sox Years, the book that the former Boston manager wrote with Boston Globe columnist Dan Shaughnessy.


More on Francona
Related links
The book itself is a good read, well worth it for any Red Sox fan or anyone interested in the last decade of baseball. Francona and Shaughnessy tell how the Red Sox became champions and also how it all fell apart.

There are good times, no doubt. Francona's relationships with his Red Sox players are almost all presented as positives (basically all except Manny Ramirez). Same goes for his relationships with most of the people who worked for the Red Sox, including general manager Theo Epstein.

But there's always more, from the suggestion that Francona was never really comfortable with the "idiots" image cultivated by his 2004 champions to the constant conflicts over ownership repeatedly choosing marketing over baseball.

"There were a lot of things happening on the periphery that were making it harder to get our work done," Francona said in one section about 2008. "That stuff's all great, but you can't forget you're a baseball team."

The Indians are a baseball team. Perhaps not a great one -- even some Indians people will tell you that winning the division isn't a realistic goal the next couple of years -- but the focus should be more baseball and less "the periphery."

"Yeah, I hope so," Francona said Wednesday. "That would be very exciting."

The Indians have their own challenges. Not enough fans show up at the games. Not enough talent has come through the system. Not enough money is available to add talent.

But if there's a complaint about the way the Indians' front office works, it's that they get along too well and they're too reluctant to challenge each other. It's that they're too comfortable, and that ownership has been too loyal.

Francona said his expectations are the same as ever. He said he's fine with the resources.

"I'm perfectly content taking the players we get and making them as good as we can," he said.

You wonder if he'll feel the same way in the middle of summer, if the stands are empty and the record isn't good.

My guess is he will, because he'll be back to working on baseball with other people who want to do the same.

"It's a wonderful place," he said about Boston. "It's just very demanding. Some of the stuff was starting to bother me."

How could it not?

In the book, Francona told of regular emails from Red Sox owner John Henry, suggesting that he shouldn't play David Ortiz against left-handed pitchers. And he told of the other, more mysterious lineup suggesters who he heard from indirectly.

They were two guys who sent in their ideas, which were then passed on to Francona.

"[One of them] was a bit of a mad scientist . . . a whacko sabermetrician type," assistant general manager Brian O'Halloran told Shaughnessy. "We stopped using him."

Francona wasn't told who they were, but he was handed the suggestions (although he wasn't ordered to follow them). It was just part of what made the Red Sox different.

It'll be different in Cleveland. So much will be different in Cleveland.

"It's probably going to be a refreshing change for him," one Indians person said.

Read the book, and you'll see why Francona was ready for a change. He admitted the year out of the dugout has helped him, but getting away from some of the Red Sox madness might help just as much.

It might not have happened if September 2011 hadn't happened. Even with the strains that were already evident, Francona would almost certainly still be in Boston if that season ended with a playoff run instead of an historic collapse.

Maybe he'd be happier if it had played out that way.

After reading his book, I'm not so sure.

And I understand better than ever why the Indians job was so attractive.
Charlie Morton will start either Game 3 or 4

Granderson, Verlander, Beltran and more are looking to reach the top of the MLB world

Houston's top relievers have been shaky this postseason
Our experts have a unanimous World Series pick

Otani's rare ability to hit and pitch will need to be accounted for in realms beyond real...

Kenny White has won 8 of his last 10 MLB Over-Under picks and has a strong play for Game 1