For Red Sox, who like to go slow, World Series turns worse in a hurry
Boston has to hope Jake Peavy and Clay Buchholz can pitch the way they did in the regular season in Games 3 and 4, but there's reason to doubt.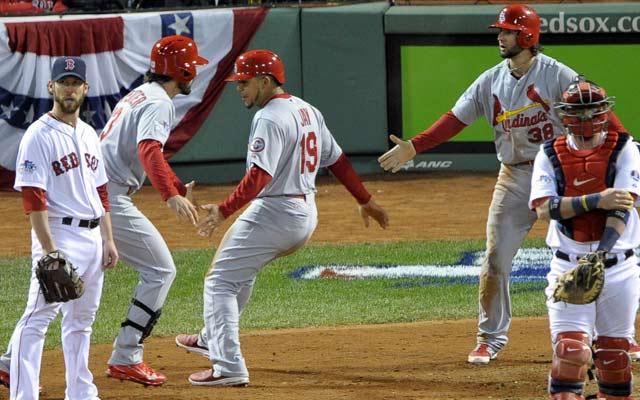 BOSTON -- For 24 hours, the Red Sox looked golden. They'd won their ninth straight World Series game in a rout in Game 1, and folks here were dreaming of a sweep. It certainly didn't seem impossible.
Now a night later, we have to wonder if the Red Sox can even bring it back home.
The Cardinals stole the momentum in this World Series by winning ugly, 4-2 in Game 2, and now they get to face Jake Peavy, a former Cy Young winner who's only notable this postseason for giving great press, followed by Clay Buchholz, who may or may not be fatigued but definitely was pushed back a game.
If the Cardinals haven't impressed too many folks with their uneven split, it still put them in an enviable position. They survived Fenway, an unfamiliar, unconventional relic of a stadium, to go back to the comforts of the consistently content Midwestern sea of red at the symmetrically average Busch Stadium, the polar opposite of this ancient abode.
The Cardinals didn't show for Game 1, now it doesn't seem to matter.
Now they look like they may be holding a winning hand – though of course the Bostonians put as good a face on things as possible.
"I think we're OK," Red Sox outfielder Jonny Gomes said. "Obviously, we would have liked to get a win. But we don't have a zero in the win column. Unless [they sweep], we've got an opportunity to come back here and make history."
While a sweep by anyone doesn't seem likely, based on the pitching probables it isn't out of the question.
Up next for the Sox is Peavy, the affable former star who suddenly looks like a very comfortable at-bat (8.31 ERA this October). The highlights of his postseason have come in the press conferences, where he invariably shines. Outside of those settings, he suddenly looks very much looks on the wrong side of 30.
After then comes Buchholz, at least we think so.
 He's been pushed back due to what's been heard described as a "dead arm" which is weird considering he's thrown barely half as many innings as everyone else.
Anyway, he chucked a few in right field Thursday. The Red Sox said he looks passable, maybe even fine, as they continue to maintain they expect him to start Sunday. If he can't go, Felix Doubront, who vacillates easily between hot and cold, will take the ball.
"With what our guys have proven over the long haul, we're looking forward to the challenge of going into what should be a great environment over in St. Louis [and] looking forward to Jake taking them on in Game 3, and continuing to pace our way from the mound," Red Sox manager John Farrell said.
It's not certain, but maybe the reference to "pace" is another hint they are indeed going with Buchholz, who seemed to employ the four-corner stall in his previous postseason starts, as he looked even skinnier and scruffier than usual, and more to the point, off his usual considerable game. Red Sox people continue to insist he will still make that start, but of course there's no percentage in saying otherwise yet.
"There's been nothing that happened since we spoke yesterday here with Clay that would indicate otherwise," Farrell said. "So we fully expect him to go."
What they can expect to get from him is another matter.
Whatever the case, all is obviously not lost as long as the ageless David Ortiz is still on the Red Sox. Gomes commented that they are giving him only one pitch to hit, and he is hitting that very pitch. This time he parked one above the Monster, his fifth homer of October, to give the Red Sox a brief 2-1 lead. That's two more homers than the other eight guys in the Red Sox lineup combined.
Once someone figures either 1) how to pitch Ortiz, or 2) how to avoid him, it'll be interesting to see where the Red Sox offense comes from. Dustin Pedroia has been his pesky self, Mike Napoli is a pretty good World Series player (the Cardinals know this firsthand from 2011, though he made three keys outs Thursday, two on a double play) and 21-year-old rookie Xander Bogaerts walked a lot against Detroit, though he's struggled against his fellow early 20s pitchers on St. Louis.
Boston blew the 2-1 lead Papi gave them one half inning later when two runs scored on a sacrifice fly, thanks to errors by catcher Jarrod Saltalamacchia and a throwing miscue by Craig Breslow, who picked up the ball Salty missed behind home and fired it needlessly over third. That was about the last thing anyone would expect from the Yale man having the near-perfect run. "I'm sure Craig would like to have that ball back," Farrell said, enunciating the obvious.
Truth be told, as shaky as the Red Sox looked on that play, the Cardinals had a whole game like that the night before, in Game 1. The Cardinals played atrociously, then shrugged it off. That's just like them.
The Cardinals took no offense in Red Sox Game 1 starter Jon Lester pitching with what appeared to be a greenish goo in his glove, which is to say they handled it like men. The Cardinals only found fault in their own minor-league player who tweeted the accusation and will get a talking to next spring training.
"We don't want to take anything away from how [Lester' pitched. We lost that game for many others reasons rather than what was alleged to be in his glove," Cardinals general manager John Mozeliak said before Game 2. "We're not going to make a big deal about that. Our focus today is on playing better baseball."
Of course how, how could they not? In Game 1 ace Adam Wainwright was so bad, as he himself admitted, he seemed to have an out-of-body experience. The Cardinals made three errors but it could have been five.
That, as we know, isn't the Cardinal way.
The Cardinals' way is to take care of business. And while they hardly are playing their best, they kept the pressure on, pulling off a neat double steal and getting a key hit from ailing Carlos Beltran. Now they somehow find themselves in an advantageous position as we move into the final five games of the season. They hold most of the edges as we head Midwest.
The Cardinals are very much used to all their happy fans, who back them like no other team, as they will occasionally remind you.
The Red Sox will lose Napoli without a DH in St. Louis, as Farrell will go with Ortiz at first base. Farrell just mentioned that is what he's likely to do in Game 3, but of course if he removes Big Papi for anyone he'd have to have his head examined.
The Red Sox will have to give the ball to Peavy and Buchholz (or Doubront), and cross their fingers.
Yes, within 24 hours Boston's situation turned from ideal to iffy.
Manager Torey Lovullo said so on Monday

Let's see how SportsLine forecasts the race for MLB's 10 playoff spots

Monday kicks off the final week of MLB action. Let's take a look at everything that went d...
No other rookie in baseball history has hit more home runs than Judge has this year

Jays have said goodbye to Encarnacion and will to Bautista. Should they move on from Donaldson,...

Judge's big September means Jose Altuve has some serious competition for the award