For sudden-death with Rays, Rangers will have new addition: Nelson Cruz
The streaking Texas Rangers won their seventh consecutive game Sunday to force Game 163 with Tampa Bay. And they've got a big addition they're planning to make for Monday night: Nelson Cruz.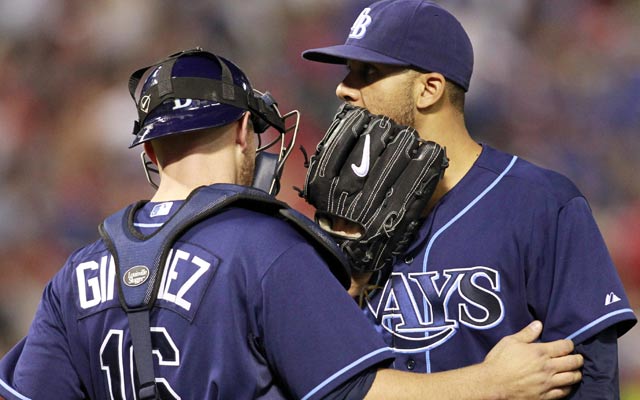 ARLINGTON, Texas -- Now here's where the chickens come home to roost … or, if you prefer a more direct approach, where the Biogenesis Boys climb back onto the bus.
The Rangers rolled to a seventh consecutive win Sunday to dramatically push their season to Game 163. And when the Tampa Bay Rays show up on Monday night, here's who they will see: Nelson Cruz.
Yes, the Cruz who was suspended for 50 games in the Biogenesis scandal.
The Cruz who has spent the past couple of weeks tuning up in advanced Instructional League games in Arizona.
The Cruz who, lifetime against Rays starter David Price -- regular and postseason -- is a blistering 9 for 21 with three home runs.
That Nelson Cruz.
The one who becomes eligible for the first time since Aug. 4 on … Monday.
"He will be activated for the game tomorrow," Rangers general manager Jon Daniels confirmed not long after the Rangers punked the Angels -- what's new? -- 6-2 to add a dramatic flair to the conclusion of the 2013 season.
"We'll deal with that tomorrow," manager Ron Washington replied when asked whether Cruz will be in the Texas lineup Monday night.
"I think so," Cruz said when asked if he expects to play.
If this was a text instead of a column, this is where I would type "LOL." Look at those numbers against Price. Cruz expects to play in the same way that you figure the very next breath you're going to take after reading this sentence will fill your lungs with life.
Why would the Rangers file the paperwork activating Cruz if they were just going to leave him on the bench as a conversation piece?
Now you can debate the entire rightness/wrongness of the issue, raise holy hell about the cheaters and whether they should be allowed to contribute in the playoffs. But as you'll recall, part of MLB's rush to suspend these guys immediately after the July 31 trade deadline was as a result of the math equation, counting backwards from the start of the playoffs, wanting to make sure the suspensions didn't bleed into the postseason.
So, here we are.
Here is Cruz, probably already eagerly swinging a bat in preparation for this cool, dramatic, sudden-death Monday Night Baseball game. And there is Jhonny Peralta in Detroit, taking a crash course on everything there is to know about left field.
This is in direct contrast to last summer when, after Melky Cabrera was suspended, the Giants did everything but change the AT&T Park locks to make sure he didn't return. Then they won a World Series without him.
The difference? Upon being collared, Cabrera's people built a fictitious Web site attempting to throw investigators off the trail. Then, when that didn't work and he was suspended, he split town practically before the Giants knew what hit them. No explanation, no apology, nothing. And that caused a permanent alienation.
Cruz, on the other hand, was apologetic, maintained a good relationship with his teammates, talked with the Texas farmhands in Surprise, Ariz.
Sure, no small part of the Rangers welcoming him back has to do with his team-leading 27 home runs and 76 RBI at the time of his suspension. Which is why he could suddenly re-emerge in the most Texas of ways. Hey, everything is bigger here, right?
The Rangers -- and baseball itself, across the board -- know there is bound to be some negative reaction.
"First of all, I completely understand that thought process," Daniels said. "But the system that's in place, he served his penalty of 50 games. We did as well."
Part of Texas' sensitive decision here, Daniels explained, is that the players all are on board with bringing Cruz back. Though he was expected to be activated, Daniels remained mum on the subject until postgame Sunday.
"We wanted to see a variety of things," Daniels said. "We wanted to make sure no new information came out, how Nelson handled himself, how his teammates reacted."
And?
"We'll be happy to have him around," Daniels said.
Happier yet if he returns with a speedy bat.
Cruz landed in Dallas on Saturday night, direct from the Rangers' spring base in Surprise.  In eight games at the "advanced" level of Instructional League, Cruz went 9 for 27 with five doubles, one homer and nine RBI.
There is no telling how that will transfer to the big-league level, though given his lifetime numbers against Price, you can see every reason why the Rangers think the risk will be worth the reward.
"It shows they believe in me, you know?" Cruz says. "I've been working every day to make sure I'm ready for the moment. This team, we are family. It means a lot to me."
The Rangers' beliefs are strong across the board these days. Washington wasted no time in yanking Darvish with two out in the sixth in a 2-2 game Sunday, starting the process of spinning the turnstiles in a bullpen that has been exceptional lately.
The manager also had the magic touch with his lineup. Geovany Soto was behind the plate for a fifth consecutive Darvish start. A.J. Pierzynski hasn't caught Darvish since getting in the pitcher's grill during a pointed mound conversation in Oakland on Sept. 4. Apparently, Darvish is the sensitive sort.
But Washington wanted Pierzynski's bat in the lineup, so he slotted him in as the designated hitter, the lefty-on-lefty matchup against Angels starter Jason Vargas be damned (though Pierzynski, hitting .278 against lefties into the game, isn't overly susceptible to matchups, anyway).
The result was, Soto got Darvish through what he needed to get through, and the Rangers got four hits and three runs scored combined from the Soto-Pierzynski tandem.
Now, the Rays.
Texas gets the home-field advantage because the Rangers went 4-3 against Tampa Bay this summer, including 2-1 in Arlington way back in early April.
Price, 9-8 with a 3.39 ERA in 26 starts, has not been as sharp as last summer, when he won the AL Cy Young award. Adding to the intrigue: He's only 1-4 with a 5.98 ERA against the Rangers in eight lifetime starts ... and 1-2 with a whopping 10.26 ERA in four career starts in the Ballpark in Arlington.
Then, there's his history with Cruz.
You bet the Rangers' arms are open for this guy's return.
"I said that on the first day he was suspended," second baseman Ian Kinsler said.
"We can't wait to see him back," third baseman Adrian Beltre added.
With a bat in his hands, and a smile on his face.