For the legend of Matt Harvey, this night was near perfect
If you haven't heard about Matt Harvey by now, you will, after a near-perfect game that he pitched Tuesday night -- with a bloody nose.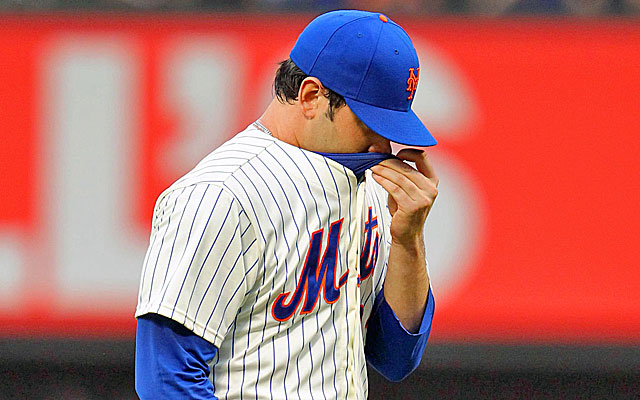 NEW YORK -- Yes, he had a bloody nose.
A real, true bloody nose.
"I've never seen anyone pitch with a bloody nose," said LaTroy Hawkins, who has seen pretty much everything in his 19 years in the major leagues.
Matt Harvey pitched with a bloody nose. Matt Harvey nearly threw a perfect game with a bloody nose.
If you haven't heard by now, you will. If you're not paying attention when Harvey pitches, you will.
The young Mets right-hander will be compared to the other great pitchers in the game. Just Tuesday, after his near-perfect bloody-nose game, White Sox manager Robin Ventura told reporters that Harvey featured "[Justin] Verlander stuff."
Not bad, but I liked Hawkins' comparison just as much.
"I played with [Mike] Trout last year, and I'm getting to play with Harvey this year," Hawkins said Tuesday, after the Mets' 1-0 win.
Trout is special. So is Harvey.
Trout is on Hawkins' very exclusive list, of the young players he'll want to watch after he's retired. David Price is on the list, Clayton Kershaw is on the list, and Hawkins expects to add Bryce Harper to the list soon.
Matt Harvey is on it.
We don't know what Harvey will become, any more than we know what any young player will become. What we know already is that Harvey is worth watching now, at age 24 and in his first full season in the big leagues.
And that he could be even more worth watching in the years to come.
This is what he did Tuesday: Nine innings, and the only baserunner was Alex Rios, who beat out an infield single on a bang-bang play at first base in the seventh inning. Nine innings, 12 strikeouts, and Harvey still only needed 105 pitches.
The Mets PR staff figured out that the other guy since 1916 with at least nine shutout innings, just one hit and at least 12 strikeouts was Nolan Ryan in 1986.
Technically, this wasn't a perfect game.
But you tell me what Matt Harvey did wrong.
His catcher, John Buck, described the pitch to Rios as "an awesome pitch." He described almost all of Harvey's other 104 pitches the same way.
Look, I know, the White Sox have a terrible lineup right now. They weren't all that great to start with, they're missing Dayan Viciedo and Gordon Beckham, and Tuesday they were missing Paul Konerko, because there was no designated hitter and Adam Dunn was playing first base.
But there will be more games like this, against better lineups. There will be more runs at history, because Harvey's stuff is that good, and his command of it is even better.
"To pound the strike zone like he did, you just don't see young guys do that," Mets manager Terry Collins said. "Especially power guys."
In seven starts this year, Harvey is 4-0 with a 1.28 ERA. In 49 1/3 innings, he has allowed just 22 hits, with 58 strikeouts and only 12 walks.
And pitching with a bloody nose, he was even better.
Yes, a bloody nose.
Harvey said it started when he was in the outfield, before warming up in the bullpen.
"They shoved as much stuff up there as they could," he said.
But as he pitched the first innings, the television cameras showed a trickle of blood running down his upper lip. Collins said he worried it would get so bad that he would need to change pitchers.
Instead, it just added to the legend.
"I guess I'll have to punch him before his next start," Buck said with a smile.
You don't have to punch him. You just have to watch him.
He's on the list.
Gallardo spent the first eight years of his career in Milwaukee

MLB revenues are at a record high right now, but teams aren't spending it on players

Chicago added Tyler Chatwood earlier this offseason but might not be done adding to the ro...
The Dodgers and Braves pulled off a whopper on Saturday

Sabathia will reportedly spend a 10th season in the Bronx

Fowler suffered a knee injury at Chicago's Guaranteed Rate Field