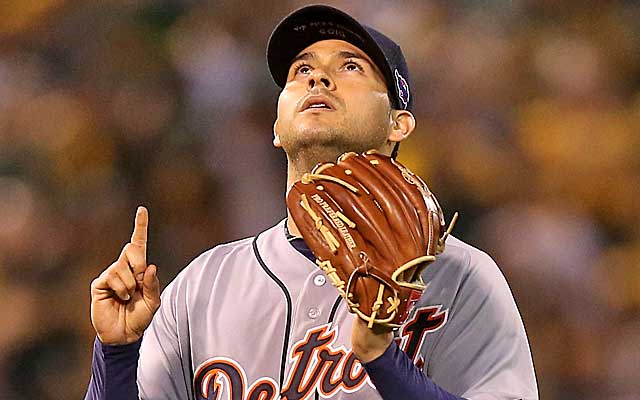 The Tigers wind up paying Sanchez $80M after initially offering him $48M. (Getty Images)
The Tigers never planned to give Anibal Sanchez $80 million. They never liked the idea of giving Anibal Sanchez $80 million.

But in the end, that's what he cost.

If they'd been able to trade for James Shields, the Tigers wouldn't have given Sanchez $80 million. If they'd had better options than Rick Porcello and Drew Smyly for the final two spots in their rotation, they wouldn't have given Sanchez $80 million.

They didn't.

You can argue that the Tigers overpaid for Sanchez. I'm sure they wouldn't dispute that. Their initial offer to him was for $48 million.

Here's what you can't argue: The Tigers have a whole lot better chance of returning to the World Series with Anibal Sanchez than they do without him.

When you're a win-now team, that's the bottom line.

Is any team more win-now, deal-with-the-consequences-later than the Tigers?

They know the consequences. They know it's going to take a ton to keep Max Scherzer (free agent after 2014) and two or three tons to keep Justin Verlander, who can become a free agent after 2014 and whom the Tigers are hoping to sign to an extension this winter.

They know that paying Sanchez $16 million a year to be their third or fourth starter doesn't really fit.

They also know that they've had to make a July trade for a starting pitcher each of the last two seasons, just to get to the playoffs. They know that the prospect inventory they need to make that kind of trade has been seriously depleted (a point made emphatically when they were outbid by the Royals for Shields).

They knew they liked Sanchez, whom they got this past July in a trade with the Marlins. They knew he liked them.

They also believed that if the money got too high, Sanchez would go elsewhere.

The money got too high (thanks in large part to a large offer from the Cubs). The Tigers eventually paid it, anyway.

They'll likely save a little money by trading Porcello, who made $3.1 million last year and will again be arbitration-eligible. The interest in Porcello has been strong, sources say, and perhaps he can get the Tigers a needed late-inning reliever, or maybe some cheaper rotation depth.

For now, the rotation depth consists of Shawn Hill, who has started just seven big-league games since 2008, and possibly Jeremy Bonderman, whom the Tigers are still trying to sign (but who hasn't pitched at all since 2010).

If the big starters stay healthy, that might not matter. We saw in the playoffs what Verlander, Scherzer, Sanchez and Doug Fister did to the Yankees.

We knew that general manager Dave Dombrowski's plan always involved pitchers who could win in October.

We knew that the 2013 Tiger rotation would be a lot better with Sanchez than without him. The Tigers knew that, too.

They didn't want to give Anibal Sanchez $80 million.

But that's what he cost.