For Yu Darvish to take next step, he needs to figure out Oakland
Yu Darvish has good enough stuff to be the best pitcher in baseball. First, he'll need to figure out the A's. After Monday's loss, he's now 1-7 career against Oakland.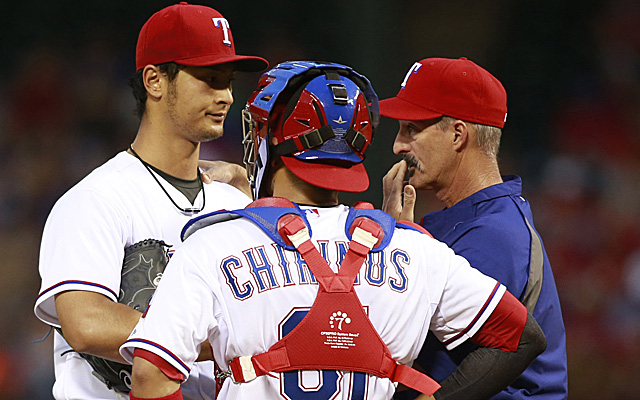 More MLB: Power Rankings | Expert Picks | Latest news & notes | Fantasy news
Rangers starting pitcher Yu Darvish is an ace. There's no question about that.
Darvish is the top strikeout pitcher in the majors and one of the best overall starters in the majors, too. There shouldn't be much question about that, either.
The next step is to be a major player in the conversation for the best pitcher in baseball. Darvish has the ability to be on the short list in that conversation along with guys like Justin Verlander, Clayton Kershaw, Felix Hernandez and Adam Wainwright*. As things stand right now, Darvish has the ability to be considered alongside those guys and could end up at the end of this year at the top of the list. His stuff is that good.
*Aside: Can I put Jose Fernandez in there yet? Asking for a friend ...
The problem, though, is that right now Darvish's struggles against the A's are preventing him from taking that next step. You can't be considered the best pitcher in baseball when the two-time defending champions in your division own you. And, man, do they own Darvish.
Monday night, Darvish suffered the shortest outing of his career, lasting only 3 1/3 innings against the A's while allowing six hits and four earned runs. His counterpart, A's youngster Sonny Gray went out and did what aces do. He threw a shutout in one of baseball's most hitter-friendly yards and led his team to victory.
In his career, Darvish has now made nine starts against the A's and 57 against all other teams. The difference is staggering. Check it out.
Darvish's struggles against Oakland
Yu Darvish

Record
ERA
WHIP
K/9
BB/9
Vs. Athletics
1-7
4.73
1.46
10.29
4.89
Vs. Everyone else
29-12
3.09
1.14
11.16
3.56
One of the major problems has been efficiency. The A's work deep counts. They've been above average in pitches per plate appearance this season, they were last season and in 2012 they were the best in the AL. They entered Monday night second in the AL in walks. They've done a number on Darvish several times, too, including Monday night when he was worked to the tune of 83 pitches through his 3 1/3 innings. Only 45 of those pitches were strikes.
Last time Darvish faced the A's was last week and he wasn't terrible. He allowed eight hits and three earned runs, but he also walked four and only lasted six innings due to needing 116 pitches to get through six. Only 67 of those were strikes.
This is a common theme among Darvish's poor outings against the A's. In a Sept. 9, 2013 outing, he needed 100 pitches to get through five. He walked six and allowed five runs. On June 7, 2012, he walked six and allowed six runs in 5 1/3 innings. He needed 110 pitches to get through 5 1/3 innings.
In fact, Darvish had never thrown fewer than 100 pitches in a game against the A's, despite the fact that he was averaging less than 6 1/3 innings per start against the them. I said "had" because that was before Monday night, when he did throw fewer than 100 pitches but also couldn't get out of the fourth inning.
What's interesting is that Darvish has lots of outings where he racks up the pitches and doesn't throw a high percentage of strikes. Other teams don't punish him like the A's do, though, so he needs to change his approach against them and better trust his electric stuff. The A's are obviously going to work him to death out there and not get themselves out. So the way to respond to that isn't to continue to nibble. It's to go after them. I understand that it's an adjustment to how he's used to working the opposing team, but baseball is a game of adjustments and the Rangers need to topple the A's in the West. He's the ace, so it needs to be done on his back.
Moving forward, it's clear that Darvish needs to better attack the A's within the strike zone and trust his stuff. He's the best in the bigs at missing bats when he's on. He can't let the A's tire him early while he's trying to be fine and hit every spot. He'd be better served to start going after them down in the zone. They have good power, but so does he, and the A's are susceptible to the strikeout at times.
Until he starts doing that, he'll remain on the periphery of the best in baseball talk, instead of toward the forefront -- because right now the A's own him.
Fowler suffered a knee injury at Chicago's Guaranteed Rate Field

The lefty starter is coming off a terrible season

After acquiring Ian Kinsler and Zack Cozart in recent days, the Angels are trending upward
Cozart's coming off a big season as the Reds' shortstop

The veteran slugger spent the last eight seasons with Cleveland

The Padres may be poised for an active winter