Forgetting the Devil Rays: Tampa Bay's long road back to .500
The Rays have been one of the most successful teams in baseball since 2008, but they have a ways to go to get back to .500 as a franchise.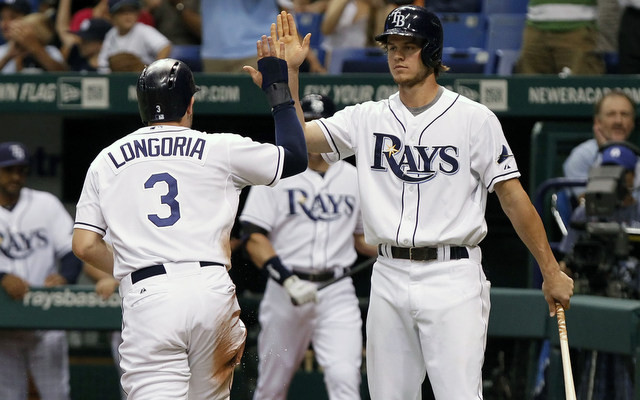 More MLB: Scoreboard | Standings | Probable Pitchers | Sortable Stats | Odds
At 69-52, the Rays currently sit in a wild-card spot and are only two games back of the Red Sox for the top spot in the AL East. They're on pace to go 92-70, which would be their fourth straight season (and fifth in the last six years) with 90+ wins.
Since their breakout 2008 campaign, the Rays have won the second most games (527) in baseball behind only the Yankees (542). They've gone 527-404 during that time, a .566 winning percentage that works out to ... 92-70 over the course of 162 games. Exactly what they're on pace for in 2013.
Despite all of this recent winning, the Tampa Bay franchise remains a woeful 1,172-1,376 overall in its 16 years of existence. That's a  .460 franchise winning percentage -- 75-87 across a 162-game season -- the lowest of all 30 clubs. The Padres are second worst at .463. That's what happens when you win no more than 70 games in your first 10 years of existence.
The Rays have been slowly chipping away at that franchise record in recent years -- they were 645-972 (.399) prior to 2008 -- but with 204 more games to make up before reaching .500, it's going to take a really long time. In fact, even if Tampa continues to win at a .566 pace going forward, they won't reach that .500 mark until sometime during the 2022 season.
If the team wants to aim a little higher and get there before the end of the decade, they'll need to play at a .601 clip from today through the end of the 2019 season. That's a 97-65 record across 162 games, or a 609-404 record over the next six years and six weeks. If they want to get there by the end of the next decade, a modest .540 winning percentage through 2029 will suffice. That's 87-75 over a full season.
Even if they wind up trading David Price in the next year or so, the Rays still have a great young core highlighted by Evan Longoria, Matt Moore, Wil Myers, Alex Cobb and others. Getting to .500 all-time as a franchise will be a very long-term task and, frankly, shouldn't be any kind of goal for team ownership. Winning a World Series or three ... now that would really erase the darkness of the Devil Rays years.
(Believe it or not, only 12 of baseball's 30 teams own an all-time .500 or better record, though both the Diamondbacks and Angels are right on the cusp at .499. The list is available at Baseball-Reference.)
The owners need to ratify on the new system in place, but the takeaway here is Ohtani is coming...

A preliminary report National Transportation Safety Board has shined some light on details...

John Coppolella was placed on the permanently ineligible list by MLB on Tuesday
Among other sanctions, Atlanta lost the player who was deemed the No. 1 international signing...

Among other penalties, No. 1 international prospect Kevin Maitan is now a free agent

Judge underwent the arthroscopic procedure on his left shoulder on Monday