Former closers Gregg, Aardsma find work; still nothing on Brian Wilson
The Cubs signed Kevin Gregg to a minor-league deal while the Marlins signed David Aardsma to a minor-league deal. And Brian Wilson remains a free agent.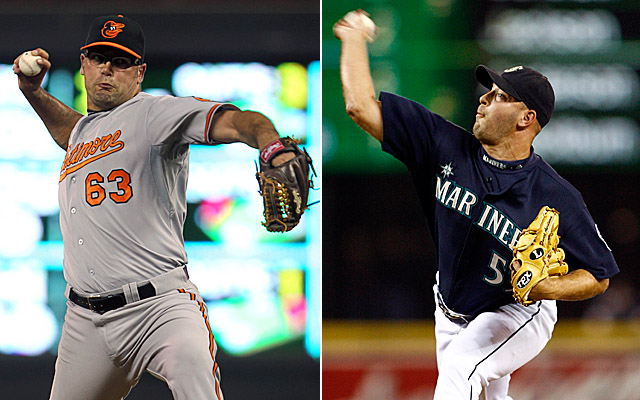 More MLB: Scoreboard | Standings | Probable Pitchers | Sortable Stats | Odds
Saturday night, the Marlins announced that they signed former closer David Aardsma to a minor-league contract. And then, Sunday morning, the Cubs announced they signed former Kevin Gregg to a minor-league deal.
Both moves are pretty insignificant in the grand scheme of things -- though Cubs fans are likely annoyed at the thought of Gregg's possible return to the role of closer in Wrigley -- but I couldn't help but wonder about the beard. Or, rather, The Beard.
Brian Wilson was an All-Star in 2008, 2010 and 2011. He was arguably baseball's best closer in 2010, finishing seventh in NL Cy Young voting. He's only 31 years old, so it's not like we're talking about someone ancient here. Yet he remains unsigned.
Wilson is recovering from Tommy John surgery, but that hardly deters many ballclubs from taking shots with productive players. Ryan Madson, for example, was signed by the Angels to be their closer.
On Wilson, here's what we know: In early March, CBSSports.com's Scott Miller reported Wilson wasn't expected to sign until a few weeks into the season. At the time, Wilson was said to be throwing about "80 to 85 percent."
Since then? Crickets. A Google News search for "Brian Wilson baseball" (yes, we have to add baseball there thanks to a certain Beach Boy) yields essentially nothing.
In Wilson's last full season, 2011, he saved 36 games in 41 chances with a 3.11 ERA, 1.47 WHIP and 54 strikeouts in 55 innings.
Gregg, 34, had a 4.95 ERA, 1.70 WHIP and 37 strikeouts in 43 2/3 innings last season for the Orioles. Aardsma, 31, hasn't had a full season since 2010, when he had 31 saves in 35 chances with a 3.44 ERA, 1.17 WHIP and 49 strikeouts in 49 2/3 innings. He then had to undergo Tommy John surgery himself.
Gregg and Aardsma were obviously signed at a much lower rate than Wilson and his agent hope to command, but it's still an interesting prism through which to view these two minor signings.
Could catcher J.T. Realmuto be the next Miami player to be traded?

If the slow-play for Martinez, Hosmer and Arrieta sounds familiar, it should

The Nats will host the All-Star Game in 2018
The Orioles are looking to trade Machado heading into his walk year

The Cardinals have been linked for a while to the Baltimore star

Gallardo spent the first eight years of his career in Milwaukee