Former Giants, Red Sox and Cubs coach Wendell Kim dies at 64
Kim suffered from early onset Alzheimers. He famously (sometimes infamously) coached for the Giants, Red Sox, Expos and Cubs.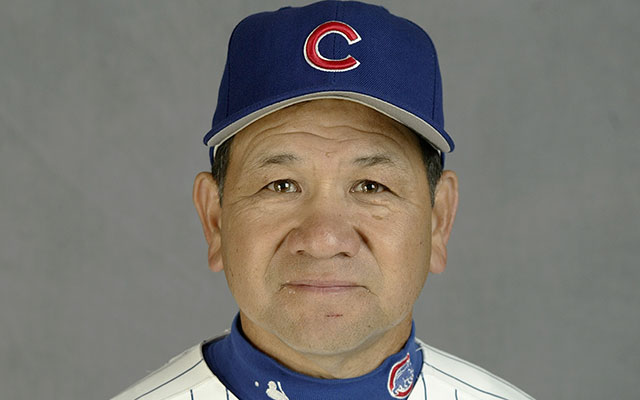 When he coached third base for the Chicago Cubs from 2003-04, Wendell Kim made a practice of making himself available to the media if he ever screwed up. One time, after the Cubs failed to score and later lost to the Cardinals after Kim unsuccessfully waved home a gimpy Aramis Ramirez, he told reporters: "I felt I let the city of Chicago down."
The Cubs fired Kim at the end of the 2004 season. It was his final coaching stop in the majors after also working for the Giants, Red Sox, Brewers and Expos. 
Kim died Sunday at the age of 64, the San Francisco Chronicle reported. No cause of death was given, but Kim had been diagnosed with early onset Alzheimers, a rare form of the disease that strikes before age 65, not long after he stopped coaching. He left a wife, Natasha Kim, along with a son, daughter-in-law and grandson.
In August, the St. Louis Sports Page did a feature on Kim, who had co-written a book with Sally Tippett Rains called Youth Baseball: A Coach's and Parent's Guide. Much of the post was devoted to Kim's worsening health -- and it includes an incredibly sad recent photo of Kim celebrating a birthday. It also tells horror stories of Kim's father -- a boxer, who was described as physically abusive to his wife and kids -- who was murdered when Kim was a young boy in East Los Angeles. Someone, possibly "a hit man" from the mob, shot Kim's father twice in the head and four times in the chest because he refused to throw a fight.
Kim, despite being 5-feet-4, rose above a painful childhood and hooked on with the Giants after a tryout in the early 1970s. He played eight seasons through 1980, posting a .363 on-base percentage in 2,525 plate appearances, never rising above Triple-A. After coaching and managing in the minors, Kim joined the Giants coaching staff in 1989. He quickly gained a reputation for aggressively waving runners home and earned the nicknames "Wavin' Wendell" and "Wave 'em in Wendell."
Kim reportedly was the first Korean-American to wear a major-league uniform. He used to sprint from the dugout to the third-base coach's box. He did his job with an obvious passion. And no matter if he got a runner thrown out, Kim was accountable -- to his team, to the press, to the fans. 
Rick Morrissey of the Chicago Tribune wrote in 2003:
So there he stood in the clubhouse after the Cubs' 2-1 victory over the Sox, the sweep averted, redemption served to him on a plate. Home plate.

"I'm crying now, and I was crying in the shower thinking about how [supportive] the players are," he said.

After the loss Saturday, a Cubs official had told Kim not to talk with the media, hoping to shield him from interrogation and criticism. Trust us, Wendell Kim doesn't need protecting. This is a guy who had lived a whole life of pain in East Los Angeles by the time he was old enough to buy a beer. You have someone introduce your head to the barrel of a gun when you're 21 and you understand that a few questions aren't going to kill you at 53.

You somehow make it through your father's murder as a child and you understand that a bad coaching decision is just a superficial wound.
So long, Wavin' Wendell.
Gallardo spent the first eight years of his career in Milwaukee

MLB revenues are at a record high right now, but teams aren't spending it on players

Chicago added Tyler Chatwood earlier this offseason but might not be done adding to the ro...
The Dodgers and Braves pulled off a whopper on Saturday

Sabathia will reportedly spend a 10th season in the Bronx

Fowler suffered a knee injury at Chicago's Guaranteed Rate Field