OAKLAND -- Four decades later, Ray Fosse is standing in a dark tunnel underneath the Coliseum. He still cannot lift his left arm all the way up over his head.
It is hot, it is summertime and the All-Star Game is right around the corner. And he knows what this means.
More questions. More trips to 1970, and the 12th inning in Cincinnati's Riverfront Stadium. More head-on collisions.
More Pete Rose.
Who says there is no expanded instant replay in baseball?
Replays of the jarring Rose-Fosse crash have expanded for 43 years now. It remains one of the most-viewed plays in baseball history. And the outcome never changes.
Pain? Still.
"Like a knife sticking me in the shoulder," Fosse, now 66, said. "Because it's bone on bone. And arthritis, and age, and the whole thing."
Let's pause right here for a moment to make an important point. He is not bitter. He is in his 28th season with the Athletics as a radio and television analyst. He is approaching his 40th season overall in baseball. And he smiles a lot.
He has been married to Carol for 43 years, and they have daughters and grandsons and lots and lots and lots of smiles.
"I'm fortunate," he said. "Blessed."
Not bitter. No way.
But what Fosse would love to do is zero in on the truth of the matter from that sultry, 80-degree evening and clear up some of Rose's revisionist history.
Eventually, he figures, he will write something about that evening. If not a book, at least an article, or maybe something through social media.
"Not to disparage Pete, but a lot of truths have not come out since then," said Fosse, who was representing the Cleveland Indians in that All-Star Game. "Which is very upsetting."
The way Rose has told the story over the years in interviews and via syndicated radio shows is that he, Fosse and pitcher Sam McDowell had been out on the town the night before the All-Star Game and wound up back at Rose's house until 4 or 5 a.m.
The way Fosse says it went is that, yes, the three men did go to dinner the night before the game. But it was with their wives. Pete and Karolyn. Sam and Carol. Ray and Carol. And they were called it a night by 1 a.m. or so.
Ray and Carol had been married only three months earlier, in April. And the All-Star Game back then was a low-key affair. There was no Home Run Derby. No Futures Game. The players arrived on Sunday night, worked out on Monday afternoon and played the game Tuesday evening.
McDowell and Rose were longtime friends. Fosse was in his first full season in the majors.
"There was none of the fanfare they have now with all of the parties and things," Fosse said. "We just ended up going out to dinner the night before because there was nothing going on. And we talked baseball, and Pete said, 'All you want to talk about is Johnny Bench.'
"Well, of course. Because Johnny Bench was a National Leaguer. I knew he was a great player.
"And the bottom line was, we got back to the hotel, because it was a Tuesday night game, at 1 a.m. It wasn't like it was 4 a.m., which, at times, he has said. He's said, 'Oh, we were out until 4 or 5 in the morning. We were friends.'"
This is the part that still eats at Fosse, right around the edges of the pain from his once-broken shoulder, all of these years later. That Rose diminishes his hit on Fosse's career by passing off the play as something that happened among friends. Almost as if the whole thing were a simple little fraternity prank gone awry.
"He fails to remember, and maybe because I'm fortunate that my wife and me have been married 43 years since that summer, and they have not," Fosse said. "Pete and Sam both have not. And I don't know if he just forgets or does it intentionally, or whatever. But those are some of the truths."
At 23 that summer, Fosse was on the launching pad of what appeared to be a brilliant career. He had 16 homers and 45 RBI in 78 games at the break.
Following the break, with pain wracking his shoulder, he had two homers and 15 RBI in 42 games.
X-rays immediately after Rose bowled him over to score the winning run for the NL that evening were negative. There was no such thing as an MRI then. So Fosse simply rested and then played when the agony subsided to a simple throb in the shoulder.
It wasn't re-X-rayed until 1971, when it was still killing him, and he was shown to have a fracture and a separated shoulder. But it had healed in place.
In the wrong place.
"Once it healed, and healed improperly, you're not going to do much about it," Fosse says.
Rose never really reached out to Fosse afterward. The two have spoken, the former catcher says, only twice since.
It was early in the 1971 season when the Reds and Indians played an exhibition game that their paths first crossed after the play. With initial X-rays failing to show that his shoulder was fractured and separated, Fosse actually caught for the Indians on the Thursday the second half started in 1970, just two days after Rose smashed him. Rose had made the point that he had to miss three games with a bruised thigh.
Anyway, Rose was running while Fosse was in the outfield during batting practice before the Reds-Indians exhibition in early '71 when Rose called out to him.
"He said, 'Hey, you're off to a slow start,'" Fosse said. "Those were the only words I heard from him from the All-Star Game until I retired 10 years later. That was it. We never had interleague play. 'Hey, you're off to a slow start.'
"Sure I was. Because I had a fractured and separated shoulder, and the pain was there, and is still there 43 years later."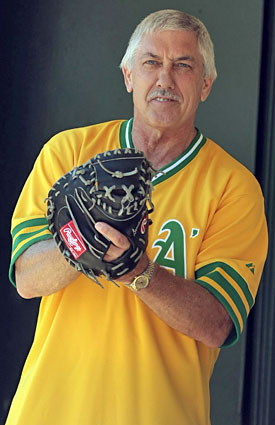 There was one other brief meeting between the two men, in the mid-1980s, when Buddy Bell was playing for the Reds. Fosse, retired and in the Bay Area, went over to San Francisco when the Reds were in town to visit with his old teammate and friend. Rose was the player-manager for Cincinnati.
"We spoke briefly," Fosse said. "The whole thing, he says I tried to block the plate, very simply. As a catcher, I positioned myself where the ball was being thrown by Amos Otis. I was up the line. Because if I'd stayed on home plate, I miss the ball by three feet and we wouldn't be talking today. Because they would have said, 'Geez, why did you olé it?'"
"It was different times then. I'm not saying that it's good or bad. I was taught as a catcher, catch the ball and try to plant the tag. And the thing that I look at, you watch the replay, which I've seen a million times, he starts to go into a head-first slide and he saw me and whether or not ... he's in Cincinnati, his home park. Charlie Hustle.
"I do a couple of flips, and he does come back to look and see, then Dick Dietz grabs him, a couple of guys grab him and he really doesn't come back. I'm on my knees and all of the AL players and Earl Weaver, the trainer came out and it was killing me and they X-rayed it after the game."
Fosse was traded to the A's before the 1973 season, then was re-acquired by Cleveland in 1976. The Mariners obtained him from Cleveland in 1977, he played a handful of games for the Brewers in 1979, and that was that.
He was a two-time All-Star, won two Gold Gloves, earned two World Series rings with the Athletics in '73 and '74 and, probably most important of all, got to play in his wife's native Oakland before family tragedy struck.
"To have played on a team that we knew, ultimately, we're not going to win, to a team that won a championship and then won two more," Fosse said of the Cleveland-Oakland deal. "To be a part of that, and my late father-in-law, my wife's father, ended up having a heart attack prior to the 1975 season ... it's like God saying, 'We're going to send you out to Oakland for three years, you're going to play there, your wife is going to get to enjoy her father, yourfather-in-law is going to be able to enjoy baseball -- he was a great fan -- and then he's going to pass away from a heart attack and I'm going to get traded back to Cleveland?'
"Come on. That's the way I looked at it. I had three wonderful years with my father-in-law. He was a great golfer, a great Italian farmer up in the valley, a great person, and then I get traded back to Cleveland."
His father-in-law attended Oakland's World Series games against the Mets and Dodgers. Then, life shifted again.
Today, the Fosses split time between their Oakland home (during the season) and their place in Scottsdale, Ariz.
Maybe he wouldn't have chosen this particular niche in baseball history, but he has embraced it. He spends his days looking forward, not backward.
"Bottom line, to be able to play 11 years of major-league baseball, to broadcast for 28, and to play another so many years in minor leagues ... that's 40 years of professional baseball," Fosse said. "It's been my life, and I wouldn't change it for the world.
"To work for a ballcub, to be able to say that you work for a team, I think that's special. I wouldn't change a thing."
Unwillingly, or, better yet, unwittingly, he certainly did change mid-July.
He still remembers talking with the late Gary Carter when the All-Star Game was in Oakland in 1987.
"In this tunnel we're standing in right now," Fosse said, he saw Carter.
"Have a great game," Fosse told him.
"What happened to you will not happen to me," Carter said back to Fosse.
"So he was thinking, 'All-Star Game, I'm not going to get in a collision,'" Fosse says. "That's something that's always stood out in my mind. But it was a little bit later, 1987, 17 years.
"A different time. But guys were thinking about it, seeing that collision over and over. And you watch all the highlights, and the No. 1 collision at home plate, it's going to show up. It's part of it."
Funny thing today is, enough years have passed that when Fosse works the clubhouses before a broadcast, he always introduces himself to players preparing for that night's game against the A's as, "I'm Ray Fosse, a broadcaster." It is not, "Hi, I'm Ray Fosse, a former player."
And do you know what he often gets?
"They say, 'Hey, you're the guy!'" Fosse said. "It comes up. Because these players today are so far removed from that time, it's not even in their mind who I am. And I don't go on talking about that.
"But once they see it, they go, 'You're the guy.'"
He has been, for 43 years. The hair and mustache are gray now, but the memory remains fresh. And at various times when he moves his arm the wrong way or if it's simply a bad day or night, so, too, does the pain.
Still, the man loves coming to the park each day. The enthusiasm is evident in his broadcasts.
It's also evident in his quick and easy smile.
"It's been good," Fosse said of his four decades-plus in baseball. "I wouldn't change it for the world."