Francisco Liriano pitching like an ace as Pirates take aim at NL Central
An offseason injury to his non-pitching arm delayed his debut with the Pirates. But since pulling on the Pittsburgh uniform, Francisco Liriano has been pitching some of the best baseball of his career. In doing so, he's changing the direction of a career and a franchise. ...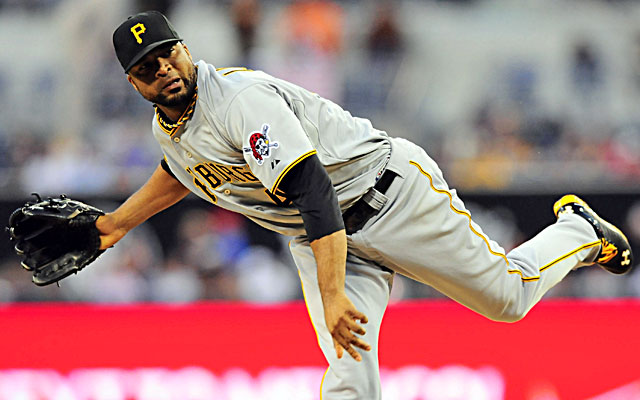 SAN DIEGO – He's been an All-Star, thrown a no-hitter and learned at the feet of the great master, Johan Santana, during Santana's 2006 Cy Young season.
But never has Francisco Liriano been this money over an entire season.
In equaling a career-high with his 14th victory with Monday night's 3-1 win over the Padres, Liriano lowered his ERA to 2.53, fifth in the NL.
And maybe most impressively as the Pirates charge toward what they hope will be their first division title since 1992, there's this: In his past four outings following a Pirates' loss, Liriano now has thrown a combined 30 innings while allowing only two runs.
"I never take it for granted, and I hope nobody else does," Pirates manager Clint Hurdle said of general manager Neal Huntington's greatest find over the winter.
Because of a broken right arm suffered on Christmas Day, Liriano didn't debut for Pittsburgh until May 11. The injury, suffered while horsing around with his kids at home in the Dominican Republic, cost him millions.
Set to sign a two-year, $12.75 million deal, he instead signed a one-year, $1 million deal with $3.75 million in incentives based on days not spent on the disabled list because of the broken humerus bone in his right arm. The deal also includes a club option at $8 million.
The way things are going right now, the Pirates are getting a steal.
"He's continued to just be masterful," Hurdle said.
Not since '06, when he went 12-3 with a 2.16 ERA, has Liriano been this dominant. But back then, he only made 16 starts (while working in 28 games).
"To be honest, I don't remember much about '06," said Liriano, who was only 22 then. "It was my first year. I wasn't pitching then. I was trying to blow people away."
He mostly succeeded doing that back then.
Now, he's doing both: Blowing people away, and pitching.
"The biggest thing was his delivery, to get low in his backside," Pirates pitching coach Ray Searage said. "It would come and go.
"He was able to figure out one thing, and that helped with another thing, and then it was off to the races."
Getting low with his backside, that's another baseball way of talking about a pitcher's "load." The "loading up" part – in other words, being able to fire toward home plate with the lower half of the body – is key.
The other key, Liriano said, is he is bringing his hands up higher over his head during his windup.
When the Twins shipped him to the White Sox last summer, he said, he was lost.
"The last three years, I was not able to throw my fastball for strikes," Liriano said.
At least, not consistently.
His slider always has been killer. His changeup has been good.
But his fastball has been inconsistent.
"I was so frustrated last year," he said. "I was looking for something to get better."
That's the point, he said, when he started experimenting with moving his hands higher over his head during winter workouts in the Dominican. Under the guidance of Searage and bullpen coach Euclides Rojas, he continued to work on that early this year when he was able to come back from the broken right arm.
Now, fastball location is his key.
"It's all about location," he said.
Against a weak Padres lineup, Liriano only looked even more dominant. He became the first Pirates pitcher to fan 12 or more batters in a game since July, 2005, when Kip Wells did it.
His 13 whiffs were the most by a Pirates lefty since Oliver Perez fanned 14 agaisnt the Astros on Sept. 9, 2004.
Since first taking the ball on May 11, Liriano has established himself as an ace. And in a quirky stat, he's become the first Pirate to record a decision in each of his first 19 starts since Vernon Law in 1965.
The Pirates can use a take-charge guy as they aim for their first division title since 1992.
"He came in with every intention of changing the direction of his career," Hurdle said.
As he's doing so, he's also helping to change the direction of a franchise.
CBS Sports HQ Daily Newsletter
Get the best highlights and stories - yeah, just the good stuff handpicked by our team to start your day.
Please check the opt-in box to acknowledge that you would like to subscribe.
Thanks for signing up!
Keep an eye on your inbox for the latest sports news.
Sorry!
There was an error processing your subscription.
Harper will of course have plenty of suitors this coming offseason

It's a baseball and wrestling-related story, and that's fun

Jon Lester's outing Thursday night was a good sign
Who would've thought this a few months ago?

Carlos Gomez apparently has game on and off the field

Zack Cimini has a three-way parlay that could pay off huge on Friday