Francona is addicted to managing (and now his Indians are 2-0)
Terry Francona's Indians have begun the season with two straight wins. And Francona has begun his return to managing with two straight sleepless nights. Is the reward of winning really worth what managing a major-league team does to him? For Francona, there's no doubt it is. 'I'm like addicted to it,' he says.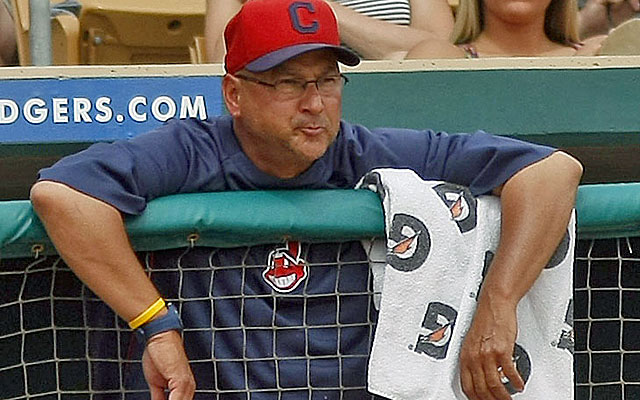 Terry Francona not only looks happier these days, it's obvious that he feels like he's in the right place.
(USATSI)
TORONTO -- He didn't sleep Monday night. He couldn't sleep Tuesday night.
And on his first night back in the dugout after a year away from managing, Terry Francona reports that he was "a nervous wreck."
Explain to me again why he wanted this job. Explain to me again why managing a major-league team has such a hold on him that he willingly goes through so much to do it.
"I know," Francona said Wednesday. "I know, I know. I don't know. I'm like addicted to it. I'd been telling everyone that the year off was good because it would give me some perspective. [But] I have no perspective."
He meant that in the best of ways. Spend some time around Terry Francona in his new job as manager of the Indians, and you take it in the best of ways.
You understand, because you see how happy he looks. You accept it, because it's so obvious that he's rejuvenated, so obvious that he feels now like he's in the right place.
Maybe he felt that way with the Red Sox, too, although it never really looked like it near the end (and not always in the years before). Maybe he won't feel that way by season's end, if the questionable starting rotation dooms the Indians the way some believe it will.
But you get the idea that Francona will be fine, even if this Indians team isn't. You get the idea that he's so happy to be back managing, and so happy to be around people he likes, that he's going to be just fine.
Just as he so obviously is now.
"He was saying today how nice it was coming to the ballpark and putting a uniform on, rather than looking to see if his suit had come back from the cleaners," said Brad Mills, who is back with Francona as the Indians' third-base coach. "I think the word 'comfortable' is pretty accurate."
Mills managed the Astros for the last two years, so he can understand what it is that drives managers to take jobs that they know will cost them sleep, jobs that will wear them down. It does seem like an addiction sometimes, something that those of us who have never managed in the big leagues just can't fully understand.
"It's the competition," Mills said. "It's just being able to compete."
It's nights like Wednesday, when Blue Jays slugger Jose Bautista tied the game with a ninth-inning home run off Chris Perez, but the Indians won it in the 11th with a long home run from Mark Reynolds.
"It's fun," said Francona, off to a 2-0 start on the new job. "It was fun being a part of that group in the dugout."
Francona enjoyed the job with ESPN last year. He seriously missed the competition.
The Indians are thrilled that he did. Everyone around the organization talks about how so much changed the day Francona took the job.
"It woke up the baseball world," said Perez, who sometimes sparred publicly last year with the front office and with ex-manager Manny Acta.
Like many of his teammates, Perez is still getting to know Francona. Like most or maybe even all of them, he likes what he has seen.
Perez played for a successful veteran manager, Tony La Russa, in St. Louis. He thought maybe Francona would be similar. He wondered if the new manager would feel unapproachable.
"He wasn't what I expected, but in a good way," Perez said. "Off the field, it's like he's one of the guys. You don't feel uptight around him."
Infielder Mike Aviles, who played for Francona in Boston, already understood. Aviles said he regularly finds himself fielding questions from teammates.
"Everybody's asking me, 'Is this really what Tito is like?'" Aviles said. "I tell them this is what you're going to see in September, and if we get to the playoffs, this is what you're going to see in October, too."
The steadiness in how he interacts with his players has always been a Francona strength. You could easily argue that it was what helped him win in Boston, where his steadiness was a helpful contrast to the on-and-off panic that is part of baseball life there.
The outside pressure isn't the same in Cleveland, but the sleepless nights are still part of the job. The rewards are the same, too, and maybe even greater in a place where you're truly happy.
"If I was Tito, I'd have taken this job, too," Aviles said. "This is going to be fun."
Two games in, it's fun again for Terry Francona. And if his friends want to text him in the middle of the night to check in, go right ahead.
You can bet he'll still be up.
La Russa has been with the Diamondbacks since 2014

The Yankees are undefeated at home this postseason and the fans are very much into it

How you gonna do The Kid like that?
The Dodgers have a chance to close out the series in Chicago on Wednesday

Only a slight change to the order for the Yankees against a lefty

The Yankees have come back from a 2-0 hole for the second time this postseason