Francona-led Indians proving to be one of nicest stories in baseball
The Indians have enjoyed their share of playoff berths in the past. So has Terry Francona. That didn't stop Cleveland from celebrating late Sunday afternoon after clinching a berth in the AL wild-card game.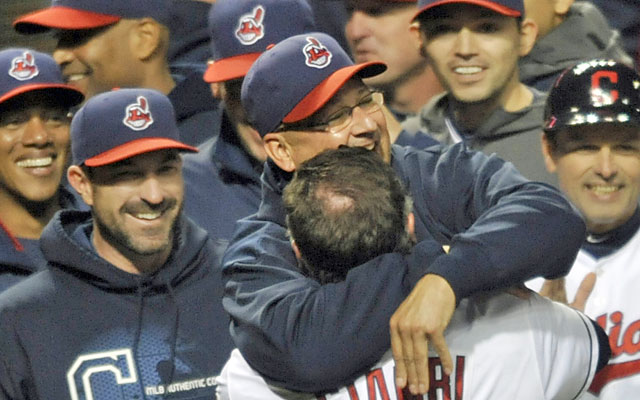 MINNEAPOLIS -- Terry Francona kept talking about how much he liked these guys.
These players. These bosses.
He said it in spring training. He said it on opening day.
And then he said it again late Sunday afternoon, in a clubhouse that smelled of champagne.
These guys had just brought Francona back to the playoffs. He had just brought them back, just brought this organization back.
They were coming back from 94 losses. He was coming back from September 2011.
And together, Francona and the Indians were building one of the nicest stories in a baseball summer that has been full of them.
Cleveland hasn't had a baseball drought to match the one in Pittsburgh. The Indians didn't have a 2012 season as downright depressing as the one the Red Sox suffered through.
But in some ways, this run to the playoffs was the most dramatic of all, the biggest surprise of all. And maybe, to Francona, his players and his bosses, it was the most satisfying of all.
He had won before, with two Red Sox World Series titles on his record. They had won before, with those powerful teams of the mid-1990s and even the 2007 team that disappointingly dropped the ALCS to Francona's Red Sox.
But there was a joy in Sunday's celebration beyond what most winning teams feel, and there was a satisfaction in Francona's voice beyond what most winning managers enjoy.
The Indians weren't supposed to be here, not when the season began and not even when September began. They became just the sixth team in baseball history to end the season with a 10-game winning streak, and the first ever to need every one of those 10 wins to get to the postseason.
"It's like the culmination of everything you've gone through," Francona said, as he wound down from a 5-1 win over the Twins and a noisy clubhouse party that followed. "It's just pure joy."
He had come to the Indians last fall, after taking a year off from managing and recovering from the bad ending in Boston. He believed he could win in Cleveland, but more than that he believed in team president Mark Shapiro and general manager Chris Antonetti.
He had time to think about both of them Sunday. For the first time in days, the Indians didn't really need to watch the out-of-town scoreboard, because they were finally a game ahead in the wild-card standings. They knew that simply winning their own game would be enough, and from the time Michael Bourn opened the first inning with a single and Nick Swisher followed with a home run, they held the lead over the dismal Twins.
Francona thought about all that has happened, to him and to this organization. He made sure that Antonetti and Shapiro and the whole front office would be part of the celebration.
"There's been a lot of good people here that deserve this," he said. "The only way we could accomplish it is to do it together. And we did."
He didn't need to say that togetherness wasn't always a part of his Boston experience, especially as it ended. He didn't need to draw the contrast.
Anyone can see it, and everyone will mention it, especially if the Indians get past Wednesday's wild-card game and head to Fenway Park to open the Division Series on Friday.
He'd bring with him a team that has stumbled more than once, a team that lost 15 of 19 to the division champion Tigers, but still managed to finish just one game behind Detroit in the final AL Central standings.
"You look at it within a game, or within the season, this team hasn't given up," Shapiro said.
The Indians felt that some of the bad luck they'd felt in recent years had come back to help them this year, whether it was the Angel Hernandez blown home run call in May or the downpour that caused a seventh-inning rainout and preserved a 2-1 win last week.
They remind you that not every decision they made last winter turned out well (where's Brett Myers these days, anyway?). But so many of them did go right, whether it was signing Swisher and Bourn as free agents, adding Ryan Raburn to the bench, putting Jason Giambi on the team as a veteran presence or trading Esmil Rogers to the Blue Jays in what now looks like a terribly one-sided deal for Mike Aviles and Yan Gomes.
The biggest decision of all, though, was the one to bring in Francona to manage this group. Managers don't win without good players, but Francona's success with this year's Indians is just more proof that a talented and proven manager can help turn a good team into a playoff team.
The Indians changed when Francona took over, just as the Orioles did when Buck Showalter became their manager. The difference was obvious from the first day of spring training, and it was just as obvious Sunday, on the morning of Game 162.
The Indians came to Target Field Sunday with everything to play for, but they showed up looking just as loose as they had when they gathered in Arizona.
"It was just chemistry," Bourn said. "That's how it started, and we never stopped it."
They hope it goes on now. They hope that their playoff adventure only begins with Wednesday, and doesn't end there. Shapiro was on the MLB committee that recommended this one-game win-or-go-home wild-card setup, but now he and his team want more than just one more game.
They're having fun, and their manager is, too.
He likes this group. He really does.
No matter how October turns out, you can bet he'll never forget them.


CBS Sports HQ Daily Newsletter
Get the best highlights and stories - yeah, just the good stuff handpicked by our team to start your day.
Please check the opt-in box to acknowledge that you would like to subscribe.
Thanks for signing up!
Keep an eye on your inbox for the latest sports news.
Sorry!
There was an error processing your subscription.
Stephen Oh has a three-way parlay that could pay off huge on Saturday

Health problems continue to be subplot in Cespedes' otherwise excellent career

Strasburg on Friday didn't look sharp in his first start back from the DL
Keep up with all the latest trade rumors around Major League Baseball

Keep it right here for all of Friday's MLB action

Machado will suit up with the Dodgers on Friday night