Francona's redemption tour could lead to Fenway
Terry Francona won't look ahead, but we sure can. As his Indians push towards a wild-card spot, it's hard not to think that he could return to Fenway in October.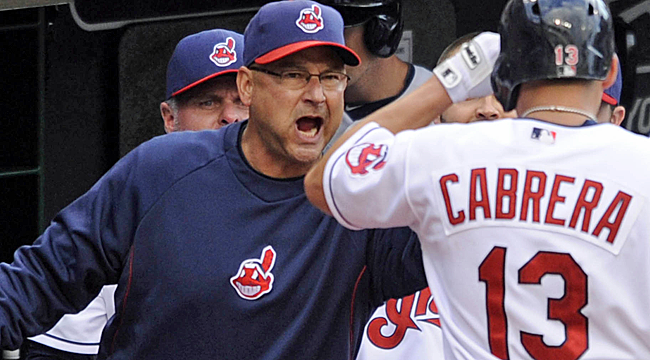 KANSAS CITY, Mo. -- Terry Francona wasn't going to look ahead.
I knew that, and I asked anyway.
Francona wasn't going to talk about what could lie ahead next month, any more than he was going to entertain a question about his lineup next week.
September 2011 isn't even a taboo subject with Francona these days. But October 2013?
"You might be getting a little ahead," Francona said Monday. "We just need to win tonight."
I knew he was going to say it, and I knew he was right. Francona's Indians aren't in the playoffs yet, let alone in what would be an absolutely fascinating Division Series matchup with the Red Sox.
He can't look ahead, not publicly and maybe not even privately.
But everyone else sure can.
"That'd be the best part," Indians infielder Mike Aviles said.
It sure would be, whether you're rooting for the Indians or rooting for Francona or simply rooting for the story. Two years after the September collapse that led to so many changes for so many, Francona would have led a September comeback that would bring his new team back to play his old team.
But yes, we are getting ahead of ourselves.
The Indians didn't win Monday, falling 7-1 to the Royals. But they remain just half a game behind the Rangers in the race for the final American League playoff spot, with 12 games to play. 
"I'm enjoying seeing how good we can get," Francona said. "We don't know yet. But it's fun to wake up feeling nervous."
This Indians job has seemed fun for Francona right from the start, and nothing that has happened over the course of the season has changed that. His Indians team is better than many expected, but while they have enough good players to win games, they don't have enough great players to ever make it feel easy.
"There's been stretches this year where we've been the worst team in the game," Aviles said. "And stretches where we've been the best."
Francona has been the perfect manager for the situation, bringing a sense of professionalism, confidence and calmness to an organization that needed all three. The Indians have a better roster than they've had the last few years, but they're also better prepared to take advantage of it.
But if Francona has been right for the Indians, they've been just as right for him.
He loves the team, he loves the situation and he loves the people he works for. He says the reason he has been so able to think and talk about what happened in Boston is that he's so happy in Cleveland. He can avoid stressing on how things there went wrong, because things here are so good.
Over the next two weeks, it could get even better.
The Indians were 4 1/2 games behind in the wild-card race when September began, but they knew that the reward for surviving a difficult schedule in August was a September calendar filled with games against non-contenders. The Indians have had two series against the Royals and one against the Orioles, but for the rest of the final four weeks it's been Mets and White Sox and will be Astros, White Sox and Twins.
At this point, it would hardly be a surprise if the Indians not only made it to the wild-card game but even finished first and hosted the one-game playoff (would it sell out?).
With Ubaldo Jimenez emerging as one of the best pitchers in the game in the second half of the season, and with Justin Masterson making progress in his attempt to come back from an oblique injury, perhaps this team could even be dangerous in October.
But yes, we're getting a little too far ahead.
Better to enjoy this wild-card race the way Francona and his Indians seem to be. Better to appreciate that for the first time ever, the Indians and Royals are playing September games with both teams still alive.
Yes, part of that is that there are two wild cards. But if you don't count 1994, when a strike ended the season in August, this should be the first time since 1979 that the Indians and Royals finish over .500 in the same season.
The Royals have been seen for a while now as an organization on the rise, but perhaps Francona's Indians can be seen that way, too.
You know he'd rather talk about these games, rather than what might happen next month. You know he'd rather talk about how well his players are doing, rather than about what he would feel if his team does get him back to Fenway Park for another postseason series.
"He doesn't do this self-gratification stuff," Indians DH Jason Giambi said. "The joy he gets is being in the clubhouse, being in the grind."
Francona had that joy at times with the Red Sox. When the subject came up Monday, he talked about John Farrell and Dustin Pedroia and Jon Lester and Clay Buchholz, and about how he's happy for the success they've had this year.
They're winning, and Francona is, too. The Red Sox have bounced back from September 2011 (and from Bobby Valentine's 2012). Francona has bounced back, too.
The perfect ending to the story would have them both in the playoffs, meeting up on Oct. 4 at Fenway Park.
But yes, we're getting ahead of ourselves.