Frank Thomas thinks MLB is juicing baseballs
Hall of Famer Frank Thomas thinks MLB is juicing the ball this year.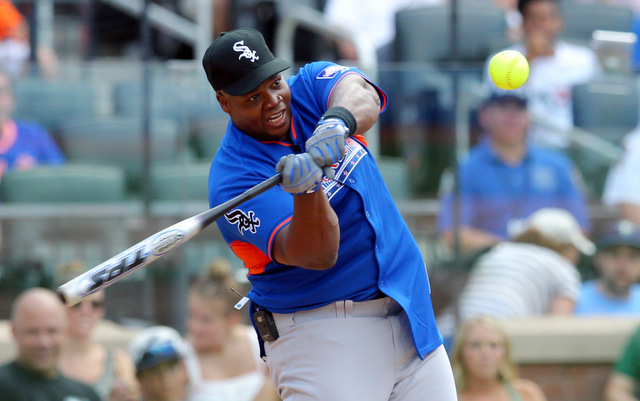 More MLB: Scoreboard | Standings | Probable Pitchers | Sortable Stats | Odds
It's no secret that offense has declined around the league these last few years, and there are many possible explanations. Tougher performance-enhancing drug testing, widespread use of infield shifts, increased bullpen specialization, all of that and more is contributing to today's pitcher friendly game.
New Hall of Famer Frank Thomas thinks Major League Baseball is trying to do something about the lack of offense. Specifically, he thinks the balls are being juiced:
Lets make sure this is Real!!! The Baseballs don't fly like this in April!! Trust Me the Balls are Doctored!! Enough Said!!

— Frank Thomas (@TheBigHurt_35) April 9, 2014
Trust Me I have Pounded many Baseballs in April they don't carry into the seats like this!!! Nice Try!!!

— Frank Thomas (@TheBigHurt_35) April 9, 2014
The Big Hurt sure did pound many baseballs in April -- 70 of his 521 career home runs came in April, the fewest of any month in his career. Offense is always down early in the season because it's cold and the ball doesn't carry as well in most cities. This isn't anything new.
Now, Thomas might be right about MLB juicing baseballs, but if he is, it's not showing in the data. According to FanGraphs, only 9.5 percent of all fly balls have left the park so far this season. That is down from 10.9 percent in April 2013 and 10.5 percent in April 2012. It was 9.1 percent in April 2011 and 9.6 percent in April 2010, right in line with this year.
Perhaps the balls will really start flying out of the park in a few weeks -- we are only a week and two days into the season, after all -- but right now, it isn't happening. Thomas knows more about hitting that you or I ever will, but the numbers don't back up his juiced ball theory.
Sale becomes the first AL pitcher to reach 300 strikeouts since 1999

Steve Balboni's long-standing record of 36 has finally fallen

Several players called for the netting to be extended down the base lines following Wednesday's...
Maria made landfall as a Category 4 on Wednesday

The players are trying to do their job and don't want to see anyone hurt

The child is receiving medical attention at an area hospital, the Yankees said in a statem...