Frank Thomas's anti-PEDs stance boosts Hall of Fame candidacy
Few players have been as outspoken against performance-enhancing drugs as Frank Thomas. That should boost his candidacy in the eyes of Hall of Fame voters.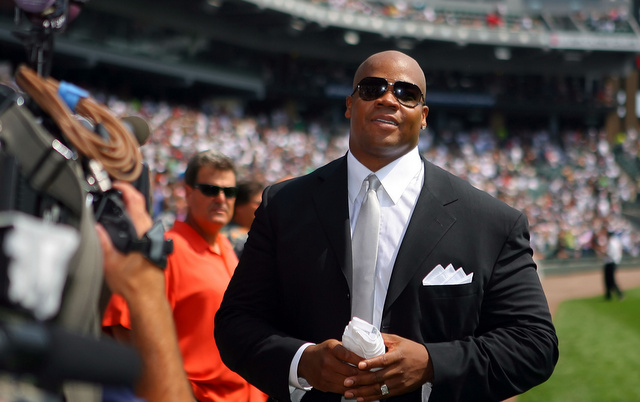 Related: Looking at Frank Thomas' Hall of Fame case
Long-time White Sox slugger and current Hall of Fame candidate Frank Thomas was a cartoonishly large human who mashed home runs and did things in the batter's box that once seemed impossible. He hit 40+ homers five times. He once slugged .729 (!) in a full season. One year, he reached base in 48.7 percent of his plate appearances while striking out only 61 times. The guy was a true monster.
Frank Thomas fits the profile, and unfortunately I'm not talking about the profile of a Hall of Famer. He fits the profile of a performance-enhancing drug cheat. You don't need to do much more than have muscles and hit homers to fit that profile. And, as we saw last year, the suspicion of PED use is enough to keep a player out of Cooperstown.
Unlike many of his contemporaries, however, Thomas has long been outspoken against PEDs and an advocate of stronger testing procedures. Here's a snippet from a July 1995 article by Bob Nightengale of the Los Angeles Times:
"I'd love to see testing myself," said Chicago White Sox first baseman Frank Thomas, one of baseball's big men at 6 feet 5 and 268 pounds. "If it can be done in every other sport, why not ours? At least it would get rid of the suspicions."

Added Thomas, who said he gained 35 pounds during the off-season, "I went in to see my doctor this winter, and he even asked me, 'Hey, are you on steroids?' It's a question people are going to ask, especially [of] the big power hitters, unless something is done about it."
That's from 1995, a few years before PEDs really burst into public consciousness.
After he hit his 500th career homer in June 2007, Thomas told MLB.com's Joe Kieser that the feat "means a lot to me because I did it the right way. I could care less what others have done." He was the only active player to volunteer to be interviewed during the Mitchell Report investigation and this past June he reiterated his anti-PED stance to Jerry Crasnick of ESPN:
"They say, 'Hell, no,'" Thomas said. "They don't want any of these guys in (the Hall of Fame). These are super-superstars in my eyes, and they're serious about it. I would suggest you get around the Johnny Benches, the Ozzie Smiths, the Dave Winfields and Mike Schmidts. Hold court with them and see how they feel. I've talked to them and it was eye-opening.

"I want the game to be where it's supposed to be. Guys have climbed that mountain for a reason, and that's important to me. To hear the Hall of Famers talk, their legacy is important to them. I respect that. That's why I had such feelings for Hank Aaron and those guys coming up, and I wanted to get to the level of the Hall of Fame. When guys take drugs like that, they're not deserving of being on that level."
I think it's fair to say Thomas has been more outspoken against PEDs than any other player in recent history. Certainly among star players, anyway. He's been advocating for stronger testing for a long, long time. Could it all be a front? Of course. We'll never truly know if he used a banned substance, but that is true of almost every player.
In terms of on-field performance, it's very tough to argue Thomas is not a Hall of Famer. He's one of the best right-handed hitters in history and pretty much the only negative is that he spent more games at DH (1,340) than first base (971). It would be easy to stereotype Thomas a PED cheat given his size and skills, but his outspokenness against banned substances is refreshing and should have him in the good graces of the voting body. He's a unique person and a unique player, which is what the Hall of Fame is all about.
This would undoubtedly be the worst trade in Miami Marlins history

The Pirates recently shipped Gerrit Cole and Andrew McCutchen to Houston and San Francisco,...

Surely, Martinez and his agent are holding out for more
The reliever had a very good 2017 season with the NL Central champs

We don't need to discuss Chipper's Hall of Fame case, so let's have fun instead

Dioner Navarro still hopes to return someday